These S'mores Cupcakes feature a crisp graham crust, rich chocolate cake, and a homemade marshmallow frosting. All the ooey, gooeyness you love in a s'more, fire optional.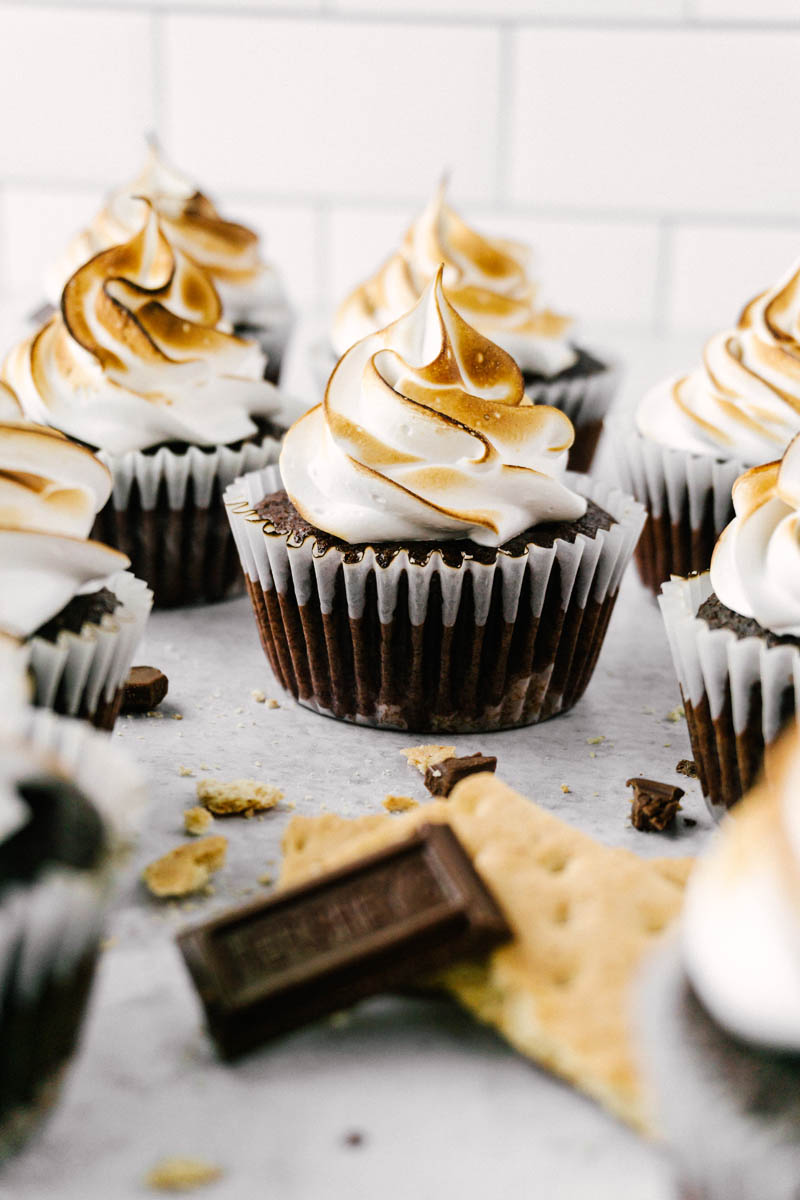 Fire Optional But Recommended
These S'mores Cupcakes are so decadent and such an elegant take on everyone's favorite messy, camping treat. While the campfire is optional, I highly recommend browning the marshmallow frosting to that perfect golden brown before eating. I used a blowtorch, but the broiler works too. Don't look too closely or you'll see where I caught the paper on fire.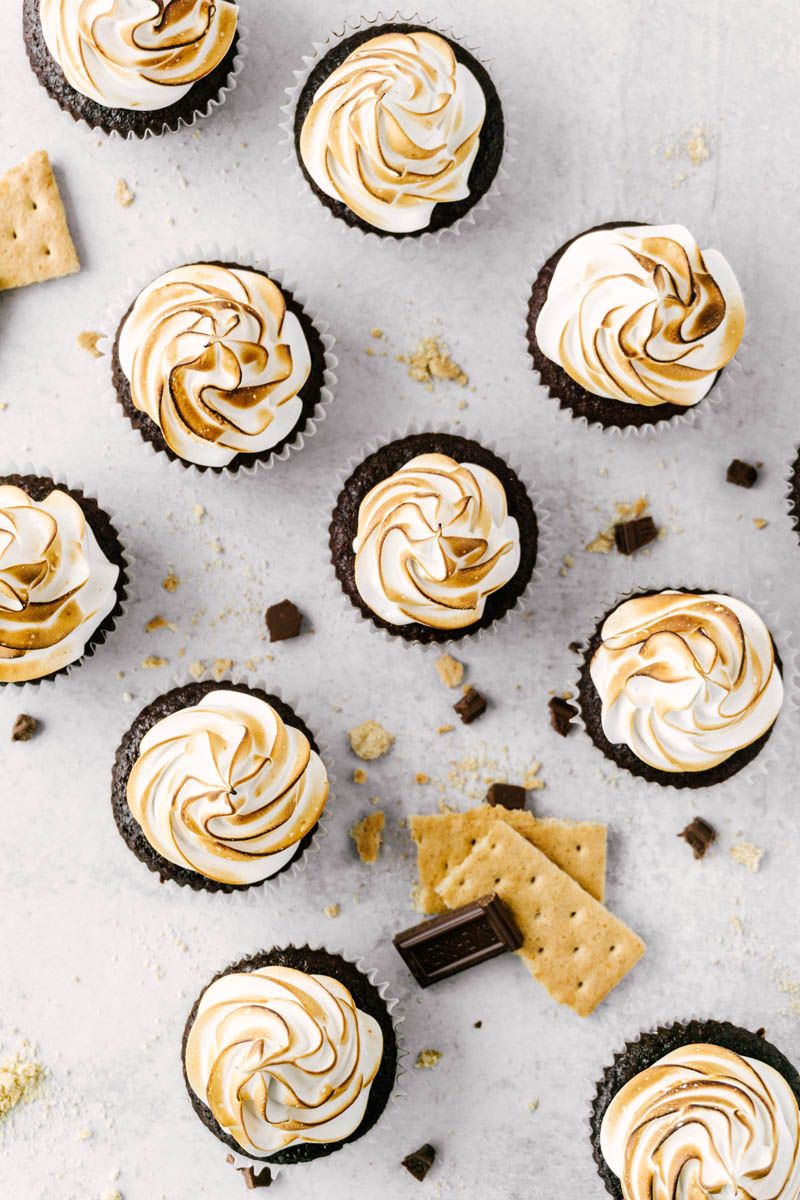 The Ideal S'more Ratio
My ideal s'more has about a quarter graham cracker to half a bar of chocolate to a whole, perfectly toasted marshmallow. There is just enough graham crust in the bottom of these S'mores Cupcakes to satisfy your need for graham cracker without overtaking the whole treat. The chocolate cupcake is perfectly moist and chocolatey, while the marshmallow frosting is lightly sweet and melts in your mouth.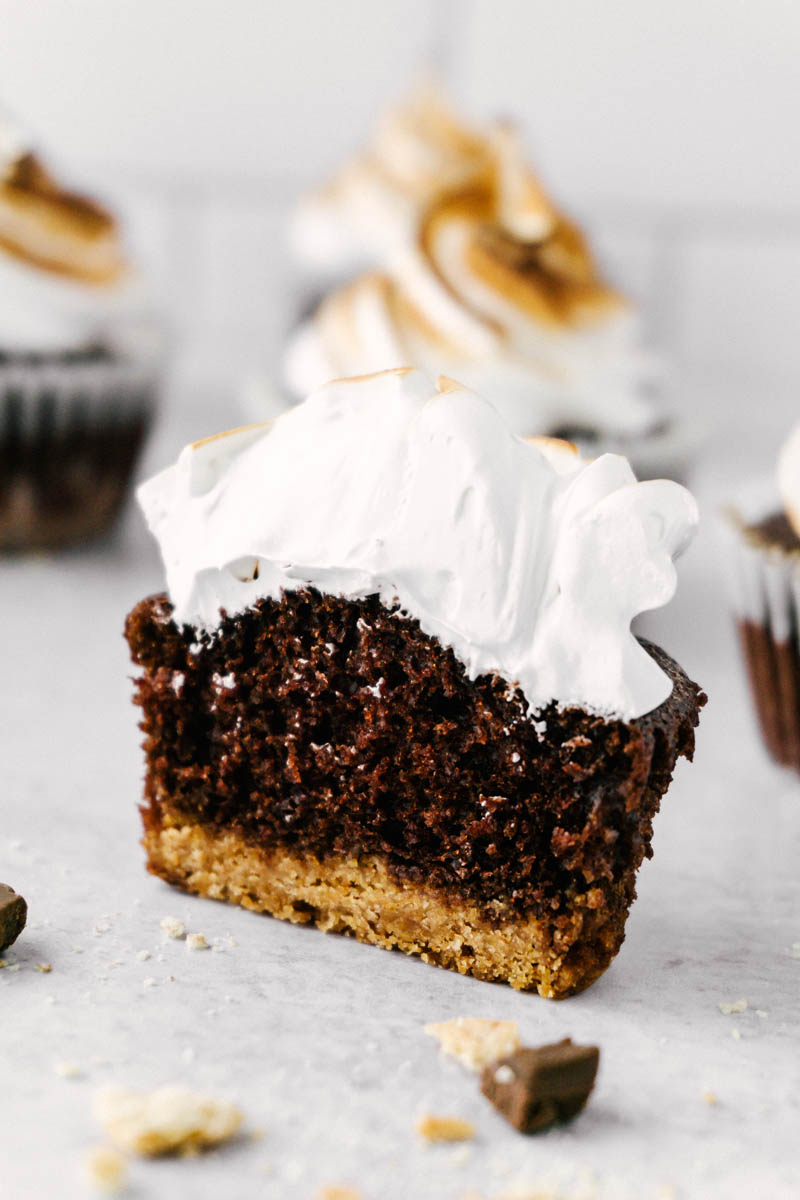 The Marshmallow Frosting
I'll let you in on a little secret. The "Marshmallow Frosting" is actually a classic Swiss Meringue. Calling it Marshmallow Frosting captures the taste and texture better, plus it makes it sound way less intimidating. I actually like this topping better than regular, store-bought marshmallows because it's not overly sweet and the texture is silky smooth.

If the idea of making a meringue has you scared, don't worry. This was the first one I had ever made and it is so easy. With only three ingredients and a simple two-step process, it is the easiest kind of meringue to make. Check below for some tips on preparing it.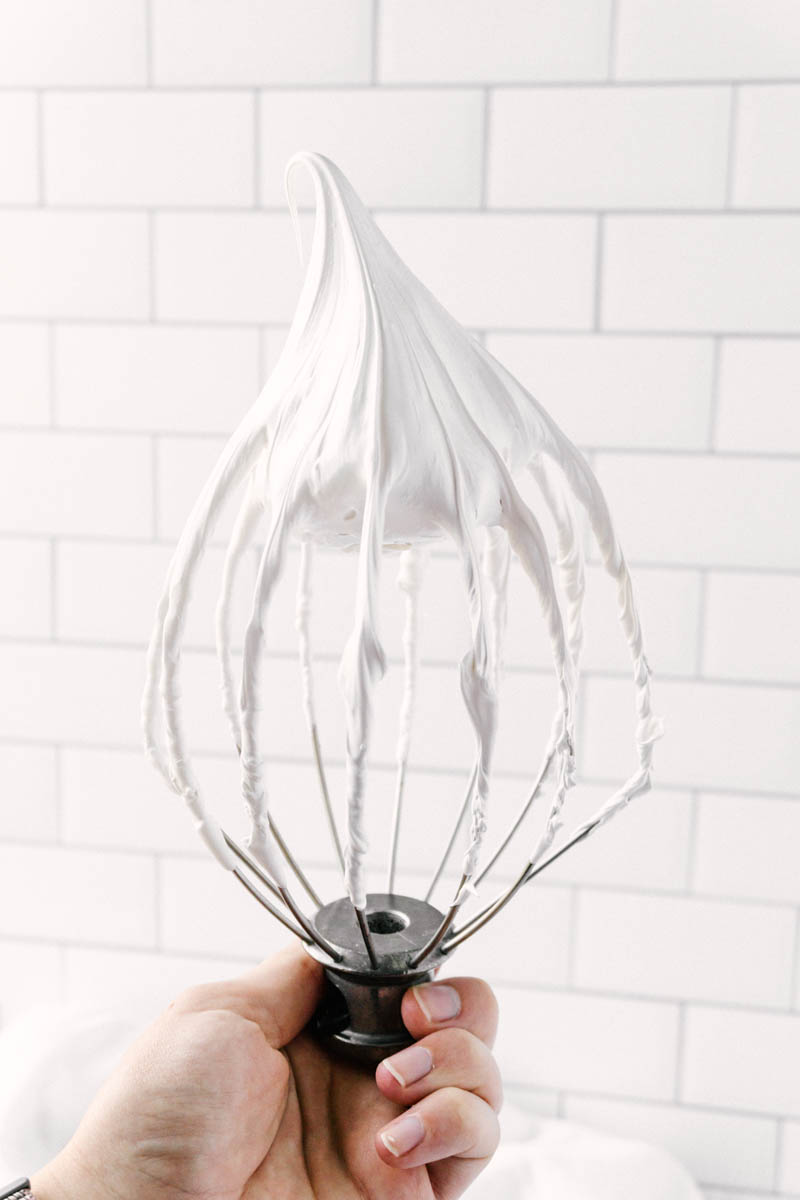 My Favorite Ingredients
Graham Crackers – an essential part of any s'more.
Cocoa Powder – use both natural cocoa powder and Dutch-processed cocoa powder to achieve the perfect, rich chocolate balance.
Vanilla Extract – I prefer to use imitation vanilla in the chocolate cupcake, to let the chocolate flavor take center stage, and real vanilla in the marshmallow frosting to create the perfect, warm flavor balance. Use whatever you have on hand.
Buttermilk – adds moisture. If you don't have any on hand, put 2 T lemon juice in a measuring cup, then add milk to equal 2 cups. Let sit for a few minutes before adding to the batter.
Sugar – adds the perfect amount of sweetness.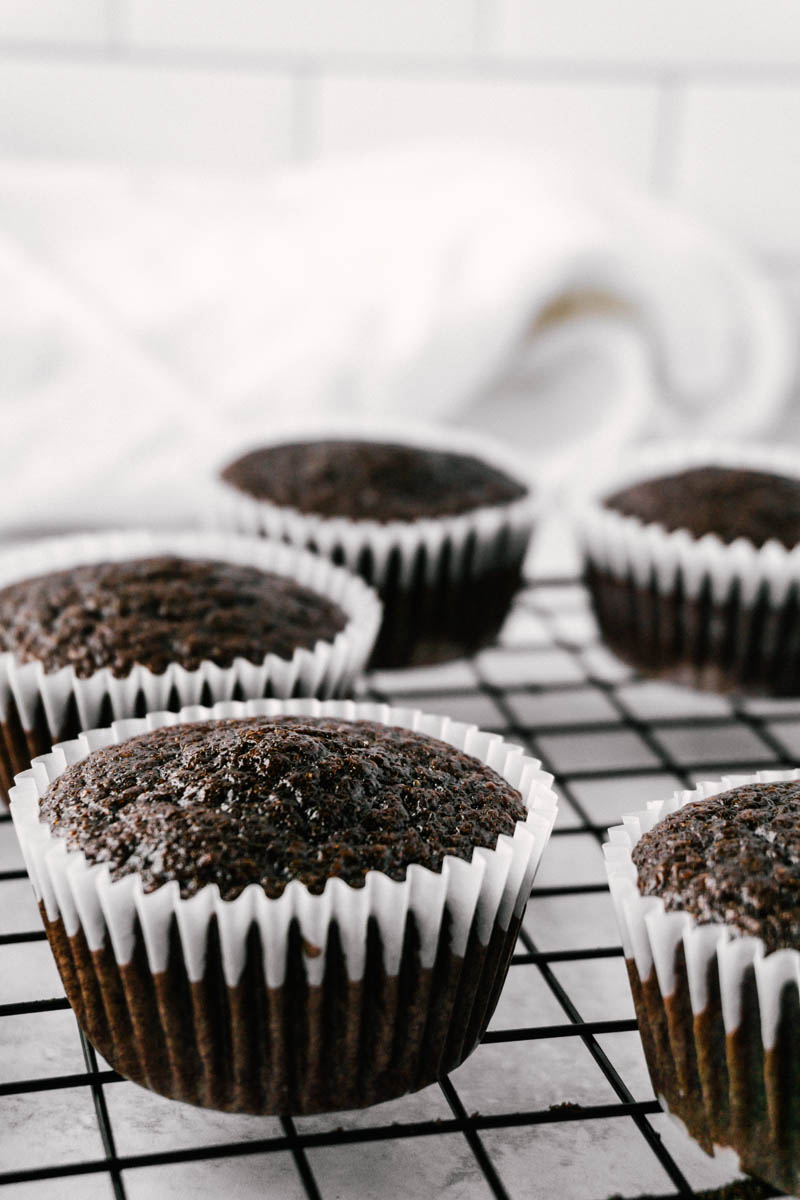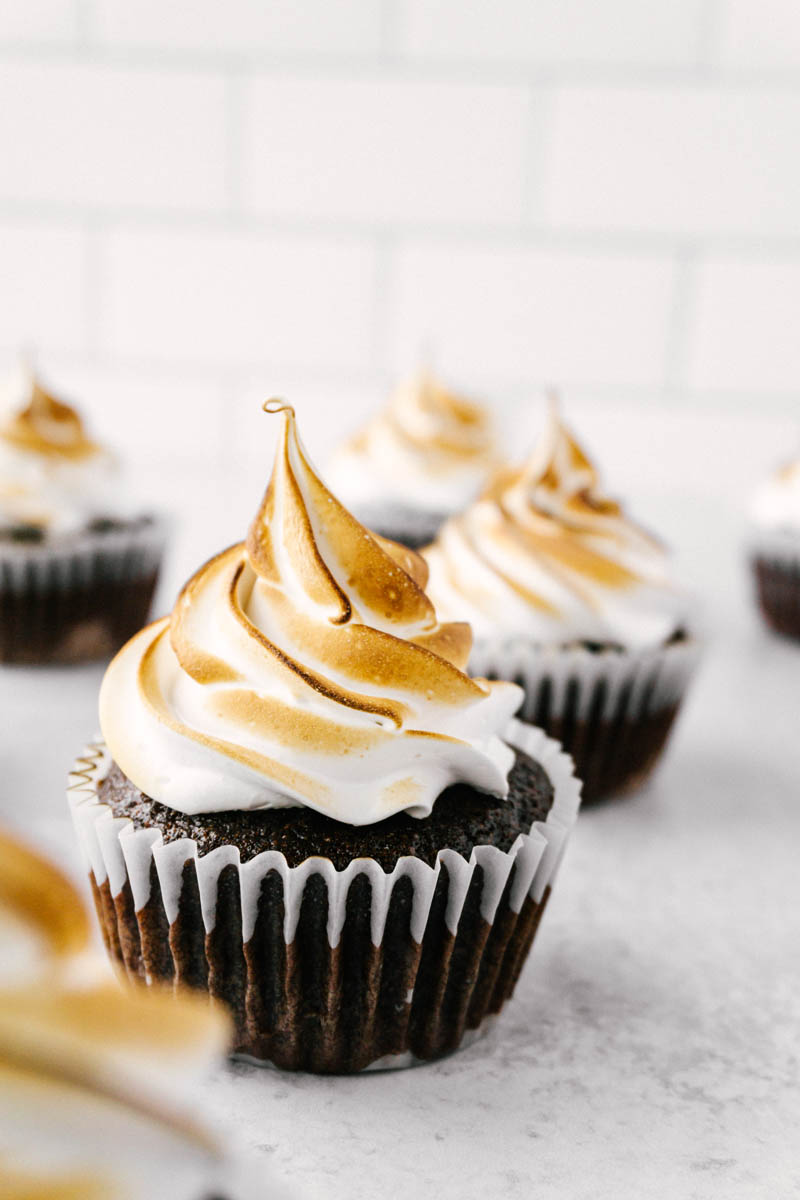 Helpful S'mores Cupcakes Tips
Graham Crust
Start by finely crushing the graham crackers. I place them all in a ziplock bag and use a rolling pin to crush them.
Add the crushed graham crackers, sugar, and melted butter to a mixing bowl. Stir them all together. The mixture will look crumbly, but will hold together after baking.
Place about a tablespoon of graham mixture in the bottom of each cupcake liner. I found that the bottom of a ¼ C measuring cup fits perfectly to press the crust down into a flat layer.
Bake until lightly golden, then set aside to cool before adding the cupcake batter.
Chocolate Cupcakes
Start by sifting together the dry ingredients. This ensures that no lumps of flour or cocoa will be in the finished batter, and helps incorporate the rising agents evenly throughout.
Add the liquid ingredients all at once. Use a hand mixer to mix for about a minute, until everything is fully combined. It will be a thin batter.
Pour the cupcake batter on top of the cooked, cooled graham crust. If you have a #20 cookie dough scoop, use that to portion the batter out. Each cupcake should be about ⅔ full of batter.
Bake until the tops of the cupcakes spring back to the touch. Set aside to cool completely before frosting.
Marshmallow Frosting
Start by washing all tools and utensils that will be used, including whisks, bowls, and an instant-read thermometer. Any traces of oil can cause the frosting to not set up properly.
Separate the egg whites. I recommend separating them one at a time into a separate bowl, so if a yolk breaks it doesn't ruin all the egg whites.
Whisk the sugar and egg whites together, then place over a double boiler that is set at a simmer. You mostly need steam to cook the eggs gently, and a full rolling boil is too intense.
Whisk the eggs and sugar continuously until the mixture reaches 160*F. I used a metal whisk, but you could use a hand mixer if you prefer.
Once the mixture reaches the proper temperature, pour it into the bowl of a stand mixer. Use the whisk attachment to beat the egg white mixture until stiff peaks form and the mixture is cooled. If it won't reach the stiff peaks stage, it is likely because the mixture is too hot. Place in the fridge for a few minutes, then resume whisking.
Use a piping bag to pipe the marshmallow frosting onto the cooled cupcakes. I used a Wilton 1M tip. Use a blowtorch or broiler to brown the marshmallow frosting to the perfect golden brown.
I am so happy with how incredible these S'mores Cupcakes turned out. I guarantee you'll love them. If you want to dress them up for an event, add a piece of chocolate in the marshmallow frosting, some crumbled graham crackers, or a drizzle of chocolate or salted caramel sauce. No matter what, they'll be a hit!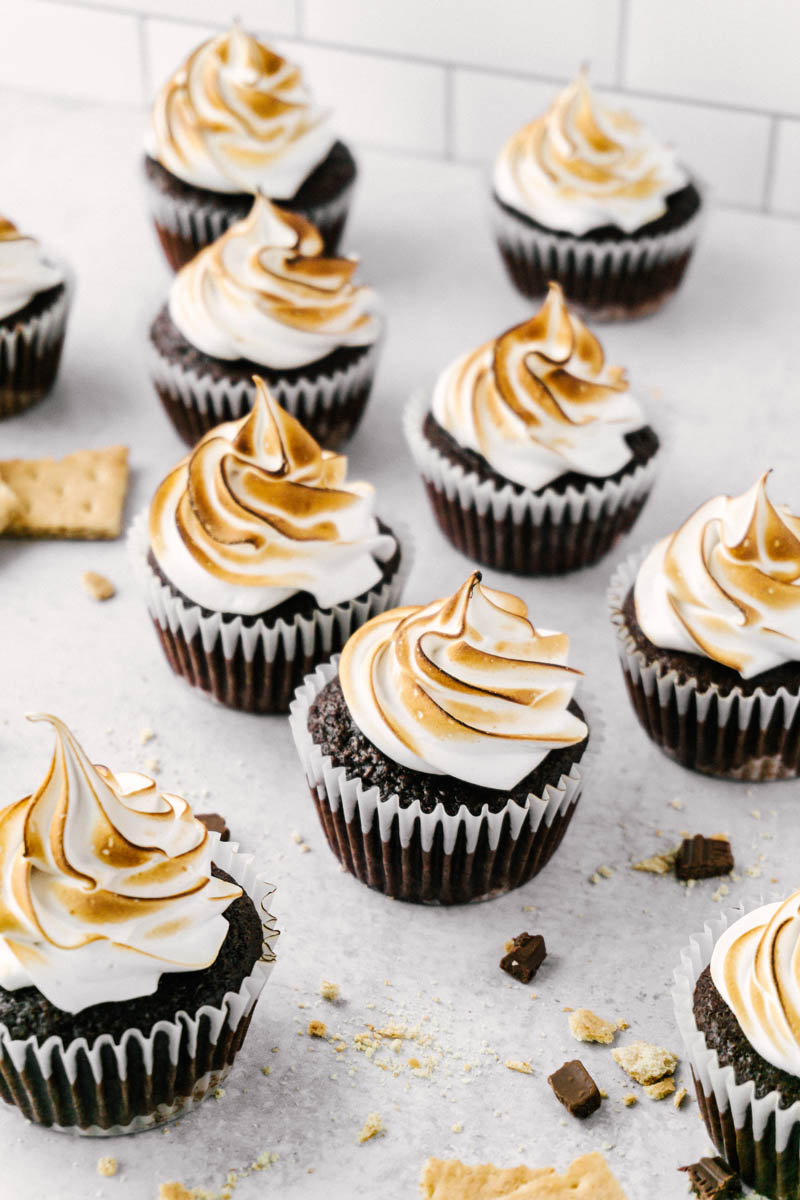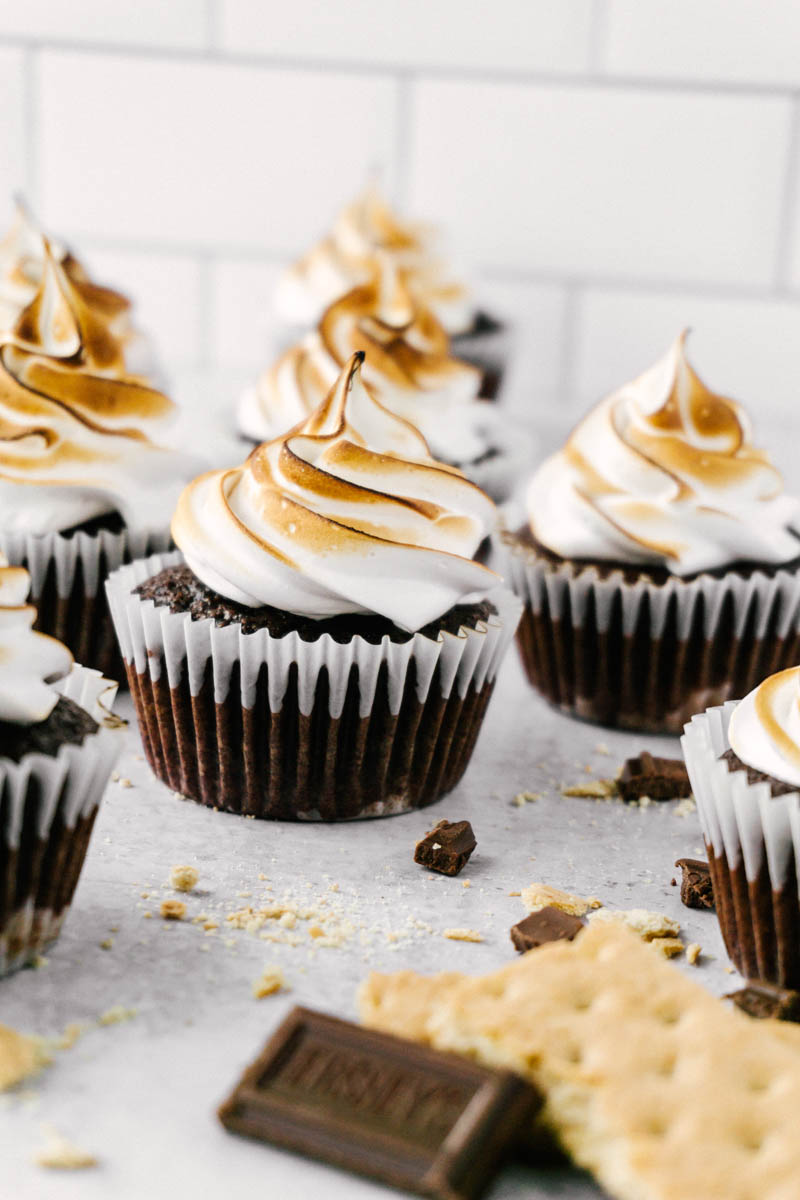 Looking for more delicious cake recipes? Try these: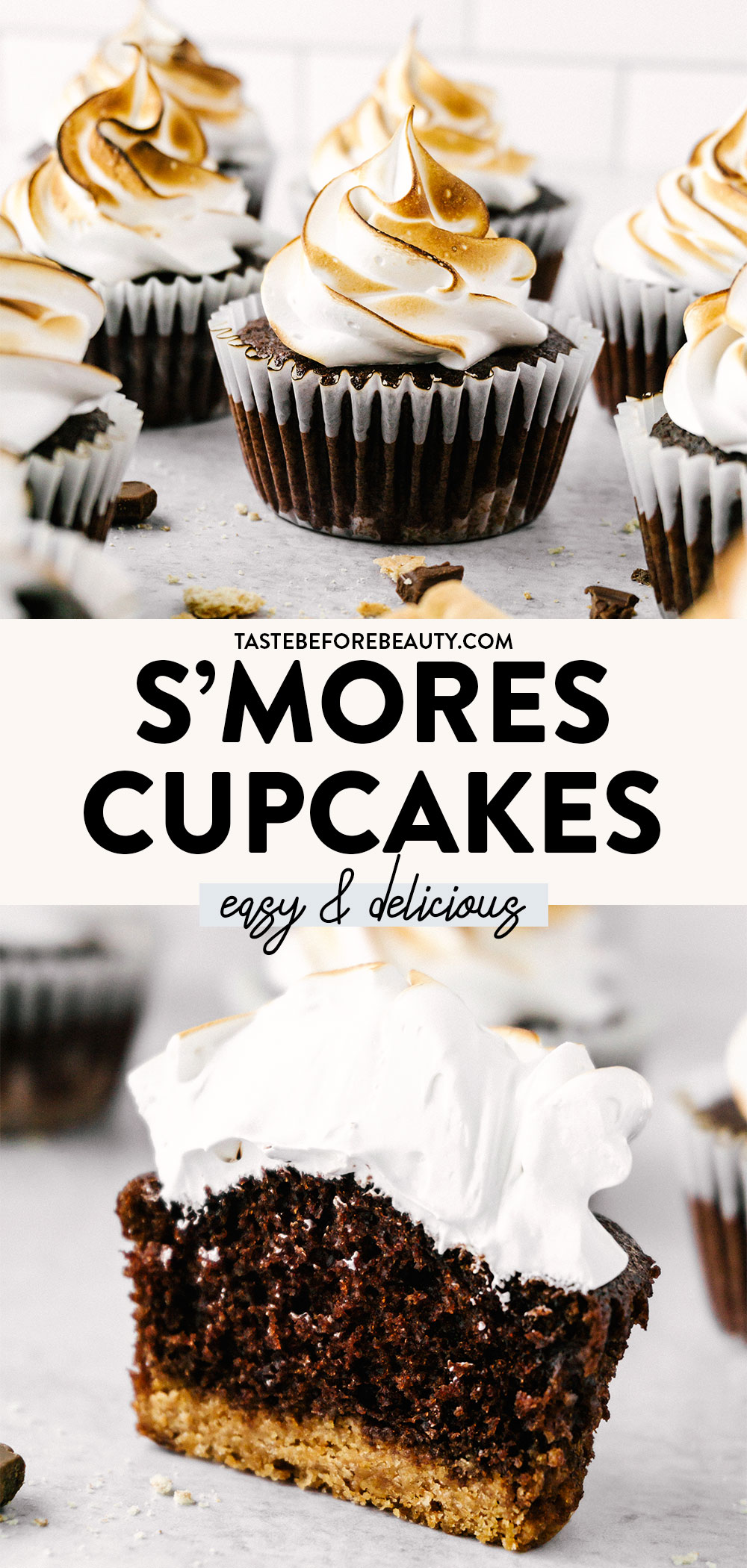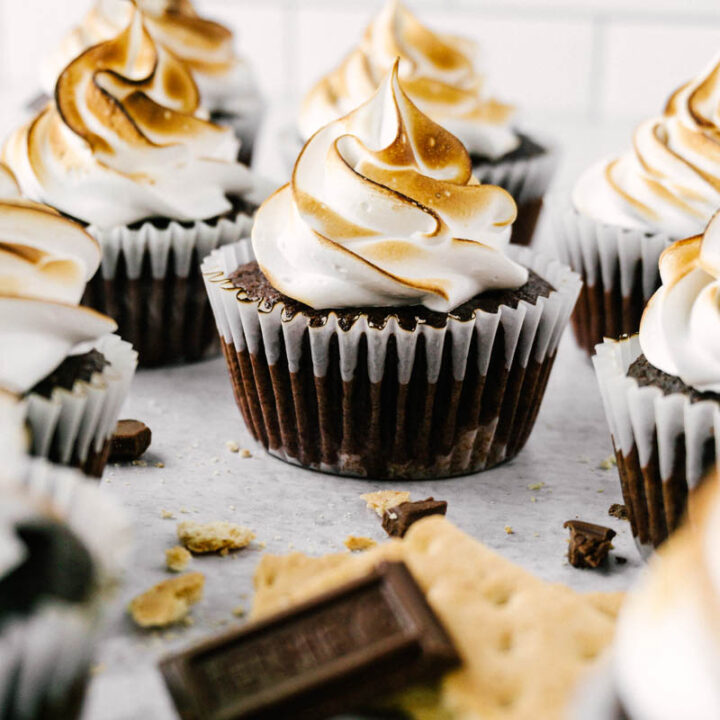 S'mores Cupcakes
Additional Time:
25 minutes
Total Time:
1 hour
49 minutes
These S'mores Cupcakes feature a crisp graham crust, rich chocolate cake, and a homemade marshmallow frosting. All the ooey, gooeyness you love in a s'more, fire optional.
Ingredients
Graham Crust
1 ⅔ C (8.7 oz) finely crushed graham crackers (about 16 sheets)
2 ½ T granulated sugar
6 T (3 oz) salted butter, melted
Chocolate Cupcakes
2 ¼ C (10 oz) all-purpose flour
½ C + 1 T (2 oz) cocoa powder
2 C (14 oz) white sugar
1 tsp salt
1 tsp baking powder
2 tsp baking soda
2 tsp Dutch-processed cocoa powder
2 C (16 oz) buttermilk
2 large eggs
1 C minus 1 T (7 oz) vegetable oil
1 ½ tsp vanilla extract
Marshmallow Frosting
6 large egg whites
2 C (14 oz) granulated sugar
1 tsp vanilla extract
Instructions
Make Graham Cracker Crust.
Preheat oven to 350*F. Line cupcake pans with paper cupcake liners.
In a bowl, mix together crushed graham crackers, sugar, and melted butter.
Fill each cupcake liner with a generous tablespoon full of graham mixture. Press into the bottom of the cupcake liner.
Bake for 6 minutes until edges of graham crust are lightly golden.
Let cool completely before adding cake batter.
Make Chocolate Cupcakes.
Preheat oven to 350*F.
In a large mixing bowl, sift together flour, cocoa powders, salt, baking powder, and baking soda.
Add the buttermilk, eggs, oil, and vanilla extract. Use a hand mixer to mix for one minute to combine.
Fill each cupcake ⅔ with batter. Bake for 16 minutes until the center of the cupcakes springs back when lightly touched.
Remove from pan after 5 minutes. Cool completely before frosting.
Make Marshmallow Frosting.
Wash all dishes and tools, including an instant-read thermometer, thoroughly to remove any traces of oil.
Bring a pot of water to a gentle boil. In a heat-safe bowl or double boiler, whisk together egg whites and sugar. Place over the double boiler and whisk until instant-read thermometer reads 160*F.
Pour mixture into the bowl of a stand mixer and whisk on high until stiff peaks form and mixture has cooled to 70-80*F. Add vanilla extract towards the end of mixing.
Assemble.
Use a piping bag to pipe Marshmallow Frosting onto cooled cupcakes.
Using a blowtorch or broiler, brown marshmallow frosting to a perfect golden brown.
Serve immediately for best results. Cupcakes will be good for 1-2 days at room temperature. Unfrosted cupcakes can be frozen for up to 3 months. Thaw before frosting.
Notes
If you don't have an instant-read thermometer, test the egg mixture by rubbing a small amount between your fingers. If the sugar is dissolved and it feels smooth, it is ready to be taken off the heat and whipped. 
If Marshmallow Frosting won't reach stiff peak stage, place it in the fridge for up to 10 minutes, then continue beating.