This Strawberry Lemon Cake Roll is a fresh, fruity dessert that is perfect for spring and summer. It looks so beautiful that no one will ever believe how simple it is to make!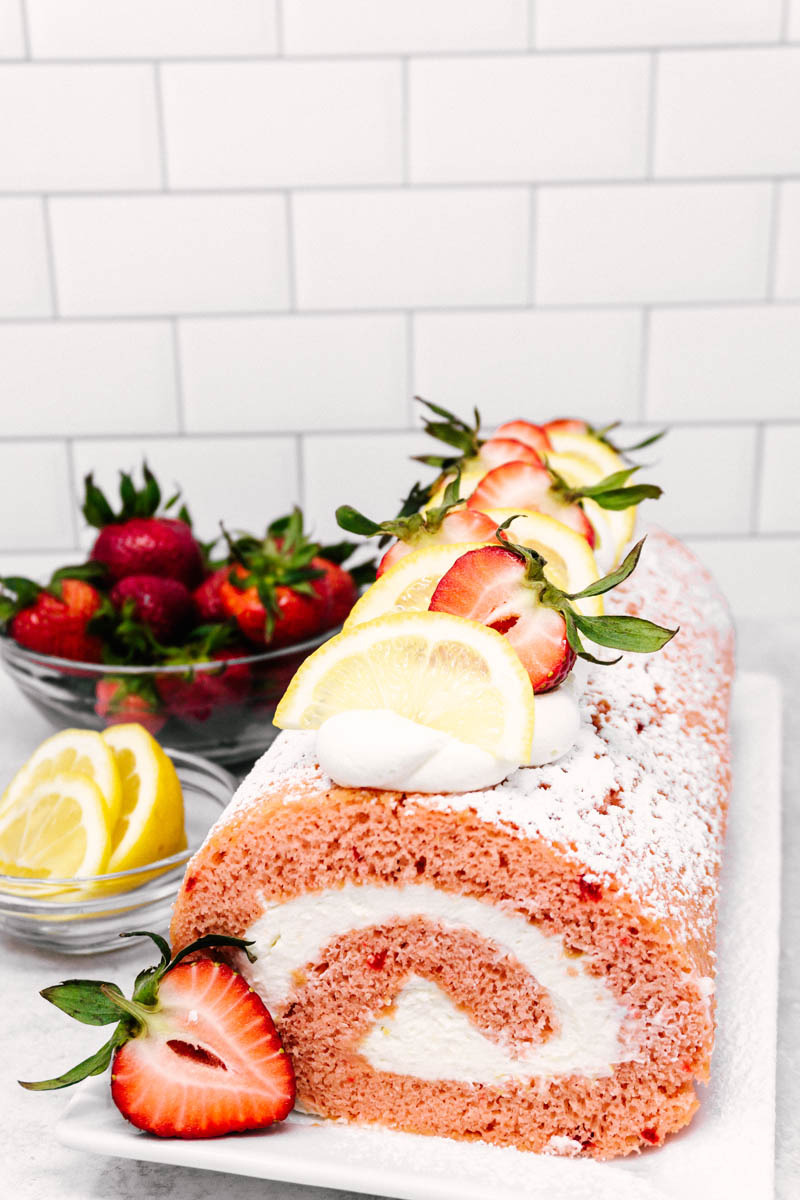 The Happy Breakthrough
I was excited to write this post. This recipe was a breakthrough for me when I had the cookie shop. Pumpkin Rolls are easy to make and popular but are pretty specific to fall time. I knew I needed other types of cake rolls with other flavors for the rest of the year.
As I began testing new flavors, I knew I needed to find a suitable swap for the moisture that pumpkin contributes. Pumpkin might work in a chocolate or spice cake mix, but not a fruity one. After some testing, I turned to applesauce for a neutral-flavored moisture source.
I also considered the number of eggs in a cake roll. A higher proportion would give me the structure I needed, something to help the cake roll and give lift, but adding too many eggs can make a product taste, well, eggy. Too little egg in a cake and it just breaks when you try to roll it.
Seven eggs turned out to be the magic number. Add just a bit of applesauce for moisture and magic! Not to mention it doesn't taste eggy. An all-around success! This was a happy outcome for me. Plus, with only three ingredients, it is incredibly simple.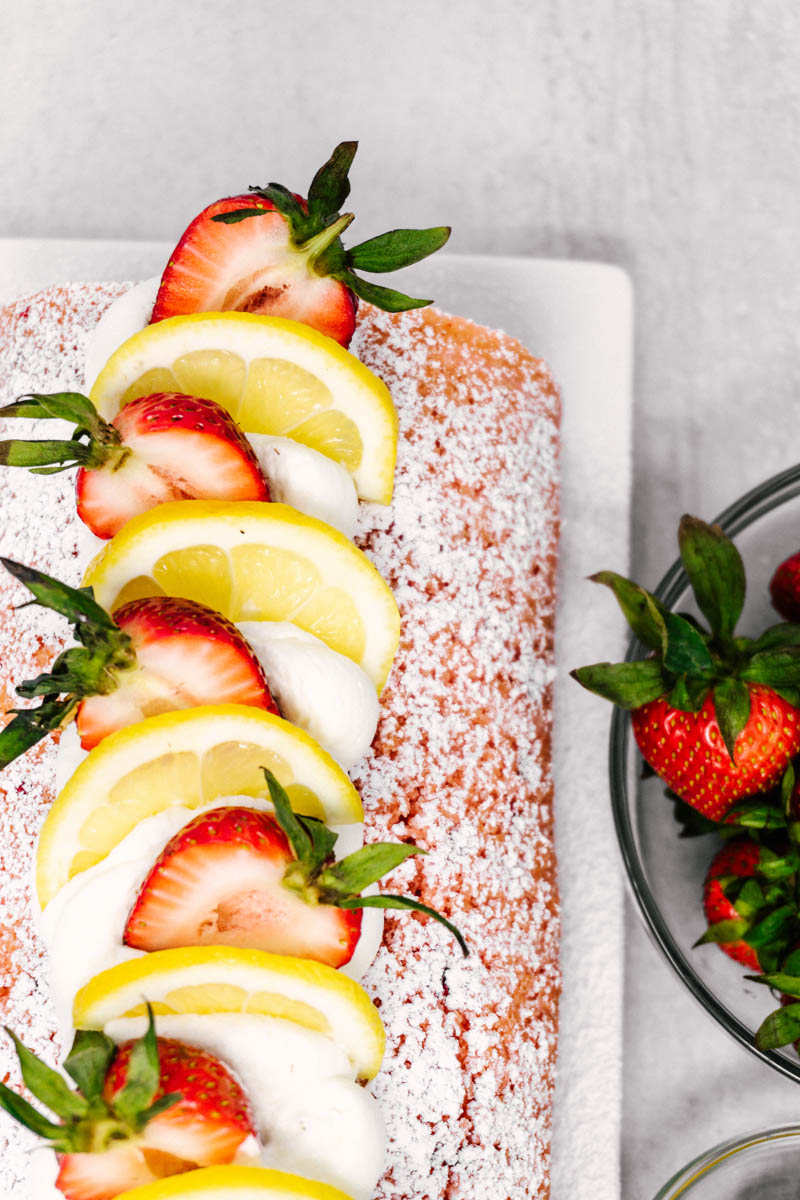 Controlling the Crumb
To give this cake a nice crumb, it is important to sift the cake mix. Once you've done that, add the applesauce and eggs then beat at medium speed with a hand mixer. I beat it for 30 seconds to combine, then scraped the bowl and just 30 seconds more at medium speed. This way, the cake is quickly combined but not much air is added. A fine crumb structure is important for not only the roll-ability of this cake but also the look of the finished cake roll.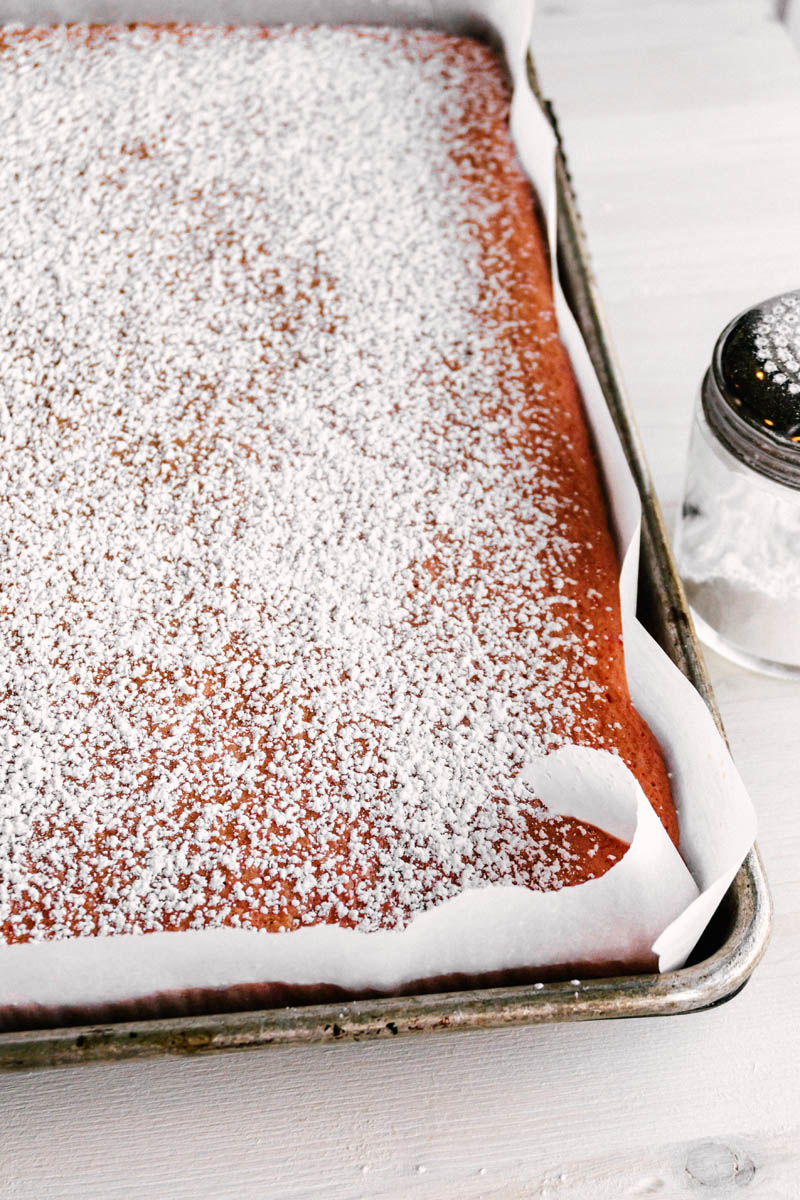 Quick Solutions to Roll Without a Mess
The other problem I ran into with cake rolls is the painstaking, messy method of rolling them. Most people turn the cake out onto a powdered sugar-dusted towel and roll it up in that to cool.
Not only does it make a mess all over the counters and floor, but then there is an extra towel to wash. In the cookie shop, this really added up. I learned when making multiple pumpkin rolls that I could skip that step if I lined the pans with parchment paper and sprayed them lightly with cooking spray. When the cake finishes baking, all I had to do was let it cool for 10 minutes and then roll the cake up in the parchment paper.
The cake roll can cool in the parchment and then once I fill it, the parchment paper peels off with almost no fuss or mess. It was the perfect solution – cleaner, less dusty, and a time saver. I was happy to learn that using cake mixes to make a cake roll in this manner was just as effective.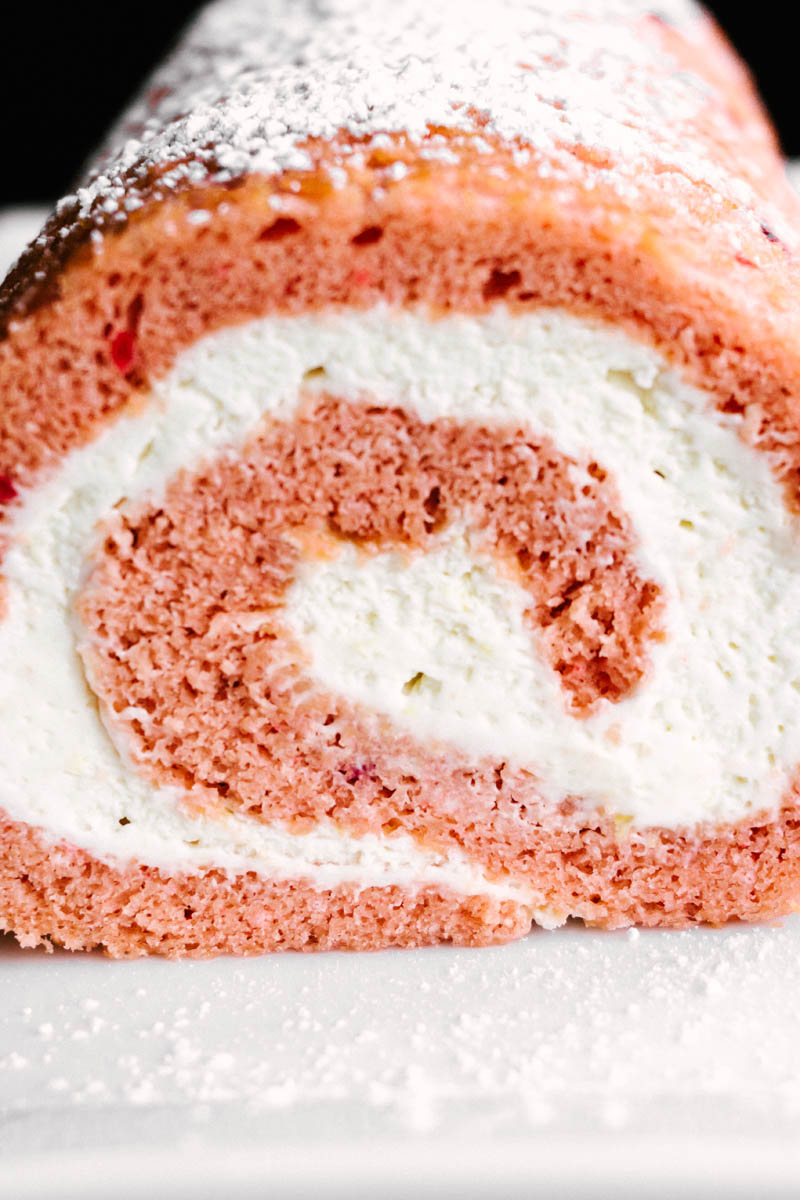 Choose Your Own Thickness
I bake this cake mix in a 12×17 pan at 325*F. I give a range on the baking time because your pan may be different than mine and it's really important that you use the spring-back method. In other words, if the cake looks done, touch the center. If it springs back, immediately pull it out of the oven.
I have found that one cake mix makes for a thick cake roll. If you make two of them, you'll have two thinner cake rolls. I always wrap the filled roll with plastic wrap to keep its shape and refrigerate it for a few hours until I'm ready to serve it. The cake roll can be chilled for up to three days. Just use a sharp serrated knife to cut nice slices when you're ready to serve it.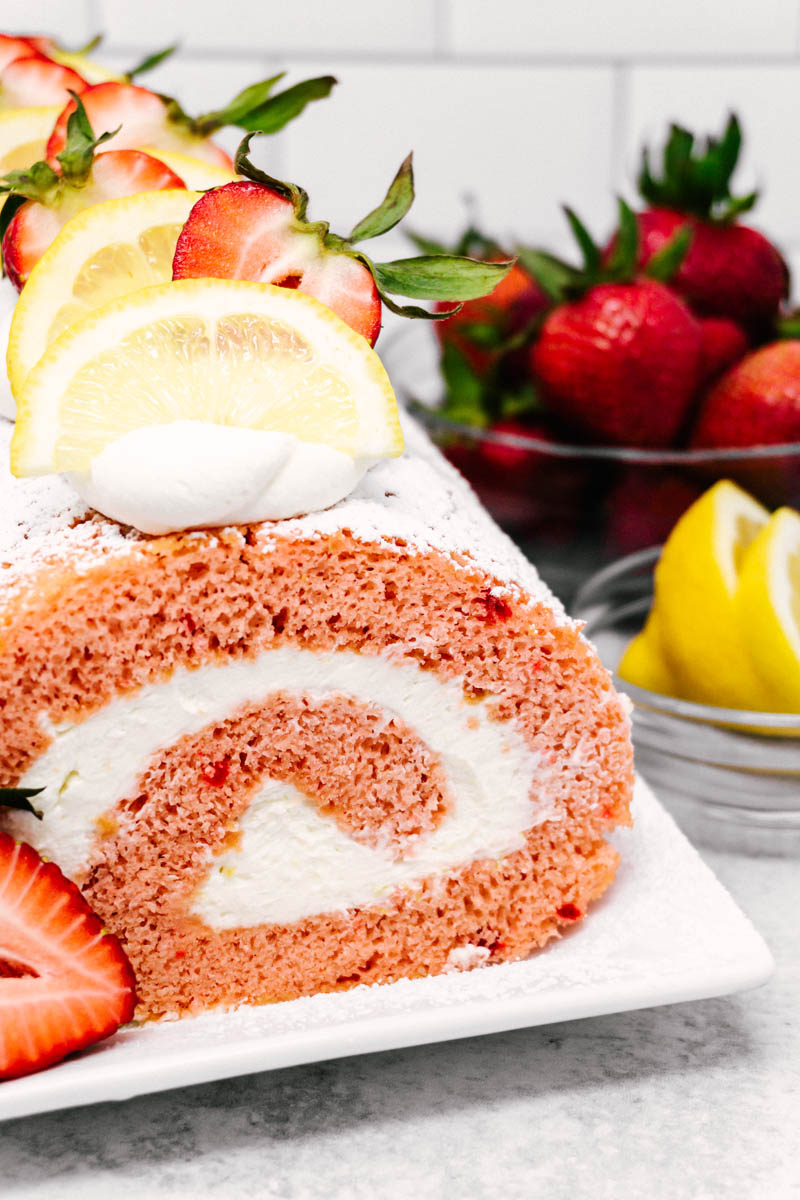 You're Welcome!
As you make this easy Strawberry Lemon Cake Roll, imagine me standing next to you singing "You're Welcome," from Disney's Moana. Your guests will never know you used a cake mix and will save you lots of time while still giving a beautiful and delicious dessert!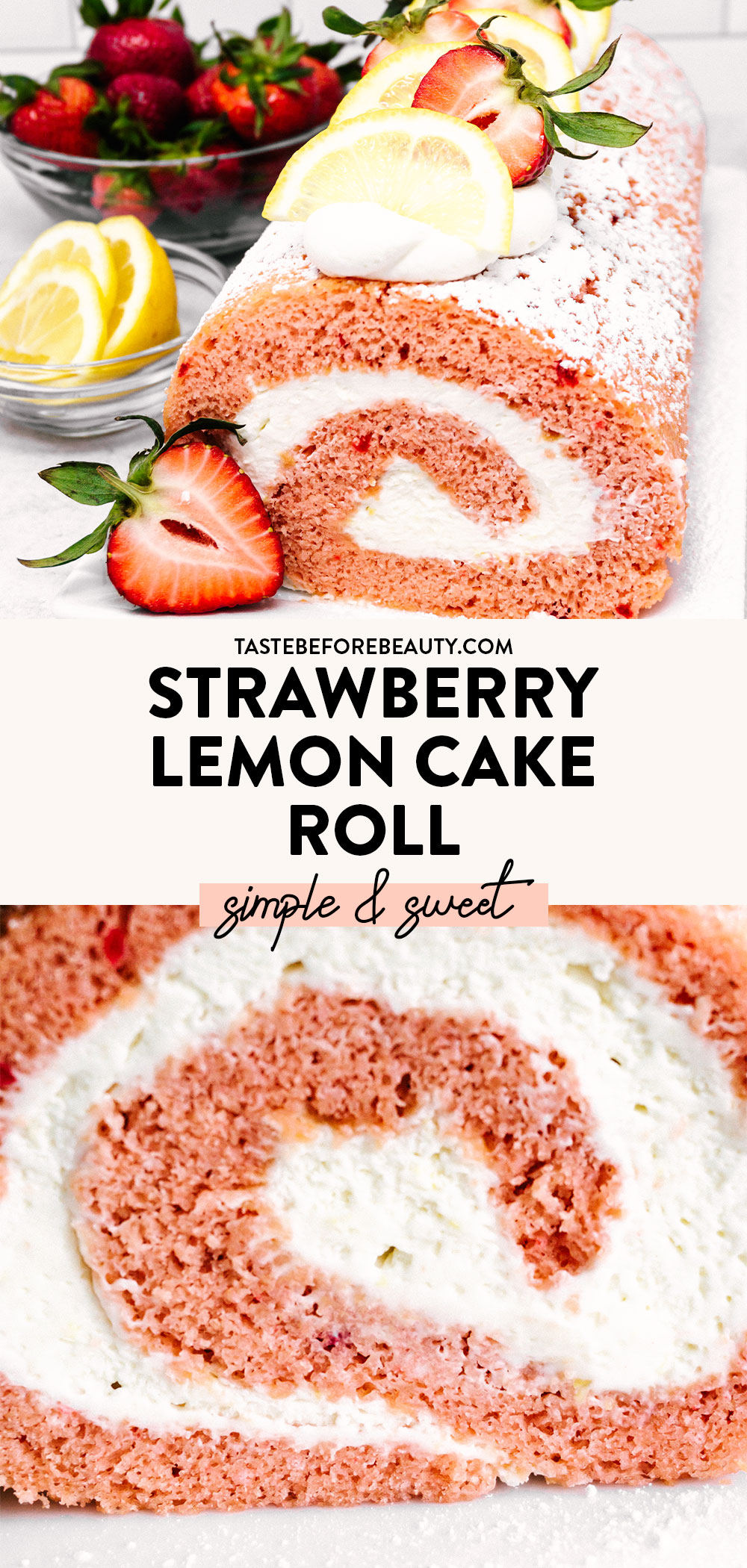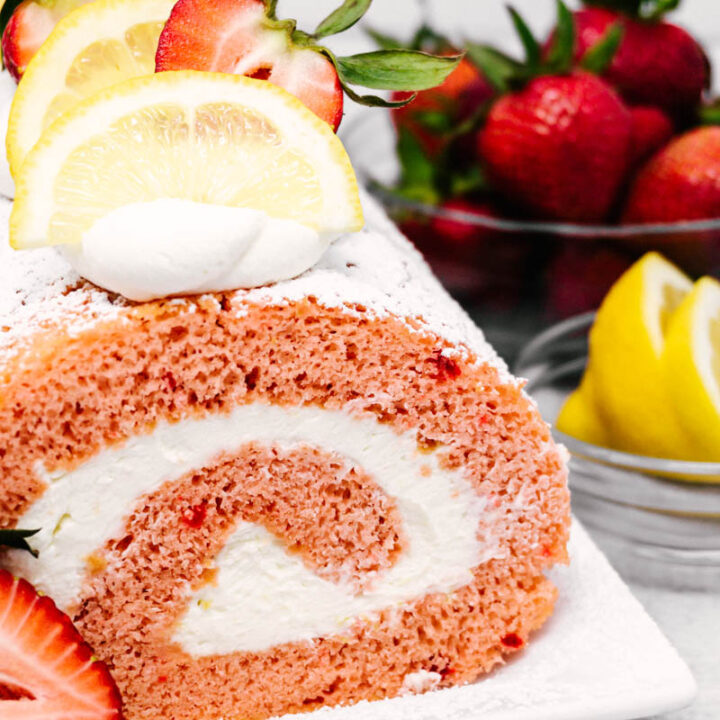 Strawberry Lemon Cake Roll
Total Time:
3 hours
45 minutes
This Strawberry Lemon Cake Roll is a fresh, fruity dessert that is perfect for spring and summer. It looks so beautiful that no one will ever believe how simple it is to make!
Ingredients
Strawberry Cake Roll
1 (15 oz) strawberry cake mix, sifted
¾ C (8 oz) applesauce
7 large eggs
Lemon Cream
1 (8 oz) package cream cheese
½ C (3.5 oz) white sugar
1 tsp vanilla
1 ¾ C (14 oz) heavy cream, cold
2 T lemon zest
1 tsp lemon juice
Garnish
Strawberries
Thinly sliced lemons
Powdered sugar
Instructions
Make Cake Roll.
Preheat oven to 325*F.
Line bottoms and sides of 12x17 cookie sheet or jelly roll pan with parchment paper. Spray paper lightly with cooking spray.
Sift strawberry cake mix into a bowl. Add applesauce and eggs.
Using a hand mixer, beat for 30 seconds. Use a rubber spatula to scrape the bowl. Beat for another 30-60 seconds until combined.
Spread evenly into pan. Optional: To make a thinner cake roll, pour in only half of the batter. Bake the other half of the batter separately. (If you make two cake rolls, you'll need to double the Lemon Cream.)
Bake at 325*F 12-20 minutes, just until cake springs back to the touch. Do not overbake or the roll will crack.
Let cool in pan for 10 minutes.
Roll cake with the parchment paper, starting from the short side and set aside to cool completely.
Make the Lemon Cream.
In a medium-sized bowl, beat cream cheese until smooth.
Add sugar and vanilla and mix. Scrape bowl. I can't say this enough.
Add heavy cream and mix for 30 seconds. Stop, scrape the bowl, beat another 30 seconds, then stop and scrape the bowl again.
Whip on high speed until pipeable and ready to spread. Add lemon zest and lemon juice and whip again until combined.
Assemble:
Gently unroll cooled cake.
Spread ⅔ of the lemon cream filling on the cake. Leave a one-inch border around the edges of the unrolled cake.
Reroll filled cake. As you roll, gently peel off the parchment paper.
Wrap filled cake roll tightly with plastic wrap and put in the fridge for at least 2 hours and up to 3 days.
To Serve:
Remove plastic wrap from cake roll. Trim ends off with a serrated knife.
Sift a little powdered sugar over the cake.
Drop or pipe the remaining lemon cream on top and top with sliced strawberries and a few thin lemon slices. You can also keep it simple and just sprinkle with powdered sugar. Cut in 12 slices. Refrigerate leftovers.
Notes
Sifting the cake mix is essential and be careful not to overbeat the batter.
Scrape the bowl at least 2-3 times before the lemon cream begins to thicken. This will help incorporate the cream cheese evenly. Failing to scrape the bowl may result in unsightly chunks of cream cheese in the final product.