The perfect rocky road fudge recipe. A smooth, creamy, chocolate fudge with pecans and marshmallows that will have you reaching for another piece, and another, and okay, maybe one more.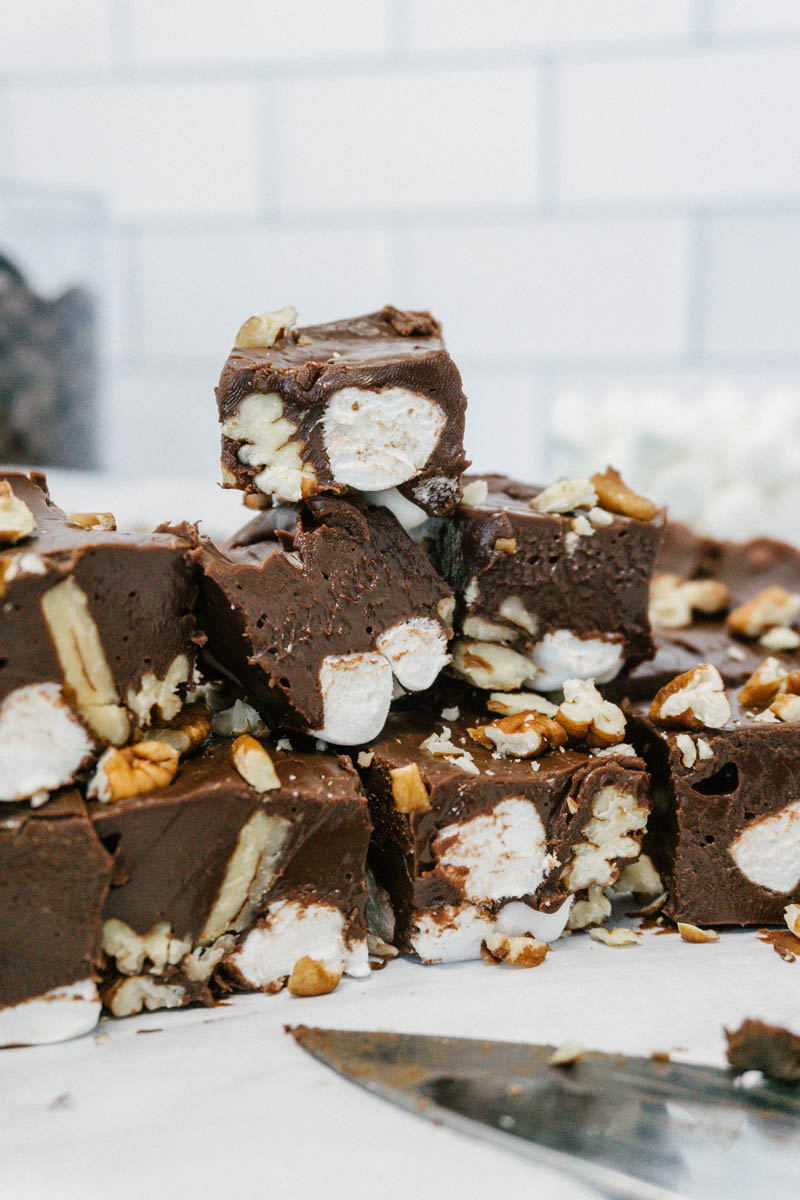 The Rocky Road Fudge Pursuit
I've eaten so much fudge in my life. I've had my grandmother's milk chocolate fudge that was smooth and melted in my mouth. I've been to the boardwalk where they make fudge in giant batches and cool it on giant marble slabs using giant wooden paddles. I've had fudge from university stores and even an elephant museum.
The pursuit of a perfect fudge recipe is an obvious goal for someone who spends as much time in the kitchen as I do. For many years, I kept a tried and true fudge recipe around, but it contained eggs. As I learned my preferences better, I knew I needed to create my own, more simple fudge recipe.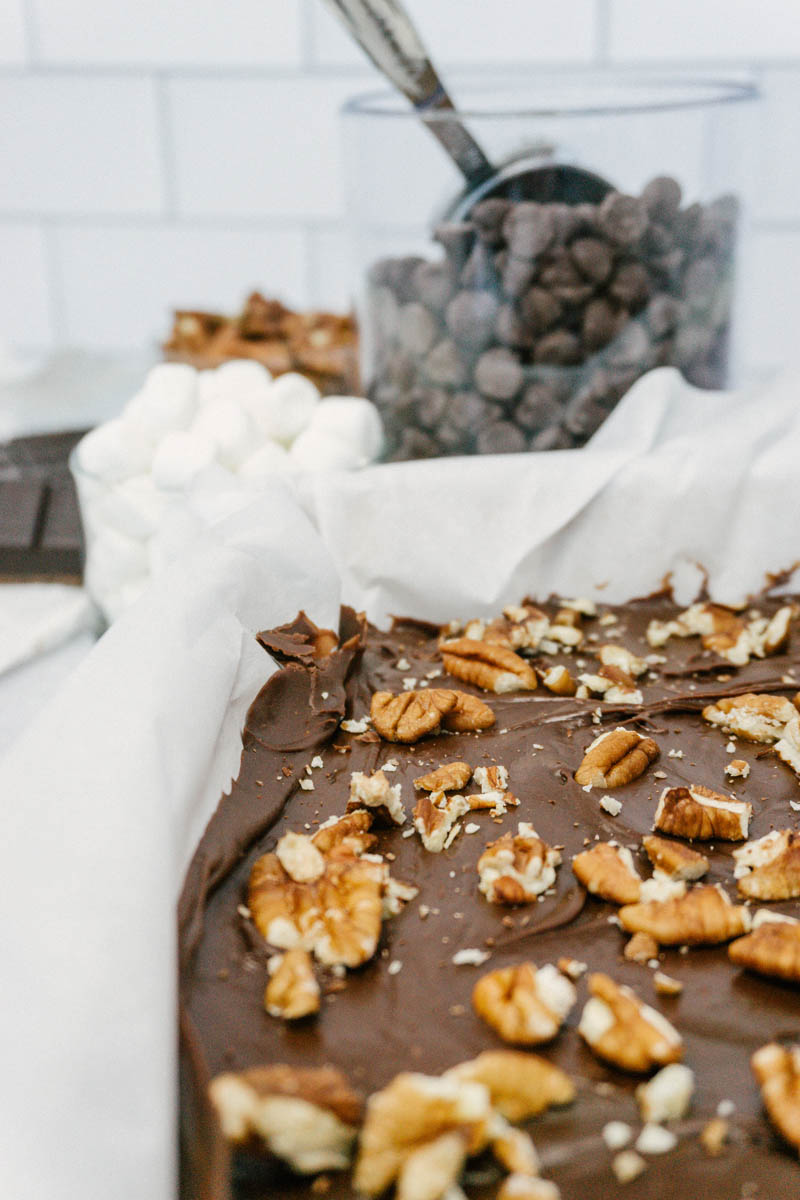 I wanted a fudge that appealed to the masses: not too sweet, not too dark, could handle marshmallows and pecans (because I just love them in fudge!), and is great cold or at room temperature. Most of all it had to be a fudge my husband couldn't resist!
Baking Chocolate
Unsweetened baking chocolate consistently gave me great results as I was finding the best combination of ingredients for this Rocky Road Fudge. The only problem I kept running into is how long it takes to melt. Because it contains none of the additives that semi-sweet chocolate does, such as milk, sugar, and cocoa butter, pure unsweetened chocolate takes foreverrrr to melt. My solution? Hammer (yes, you read that right, I have a kitchen hammer) the chocolate into tiny little bits. It is very important that these tiny pieces are smaller than the chocolate chips so they melt in around the same time.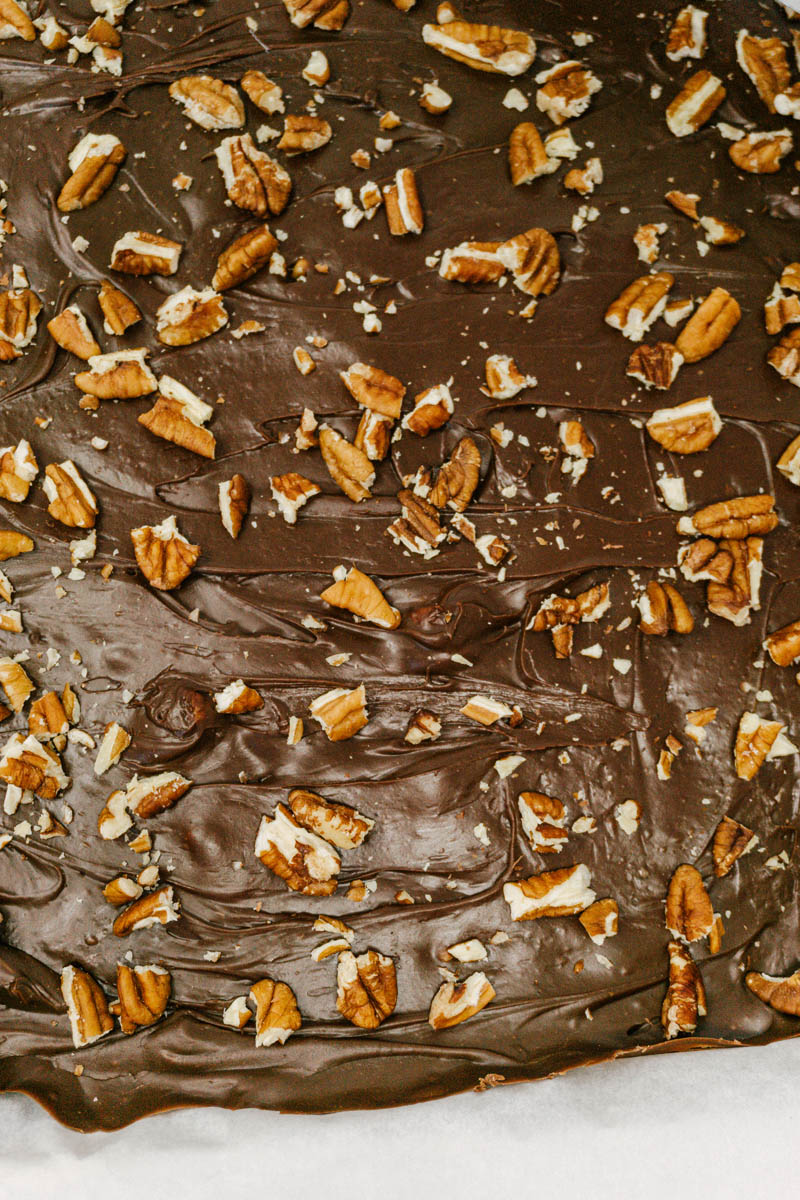 Give the Rocky Road Fudge a Swirl
When you make this, after you pour the fudge over the marshmallows and pecans, give it a little swirl to mix everything together. That way the marshmallows don't all totally float to the top, but everything is mixed in. I don't bother chopping the pecans because they get chopped into the perfect size as you cut the fudge into pieces. I always chill it before cutting because it makes it easier to get neat cuts.
This fudge tastes best at room temperature. My husband rarely waits long enough for it to get to room temperature though. He eats it cold and then fusses at me to never make it again because he can't stop eating it!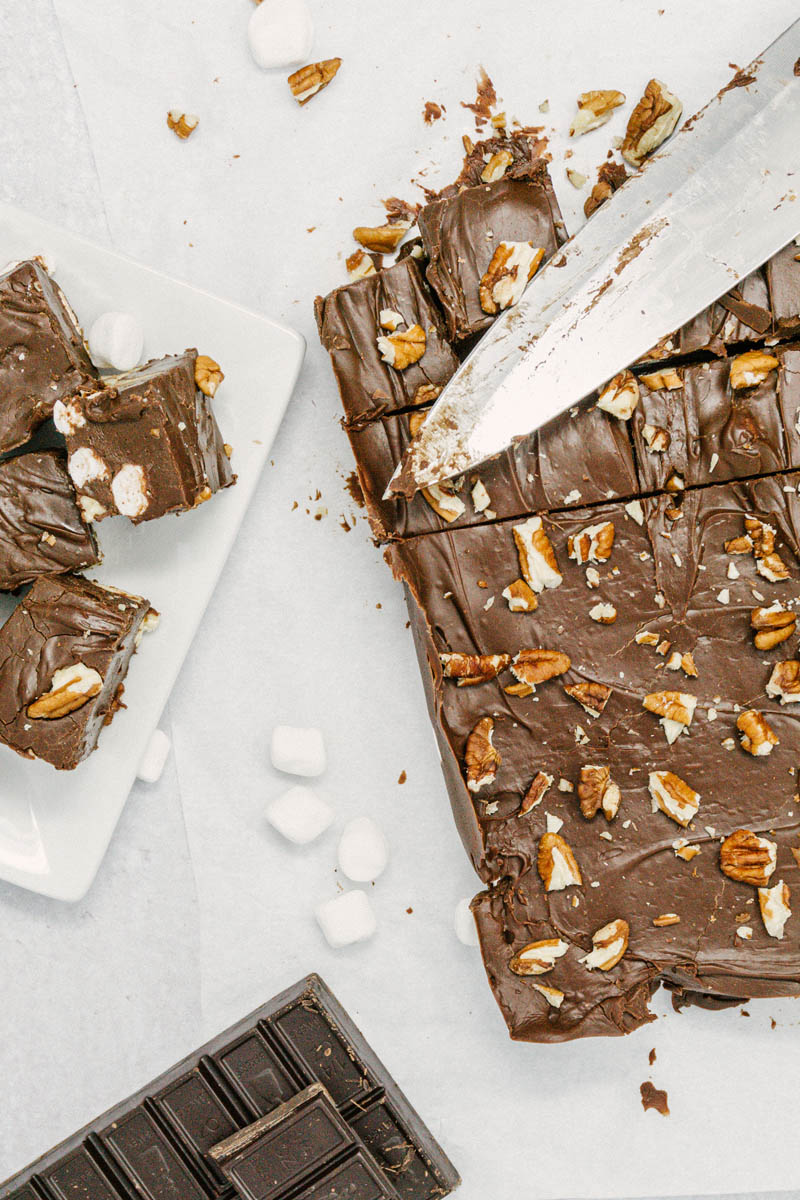 Year-round Treat
This fudge is a year-round treat for us! From Christmas parties to summer beach trips, we love any excuse to make this Rocky Road Fudge. Are you a fudge-only-at-Christmas-time person, or do you love it all year round too? Let us know!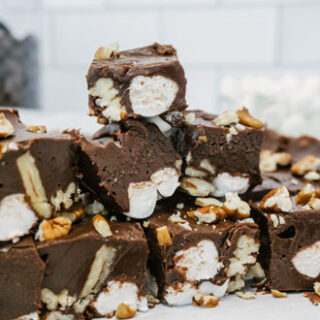 Rocky Road Fudge
Yield:
64 1x1 inch pieces
The perfect fudge recipe. A smooth, creamy, chocolate fudge with pecans and marshmallows that will have you reaching for another piece, and another, and okay, maybe one more.
Ingredients
Fudge
2 oz unsweetened 100% cacao baking chocolate bar
4 C (24 oz) semi-sweet chocolate chips
½ C (4 oz) salted butter
2 (14 oz) cans sweetened condensed milk
2 tsp vanilla
Rocky Road Add-ins
2 C (4 oz) mini marshmallows
1 ½ C (6 oz) pecan halves, divided
Instructions
Line a 10x10 or 9x13 with parchment paper.
Put 2 C (4 oz) marshmallows in a single layer on the bottom of the parchment-lined pan. Evenly sprinkle 1 C (4 oz) of the pecans over the marshmallows.
Chop or hammer (best method - see note) unsweetened chocolate into very tiny bits. This is extremely important because the unsweetened chocolate melts slower than the semi-sweet chocolate chips.
In a microwave-safe bowl, place unsweetened chocolate, semi-sweet chocolate chips, butter, and sweetened condensed milk.
Microwave for 1 minute and stir. Continue in 30-second bursts until the chocolate is mostly melted and smooth. Add the vanilla and stir until it is completely smooth.
Pour fudge over the marshmallows and pecans. Using a butter knife, swirl the fudge, marshmallows, and pecans together a bit.
Smooth top with a rubber spatula, then sprinkle with remaining ½ C (2 oz) pecans.
Refrigerate until cold. Cut into 1-inch squares. Store in the refrigerator in a sealed container between layers of wax paper. Bring to room temperature to serve.
Notes
To hammer unsweetened chocolate: place chocolate into a gallon-size plastic bag and remove all air. Place that bag in another gallon-size plastic bag and remove air. This will prevent spills. Using a hammer, smash chocolate until it is uniformly pulverized.
Can also use a double boiler instead of the microwave. I prefer the microwave because it is quicker and creates fewer dirty dishes.
This fudge will last up to two weeks in the refrigerator.
Pick your Favorite Pin to Save!