These crispy rice bars have a chewy, marshmallow topping and can be customized with colored sprinkles for any occasion.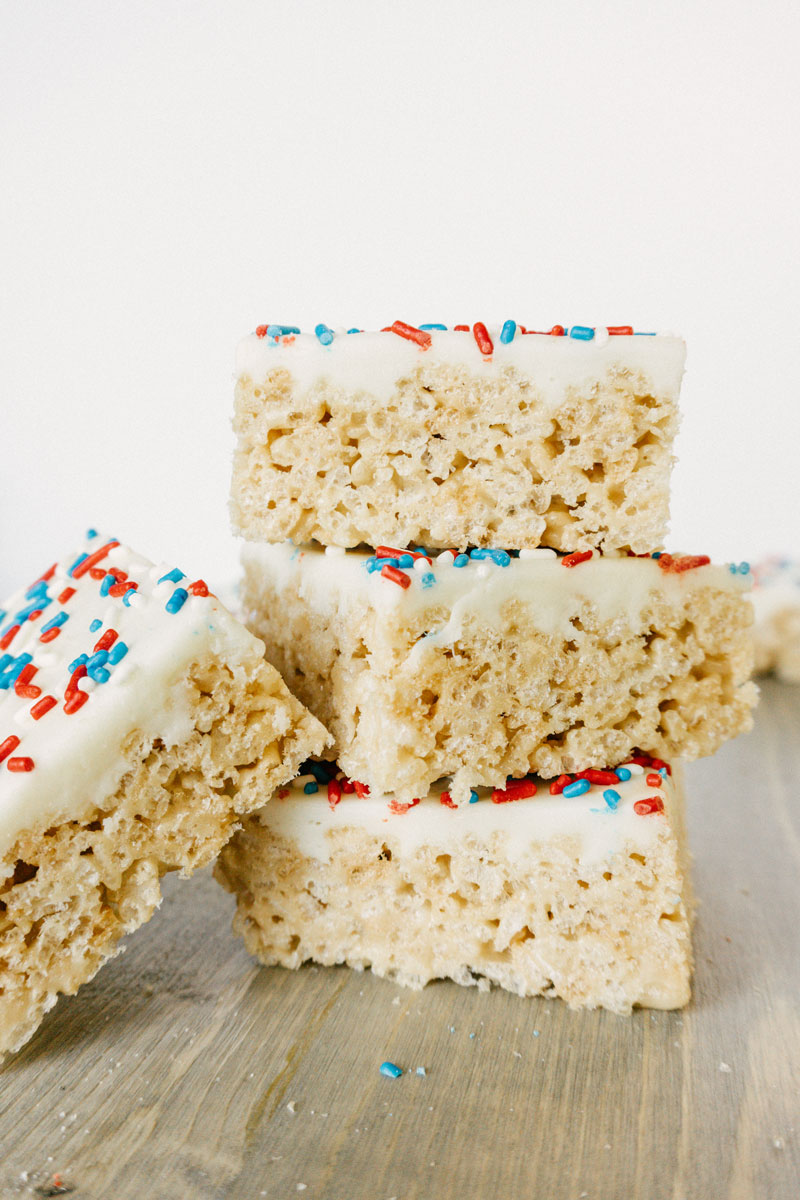 During our time in the cookie shop, holidays were the most fun time of all. With the delicious scents of cookies baking all around us, the creative juices flowed constantly. Motivated by the wild success of the Peanut Butter Chocolate Crispy Rice Bar, we couldn't help but wonder what else a simple Crispy Rice Bar could be transformed into. I developed a sweet, chewy marshmallow and white chocolate topping for these bars that acts as a blank slate for endless combinations of decorations. 
From there, it was a fun exploration into colored sprinkle and cookie cutter combinations. For Christmas, we used stars, candy cane, and tree-shaped cookie cutters with red and green sprinkles. You could transform these into an easy Valentine's Day treat by using a heart shape cutter and topping with red, pink, and white sprinkles. To turn these into an elegant, more grown-up treat, simply place a cup of white chocolate wafers into a plastic bag and use your kitchen hammer (if you don't have one I'm telling you to go get one. You'll use it more often than you think) to smash them into pieces.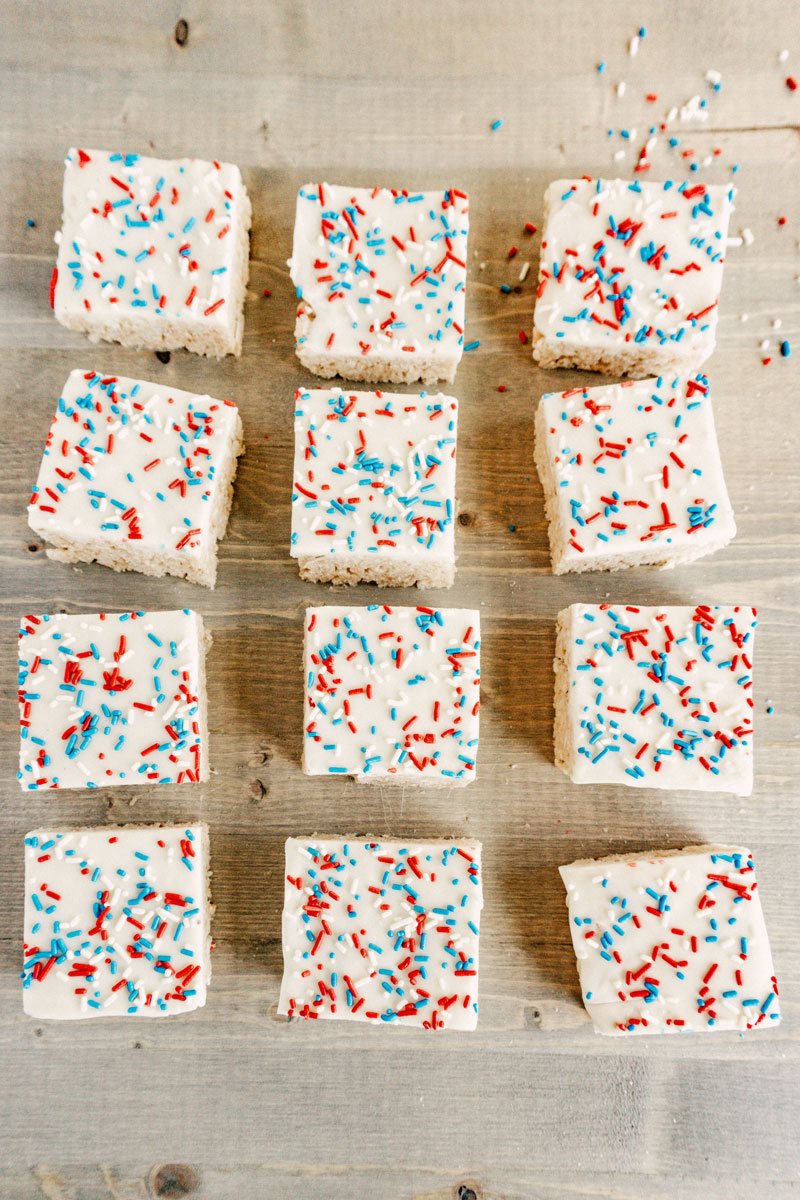 Please do note that sturdy cookie cutters work best for this. The thin ones often have trouble pressing through the crispy bar.
I use a 16-quart stockpot to stir it all together. You know those giant drums they use for kettle corn at theme parks? A big drum keeps the popcorn inside and helps coat it evenly in the syrup mixture. The giant pot principle is the same here and much more helpful to this recipe if you have a stockpot to use instead of two big bowls. You won't have dry rice cereal escaping to every corner of the kitchen and the whole process will be sped up. Once I pour the marshmallow mix over the cereal, I just use a long wooden spoon to stir while holding the pot at about a 45-degree angle. I've also found that a straight edge plastic dough scraper is the easiest tool to use to make sure you scrape all the delicious marshmallow and cereal pieces off the sides of the pot.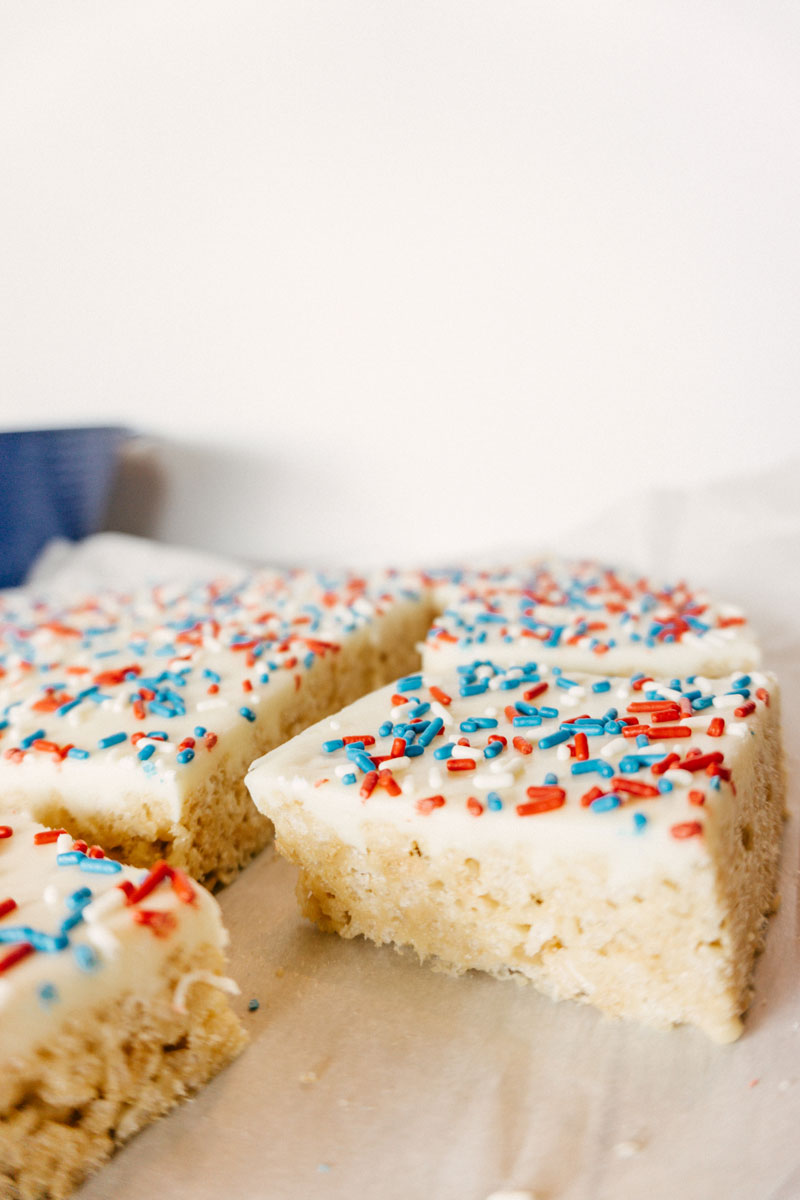 Once you've mixed the marshmallow mixture into the crispy rice cereal and pressed it into the pans, the fun part starts! Pressing the white chocolate mixture on top is a bit like playing with playdough, except that it smells and tastes great! If you are using sprinkles, spread them on top right away. If the white chocolate cools too much, the sprinkles won't stick.
Once they have cooled completely, cut into whatever shapes you desire. Wrap in plastic wrap to make them easy to share. Store in an airtight container. These have a shelf-life of two weeks in the refrigerator and three months if stored in the freezer. To serve, let come to room temperature and unwrap. If layering on a tray, place wax paper between the layers to prevent sticking.
When you make these, please share your color and shape combinations. We love to see your creativity. Comment or tag us on Instagram!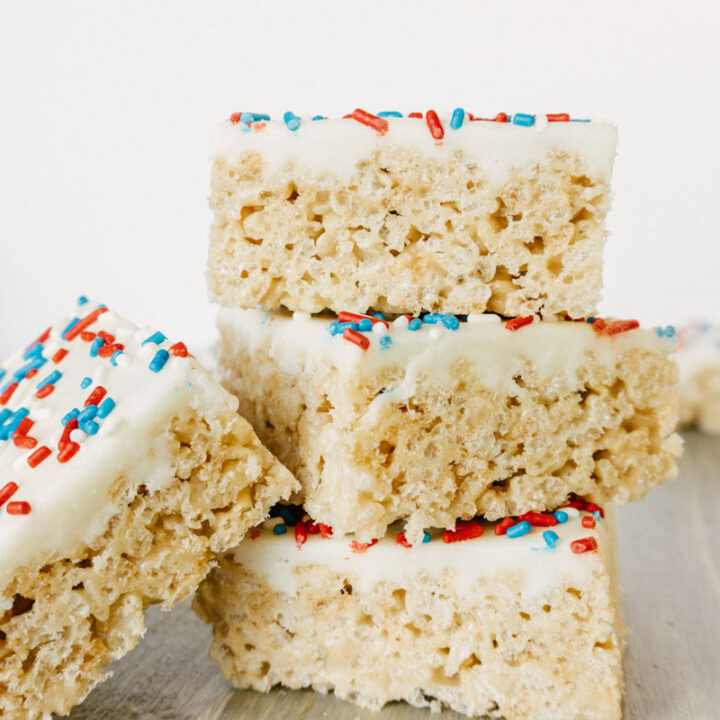 Marshmallow Sprinkle Crispy Rice Bars
These crispy rice bars have a chewy, marshmallow topping and can be customized with colored sprinkles for any occasion.
Ingredients
Crispy Rice Bars
1 C (8 oz) salted butter
2 C (16 oz) light brown sugar
1 scant C (11 oz) light corn syrup
5 C (10 oz) mini marshmallows
15 C (18 oz) crisp rice cereal
Marshmallow Topping
3 C (18 oz) white chocolate melting wafers
6 ½ C (12 oz) mini marshmallows
3 T heavy cream
Sprinkles
Any color, shape, or size
Instructions
Make the Crispy Rice Bars.
Prepare two pans (see note) by lining with parchment paper. Pour cereal into two big bowls or one 16 quart stockpot for mixing later.
In a large saucepan, melt butter, brown sugar, and corn syrup together and bring to a boil. Stir constantly. Remove from heat and add mini marshmallows. Stir until melted and combined. Pour over cereal and stir to coat. Press into pans using plastic gloved hands or a rubber spatula.
Make the Marshmallow Topping.
Melt marshmallows, white chocolate, and cream together in the microwave. The texture will be similar to play-dough. Quickly top crispy bars with balls of white chocolate mixture and press to edges with plastic gloved hands. Sprinkle immediately with desired sprinkles.
Let cool and cut to serve. Wrap in plastic wrap and place in an air-tight container to store. These last up to two weeks if stored in the refrigerator.
Notes
We recommend using one 11x15 pan and one 10x10 or 9x13 pan to press the bars into, or two 11x15 pans for thinner cut-outs when using cookie cutters.
These can be cut into fun, holiday shapes using a sturdy cookie cutter.