The normal back-of-the-box recipe doesn't work well where we live on the East Coast. So we created our own recipe that does well in every climate and has the buttery, marshmallowy flavor you crave.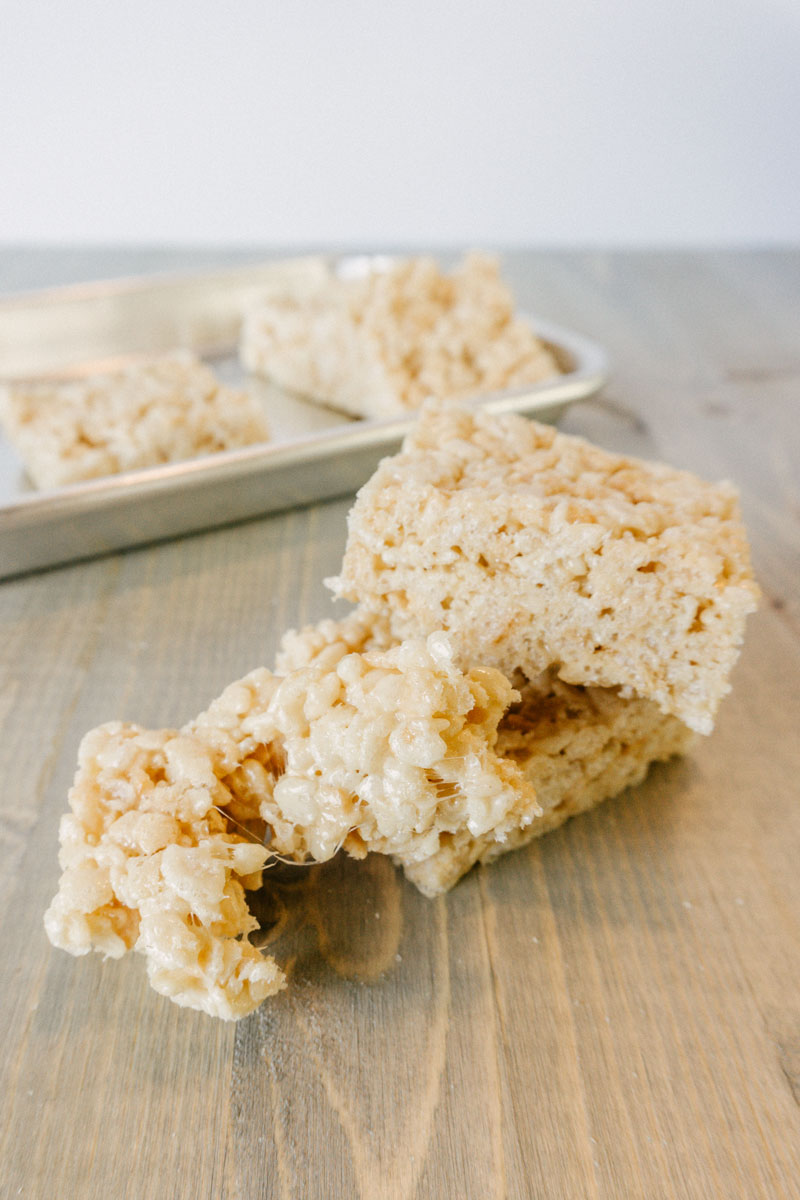 I live on the East Coast side of the United States. The normal recipe on the back of the box of famous Rice Krispies wouldn't hold up to the humidity. They became soggy, mushy, and downright unpleasant to eat. So I quit making them.
Unwilling to give up on that childhood memory, I tried to tackle the problem with a new recipe, but … oops, rock hard bits. I was so surprised. I had tried to work around using marshmallows, assuming they were the culprit. Instead of the anticipated chew, there was a reaction between the brown sugar, corn syrup, butter, and rice cereal that turned it all super, break-your-teeth crunchy. I tweaked it by adding back in a bag of marshmallows and came up with a delightful chew. The brown sugar adds a warm caramel flavor and, together with the marshmallow, tastes like the best parts of a crispy rice treat. The whole reason I eat a crispy rice treat is for the chew AND the crisp AND the marshmallow, without being so obnoxiously sweet you couldn't eat a second one. I can't just stop at one treat now. As you see this recipe makes 1 ½ full pans, plenty for friends, school parties, the fridge for next week, for the family reunion in two weeks, or the outdoor bbq tomorrow night.
I use a 16 qt stock pot to stir it all together. You know those giant drums they use for kettle corn popcorn in big batches at theme parks? A big drum keeps the popcorn inside and helps coat it evenly in the syrup mixture. The giant pot principle is the same here and much more helpful to this recipe if you have a stockpot to use instead of two big bowls. You won't have dry rice cereal escaping to every corner of the kitchen and the whole process will be sped up. Once I pour the marshmallow mix over the cereal, I just use a long wooden spoon to stir while holding the pot at about a 45-degree angle. I've also found that a straight edge plastic dough scraper is the easiest tool to use to make sure you scrape all the delicious marshmallow and cereal pieces off the sides of the pot.
This recipe is easy to make, easy to clean up, and makes lots of crispy rice treats to give away. As soon as they cool completely, I cut and wrap each one in plastic wrap for handing out easily, and put them in a gallon zip-top bag. Their shelf life is amazing. They are good in the fridge for 2 weeks and the freezer for 3 months. If you want to serve them unwrapped for your event, take them out of the plastic wrap and place on a wax paper-lined tray. Be sure to stack wax paper between each layer of crispy treats.
This has been such a consistently good recipe, it has crossed my mind that I could start a business of just crispy treats. That's how confident I feel about this recipe and it's reactions when I have served it anywhere and sold it beside my cookies in the cookie shop.
I hope you enjoy their chewy yummyness!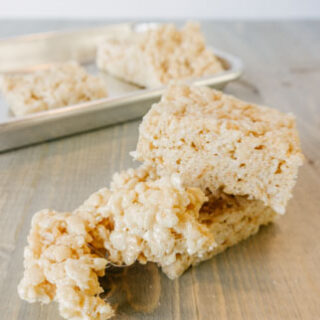 Classic Crispy Rice Bars
Yield:
70 2x2 inch squares
The normal back-of-the-box recipe doesn't work well where we live on the East Coast. So we created our own recipe that does well in every climate and has the buttery, marshmallowy flavor you crave.
Ingredients
1 C (8 oz) salted butter
2 C (16 oz) light brown sugar
1 scant C (11 oz) light corn syrup
5 C (10 oz) mini marshmallows
15 C (18 oz) crisp rice cereal
Instructions
Prepare two pans (see note) by lining with parchment paper and prepare one long, sturdy spoon for stirring. Pour cereal into two big bowls or one very large stockpot for easy mixing when marshmallow mix is ready.
In a 4 quart saucepan, melt butter, brown sugar, and corn syrup together and bring to a boil. Stir constantly. Remove from heat and add mini marshmallows. Stir until melted and combined. Pour over cereal and stir to coat. Press into pans using plastic gloved hands or a rubber spatula.
Let cool and cut to serve in 2x2 inch squares. Wrap in plastic wrap to store.
Notes
We recommend using one 11x15 pan and one 10x10 or 9x13 pan to press the mixture into.
Wrap in plastic wrap and place in an air-tight container to store. These last up to two weeks if stored in the refrigerator.