This Aztec Wonder is a fudgy, rich chocolate cookie with the perfect amount of cinnamon and cayenne. Chocolate and spice come together in the most superb way you never knew you needed in a cookie. It's the perfect chocolate cayenne cookie!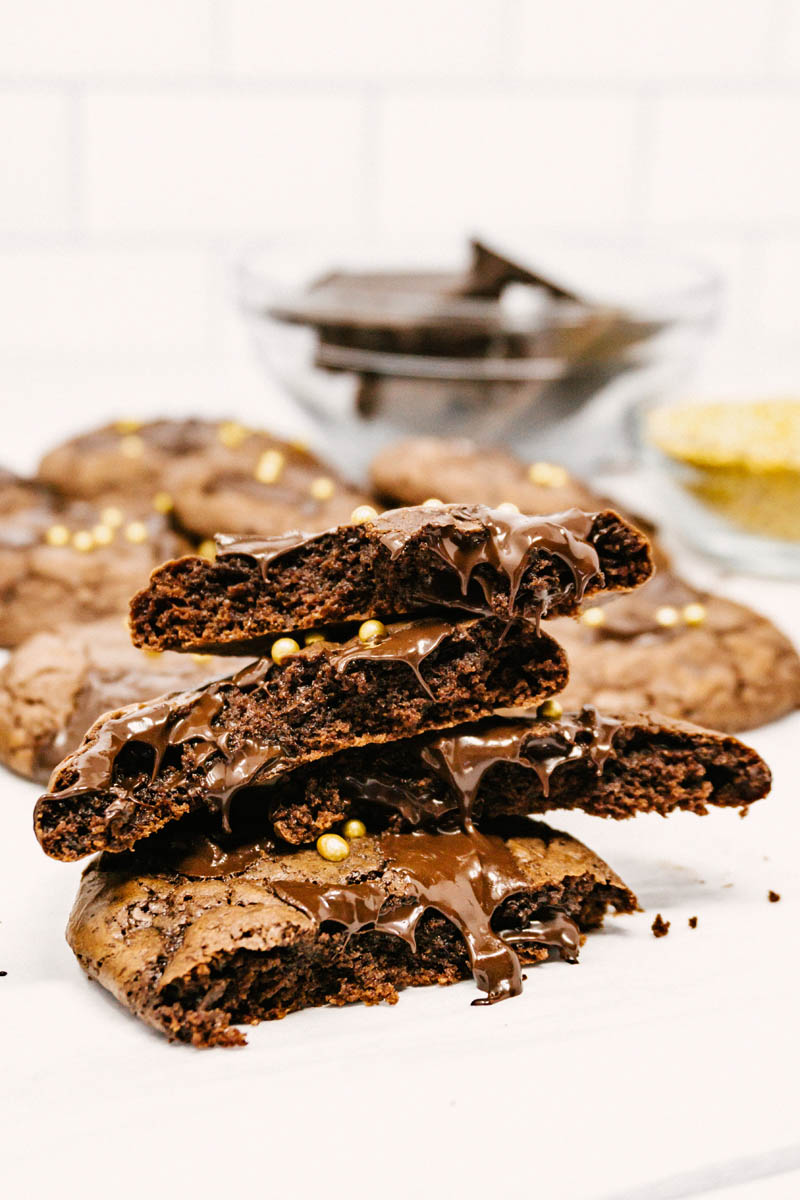 This Aztec Wonder Cookie is one of my original cookie shop recipes. It came about on a day when I wondered why there was such a trend to add cayenne pepper to anything chocolate. I thought maybe if there was a market for it, then I probably should figure out how to use it.
It was nearing Cinco de Mayo and felt like an appropriate addition for the spicy Mexican themed meals I was making at home, in addition to the Creamy Flan I like to make. I lived in Arizona for a portion of my life and learned to love Mexican food like enchiladas, homemade tortillas, and chilis. My husband's grandfather owned a ranch in New Mexico where they grew green chilis and cotton. Cinco de Mayo in our family means there will be great food.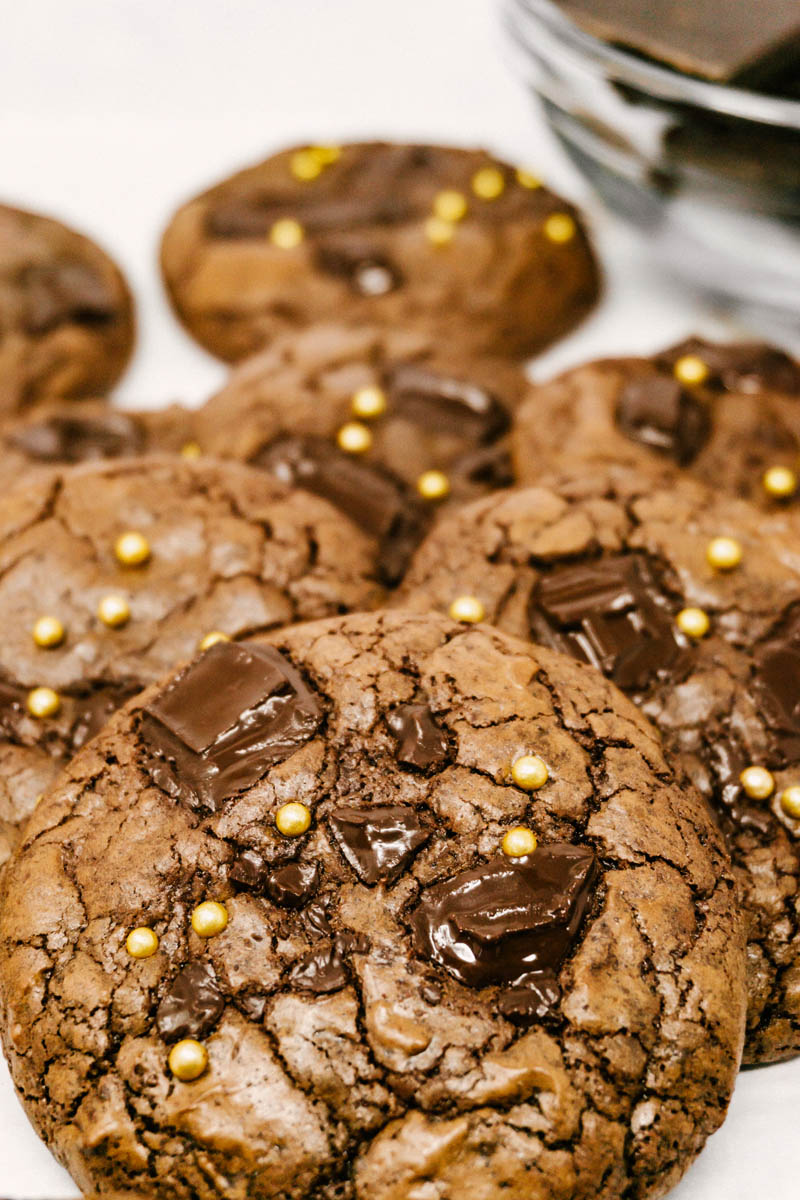 A Gold Mine
After I had closed the cookie shop, I was thinking about selling my cookie shop name with all the secret recipes. The name of the cookie shop was Missy's Ugly Cookies. We tried to make great looking food that also tasted good. That's why the name of this website is "Taste Before Beauty."
I met with a business broker to discuss my options. They came to my home to meet with me and I threw together some cookies, which is my norm. I made the Chocolate Wonder (stay tuned for the recipe in a future post. If you can't wait to make a chocolatey cookie, check out the Double Chocolate Chip Cookie), which is a rich, fudgy chocolate cookie – every bit the wonder the name claims. She took one bite, looked at me, and said, "Do you have any idea the gold mine you're sitting on here?"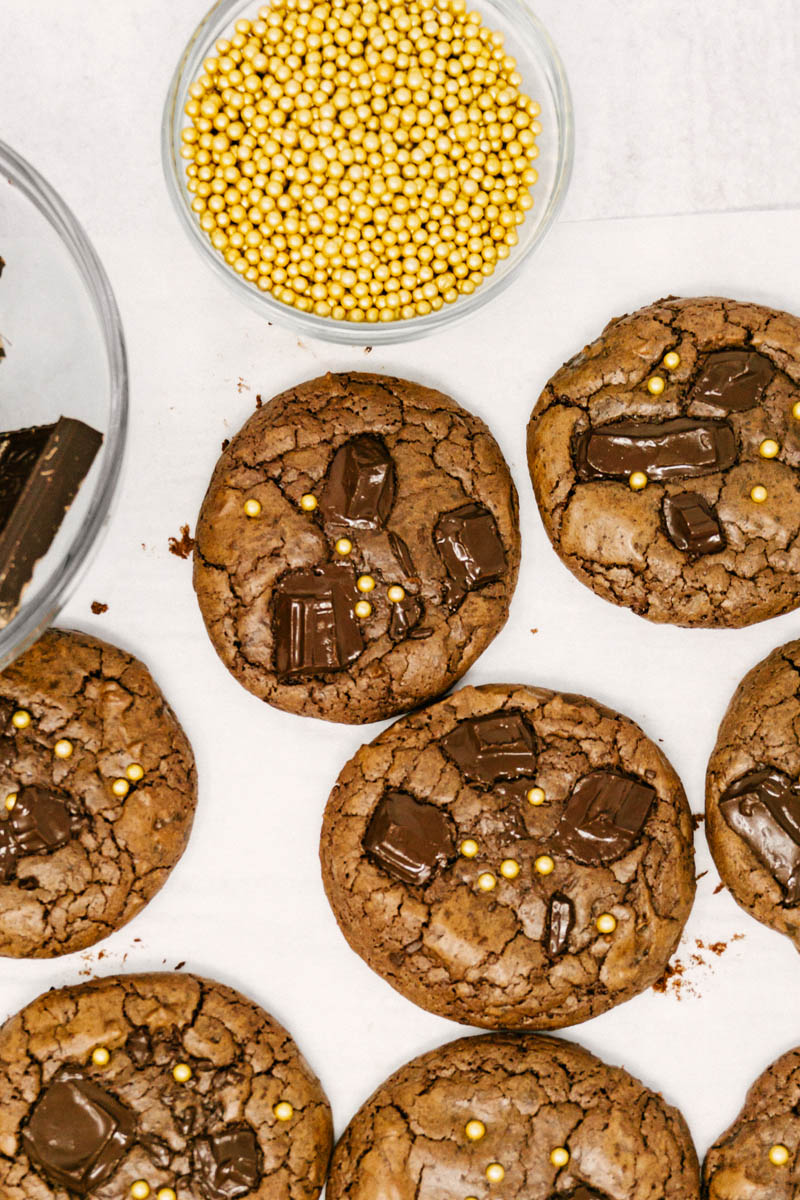 The Spice of Life
I took the Chocolate Wonder Cookie base I made for this business woman, (we opted not to sell – I was at a time in my life I needed to have time for my children and I wasn't ready to share the recipes yet), and spiced it up with some cayenne and cinnamon.
The Aztec Wonder is simply a spicy twist on my original Chocolate Wonder, which is where the name came from. The Aztecs would put chili in their chocolate. Since they are also historically known for their gold, and I needed a way to differentiate the cookies when I sold them in the shop, I added some gold to the top. It gives it a fancy flair that begs you to try a bite. They are perfect for the delicious chocolate cayenne cookie!
It's an interesting cookie because the cinnamon doesn't overwhelm the cookie, nor does the cayenne. The fudgy cocoa cookie is so full of flavors that all compliment each other perfectly. When you take a bite of this Aztec Wonder, the chocolate cayenne cookie and the dark chocolate chunks hit your tastebuds delightfully. Suddenly, you get a warm sensation in the back of your throat to round out the flavor. That's all the spicier this cookie gets.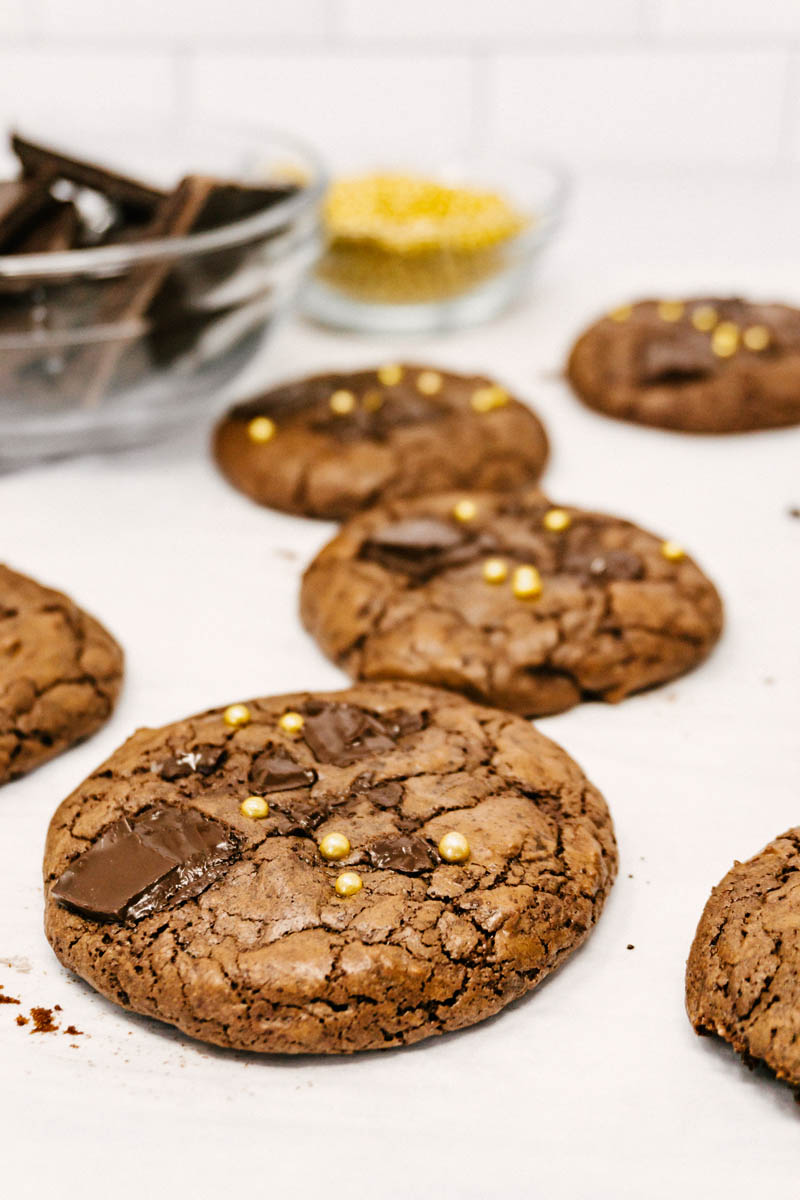 Recipe Tips for the Aztec Wonder Chocolate Cayenne Cookie
I prefer to use a chopped dark chocolate bar in the Aztec Wonder. I chop it roughly so there are big chunks of chocolate throughout the cookie. This helps it look extra decadent. My favorite kinds of chocolate to use are Wilbur Bronze Medal chocolate or Hershey's Special Dark chocolate.
You could also use 60% dark chocolate chips if that's what you have. Ghirardelli Bittersweet Baking Chips are my favorite. The rich chocolate dough pairs better with the dark chocolate, but if all you have is semi-sweet then throw those in! The trick to making this chocolate cayenne cookie look complete is adding a few chunks of reserved chocolate to the top of the cookie before baking.
Just remember, this chocolate cayenne cookie is best when it is underbaked a bit. Cocoa has this divine quality that helps balance the moisture in a baked good. So, as a chocolate cookie cools, it can become dry. If you bake it a bit less, the cookie will still finish setting up as it cools and you'll have the happiness of a fudgy brownie in cookie form.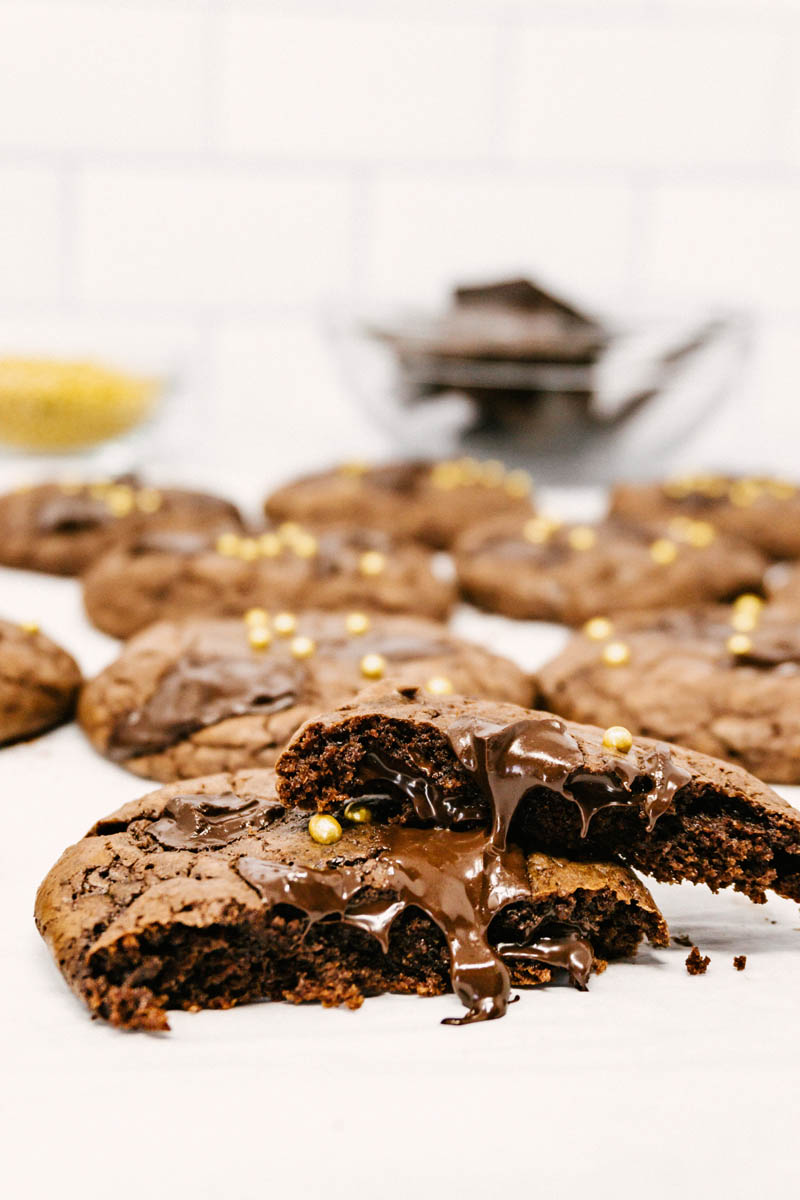 The Best Compliment
When we were still running the cookie shop, a patron came in one day. She had traveled two hours because her friend couldn't stop talking about the Aztec Wonder. This woman drove all that way to purchase it for her friend's birthday and see the shop. That was the best compliment – that I had been successful enough in properly spicing the cookie that someone would travel two hours for it.
I sincerely hope you love this chocolate cayenne cookie. It's incredibly chocolatey, with the perfect balance of spicy cinnamon and cayenne. Leave a comment letting me know how it goes!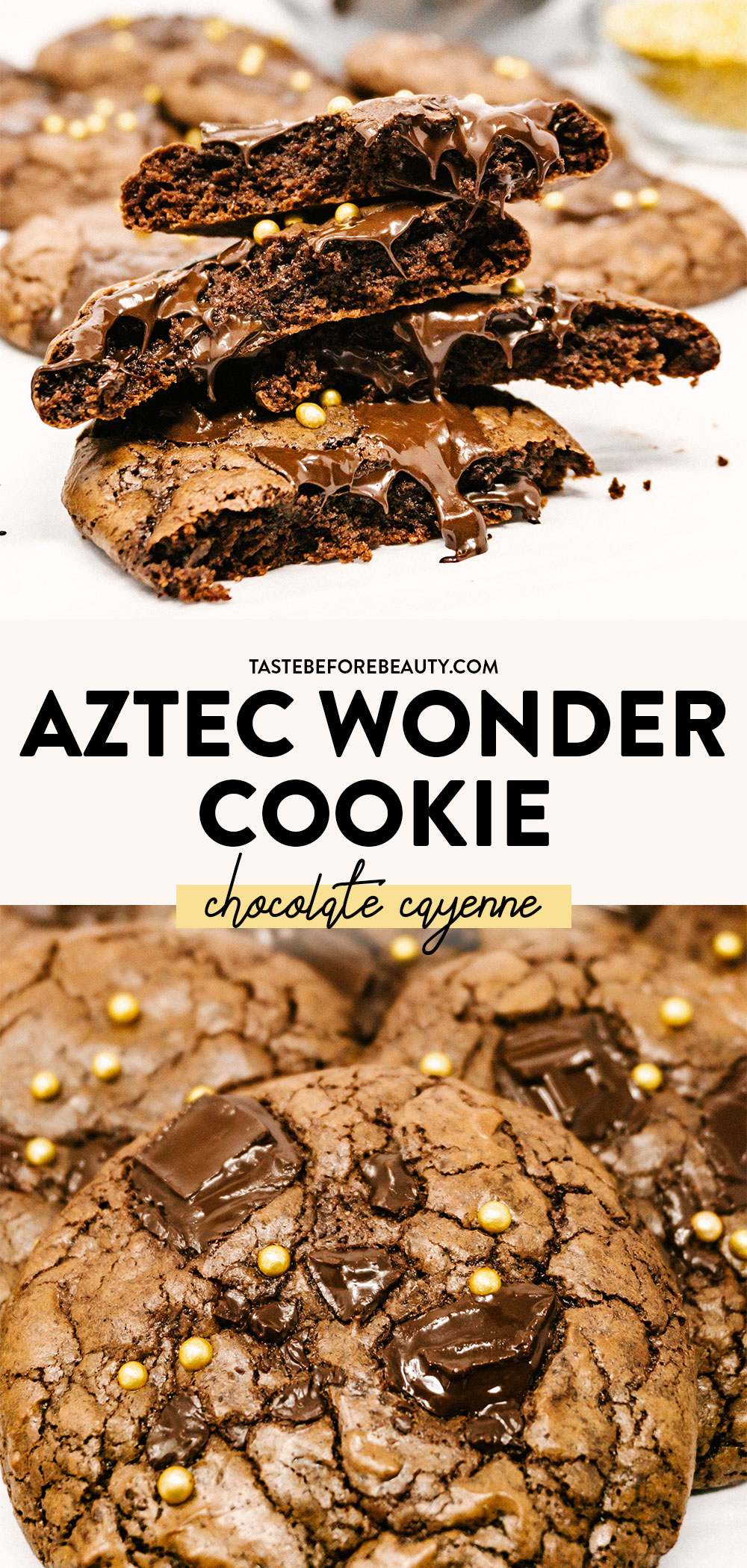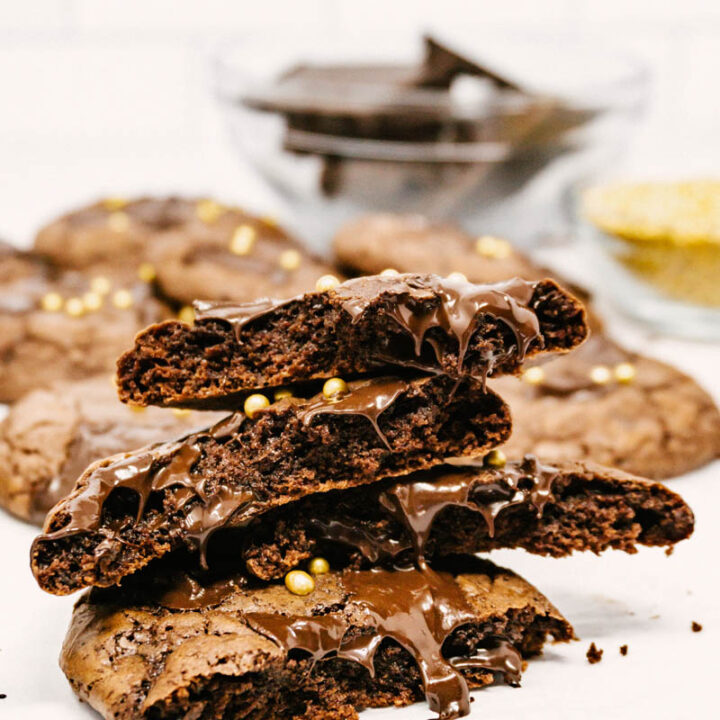 Aztec Wonder Cookie
Additional Time:
15 minutes
This Aztec Wonder is a fudgy, rich chocolate cookie with the perfect amount of cinnamon and cayenne. Chocolate and spice come together in the most superb way you never knew you needed in a cookie.
Ingredients
¼ C (2 oz) salted butter
¼ C (2.2 oz) vegetable oil
2 ⅛ C (15 oz) white sugar
¾ C (3 oz) cocoa powder
4 large eggs
2 tsp vanilla
1 tsp salt
2 tsp baking powder
1 tsp ground cayenne pepper (for extra spice add an extra tsp)
1 tsp ground cinnamon
2 C (9 oz) all-purpose flour
2 C (12 oz) chopped dark chocolate, divided
2 T gold nonpareils (optional)
Instructions
Preheat oven to 375*F. Line baking sheets with parchment paper.
Using a stand mixer, cream butter and sugar.
Add oil and cocoa, then eggs and vanilla.
Mix in the dry ingredients. Reserve 1/2 C (3 oz) chopped chocolate. The dough will be wet and sticky.
Using a #30 cookie dough scoop (2 ½ T), drop dough onto parchment-lined cookie sheet 2 inches apart. Place a few pieces of chopped chocolate on top of dough balls and sprinkle with golden nonpareils. Bake 6-8 minutes just until cookies are set and do not look raw in the cracks.
Notes
The dough will be very sticky and wet looking, almost like a brownie batter. As long as you have measured the ingredients correctly, it will bake up properly. 
Do not overbake these. Pull them out of the oven when the cracks appear partially shiny and no longer totally raw.  The ingredient cocoa will help the cookie to continue setting up as it cools. If they are dry and not fudgy inside, they have been overbaked.