This ultra-creamy Almost-From-Scratch Flan is incredibly easy. With homemade care, a little box of flan mix, plus your own special caramel touch, you'll have everyone shouting "¡Olé!"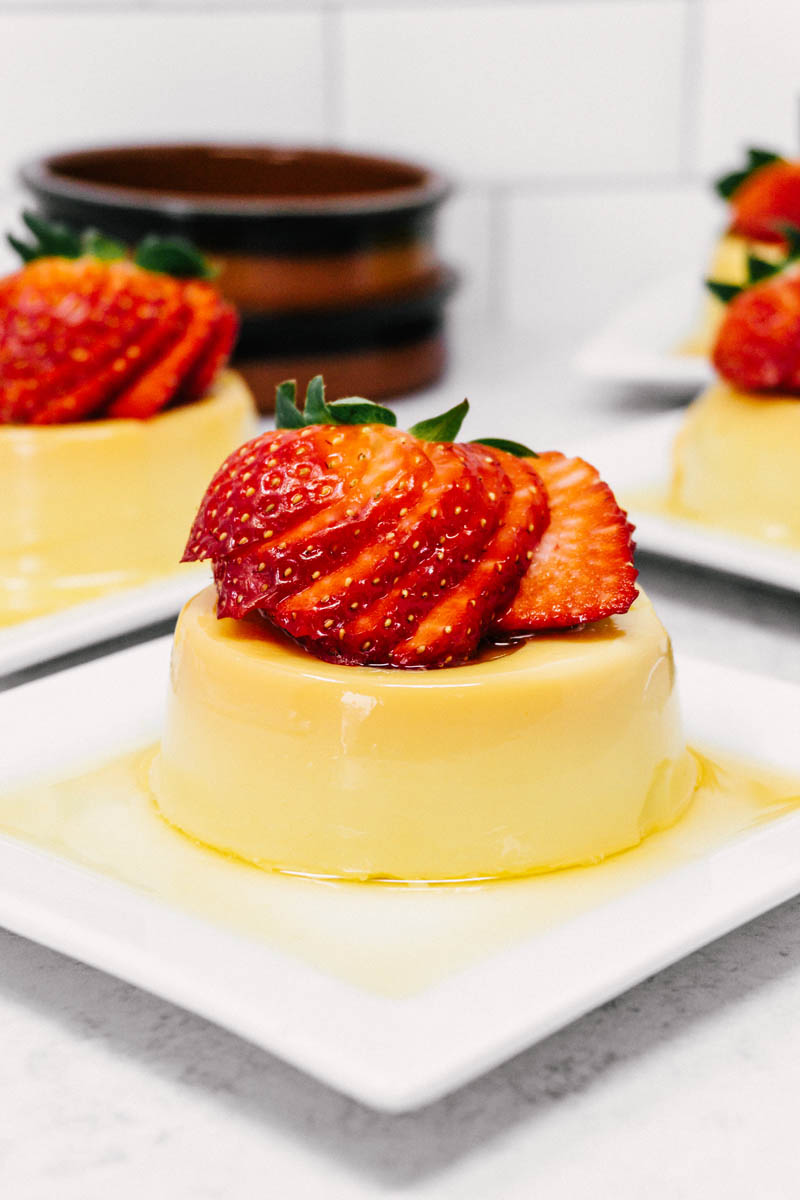 The first time I ever had flan was shortly after my husband returned from a trade mission to Mexico with the Pennsylvania Governor's office. It was different from anything I had eaten before. But, I grew up eating pudding, and this was somewhat similar so I liked it.
The bitter caramel sauce wasn't my favorite though. As I learned to monitor the caramelizing sugar on the stove and keep it from burning, this Creamy Flan grew on me. I make sure I pull off the sugar once it's dissolved and has turned a light amber. The caramelized sugar syrup on the flan is perfect and delicious!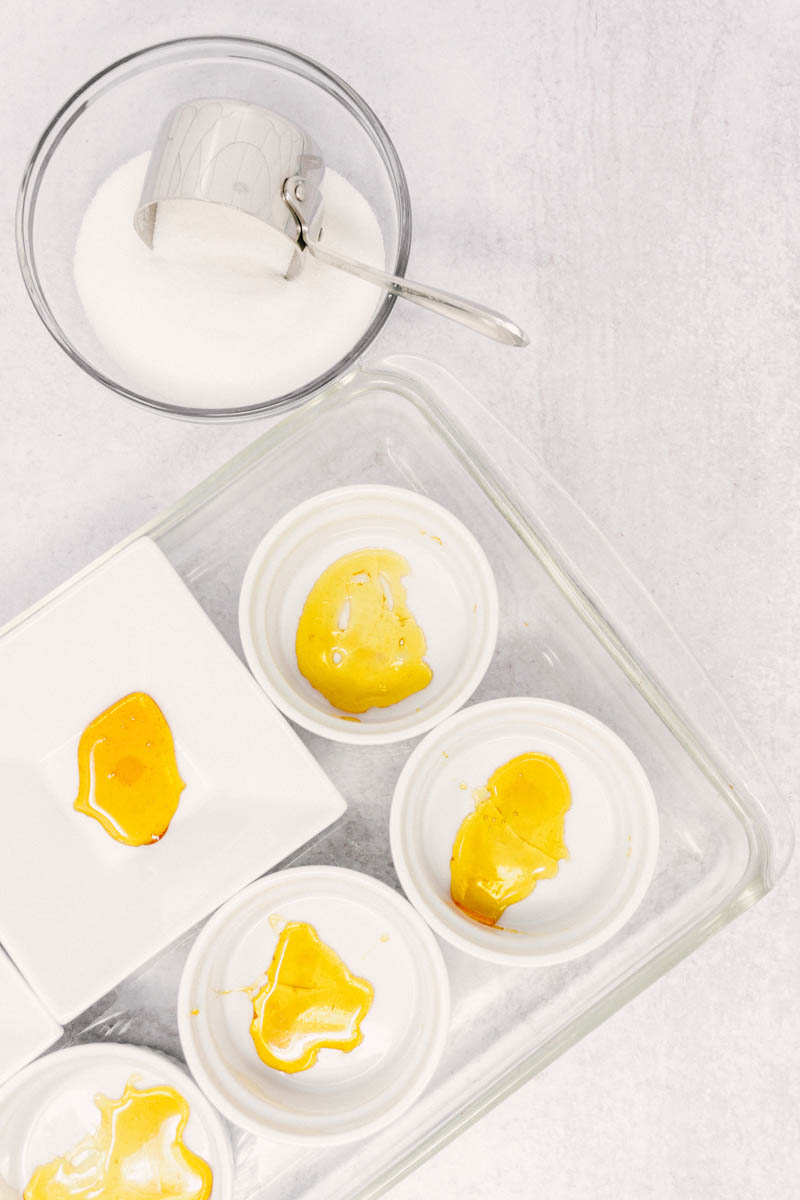 Testing Grounds
As I tried flan here and there, I began to see patterns. Some recipes had a ton of air bubbles and didn't feel creamy and smooth on my tongue. Sometimes, it hadn't sat in the fridge long enough for the caramel to turn into syrup. I even had some flan with a flavor so light it didn't compliment the spicy meal I had just eaten.
So, I decided to create my own Creamy Flan recipe by combining all the bits and pieces I had learned on my journey. Flan is a simple custard made from milk, sugar, eggs, and vanilla. My question was how could I make it smooth and rich?
Eggs can often be temperamental in custard, especially if I wasn't careful. I tried adding extra egg yolks which increased the smoothness, but I couldn't get a consistent result. Adding a touch of cream cheese increased the flavor but ruined the texture.
I know all of these things can be part of the process of creating a luscious dessert worth serving to guests, but I don't have time for careful processes for just one dish. Especially when I am expecting company for dinner and there is more on the menu than just flan.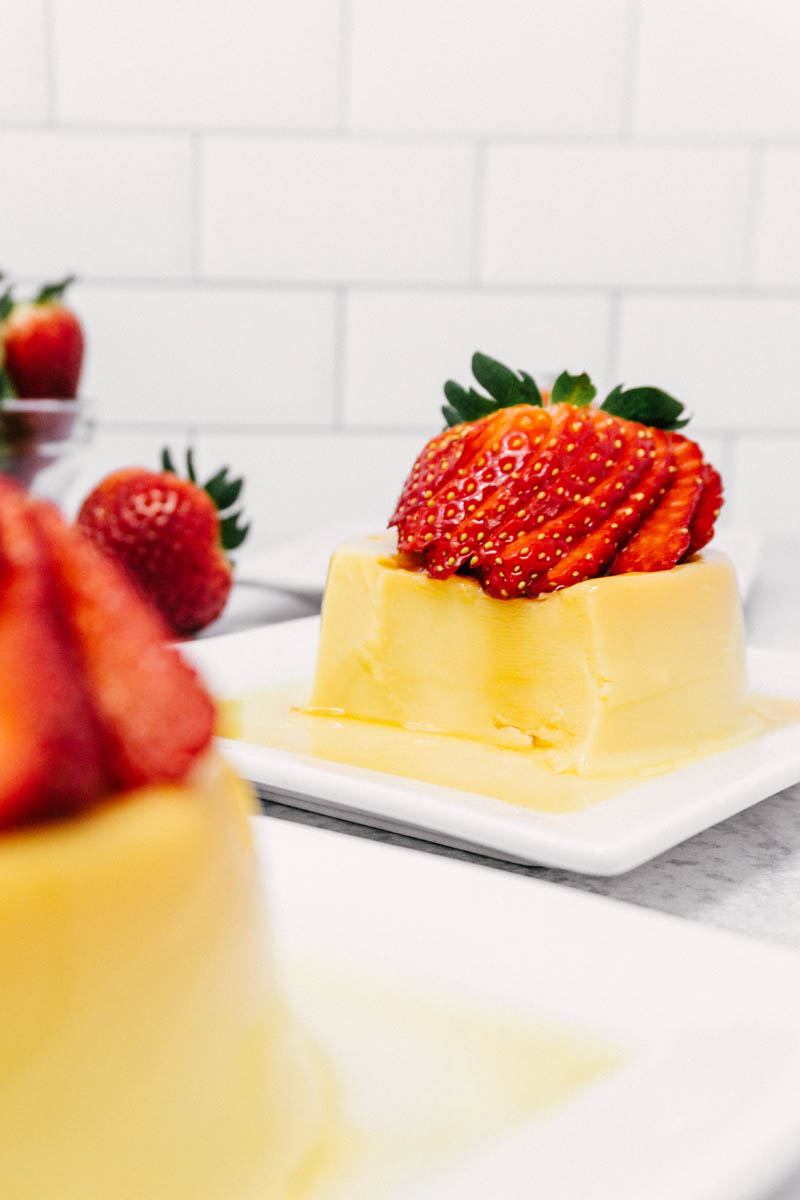 Finding the Perfect Shortcut
I had planned a Mexican-themed meal for dinner and was craving some flan to go with it. Since this was for a weeknight dinner, I was short on time but had seen a Goya brand boxed flan mix in the Hispanic section at the grocery store. I purchased it on a whim, hoping it would give me good results while saving time. 
I made the boxed flan exactly according to directions. The caramel included was kind of dark and looked more gray than golden. It looked quite unappetizing. I liked the general flavor of the custard, but I knew I could improve it with some simple changes.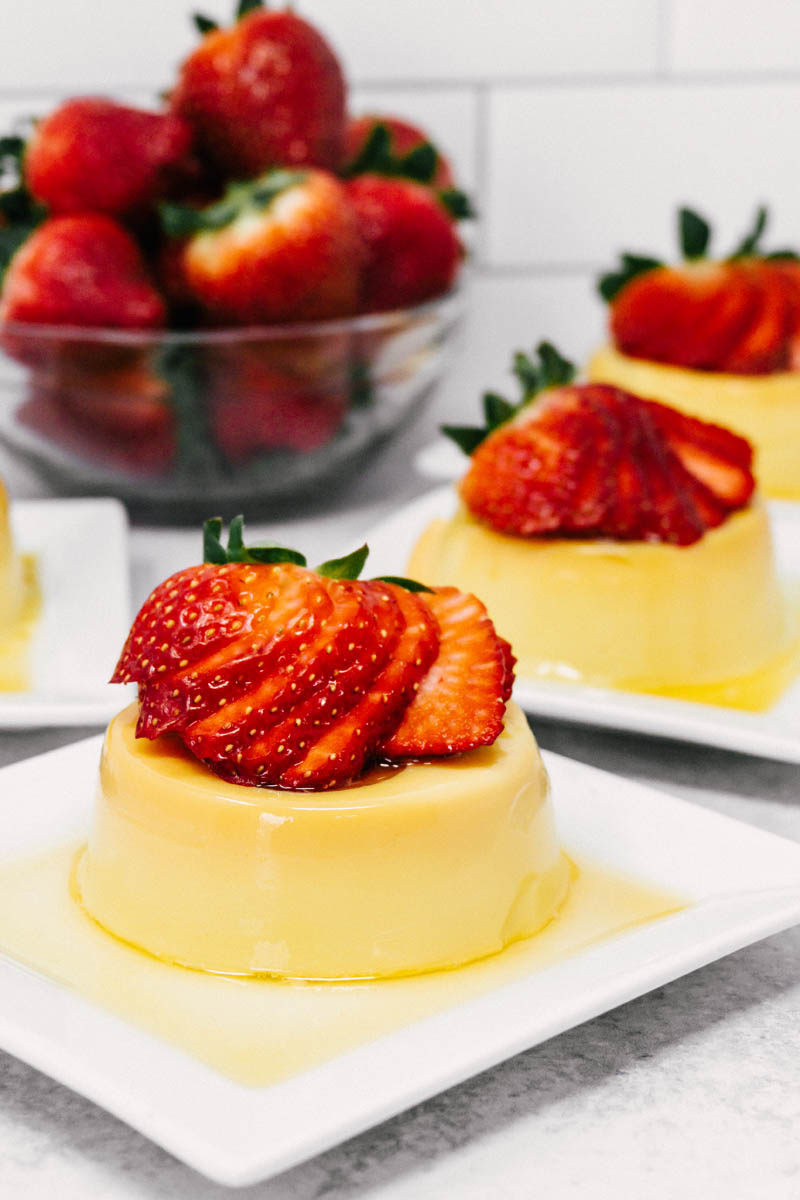 Creamy, Rich Flan
I have had great success using sweetened condensed milk in my Rocky Road Fudge to make it rich and smooth. Creamy, custardy flan may also benefit from the smoothness the sweetened condensed milk gives. So, I made it again using less liquid than called for on the box and substituting in a can of sweetened condensed milk.
It was magic. Well, at least once I threw out the included caramel packet and made a super easy caramelized sugar of my own. This Almost-From-Scratch Creamy Flan is thick, sweet, rich, and creamy yet light on the tongue. It is the perfect follow-up to spicy enchiladas or flavorful tacos. Adding a fresh strawberry on top makes it the perfect dessert.
I do like to make dessert from scratch but I'm also wise enough to know how to save time and effort. I once read that, "Time can stop you from progressing." In the baking and cooking world, there are hundreds of recipe options and sometimes you just have to throw out your preconceived notions and be willing to learn from someone else's mistakes. It saves you so much time.   This is one instance where taking a shortcut is truly worth the result. Let me know in the comments how this Almost-From-Scratch Creamy Flan goes!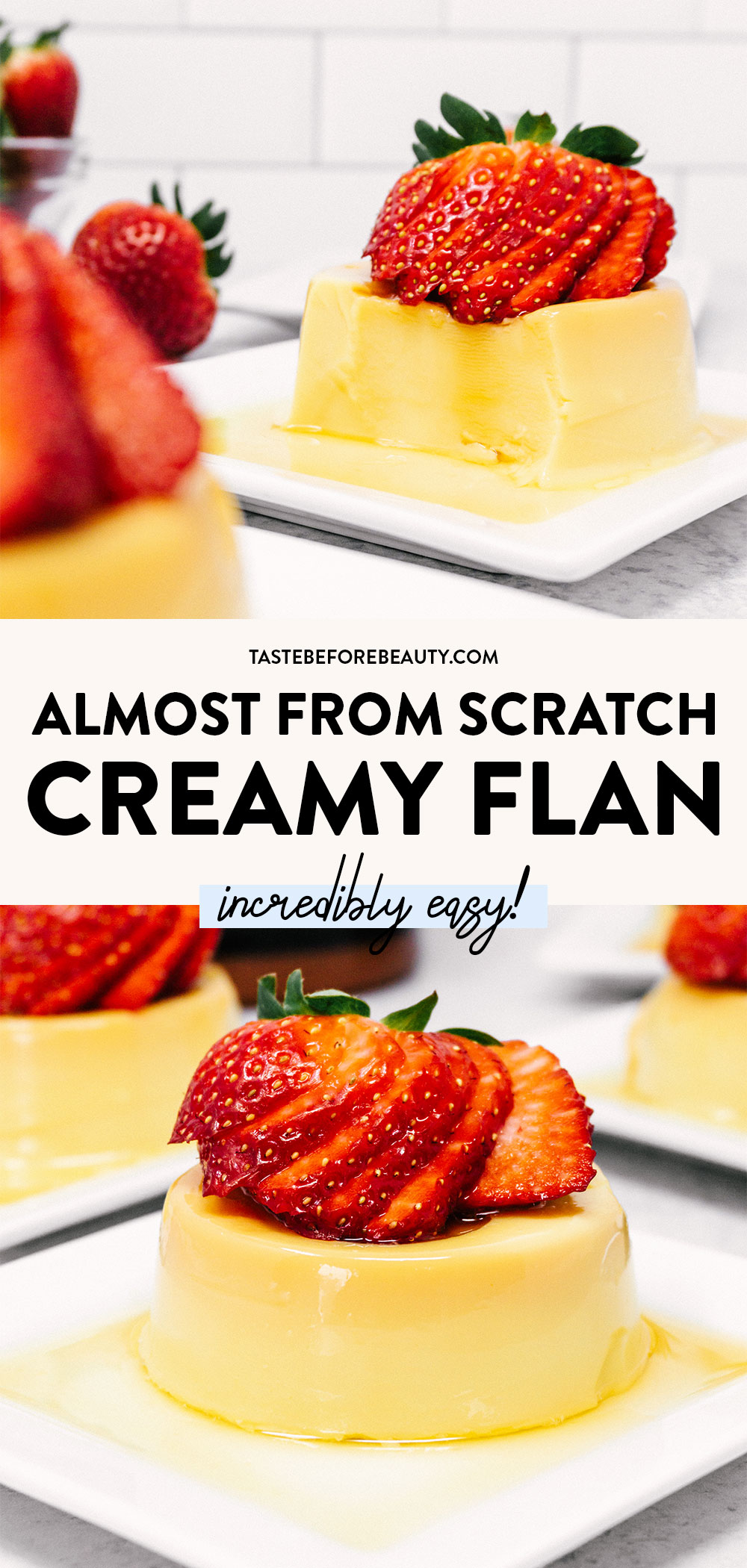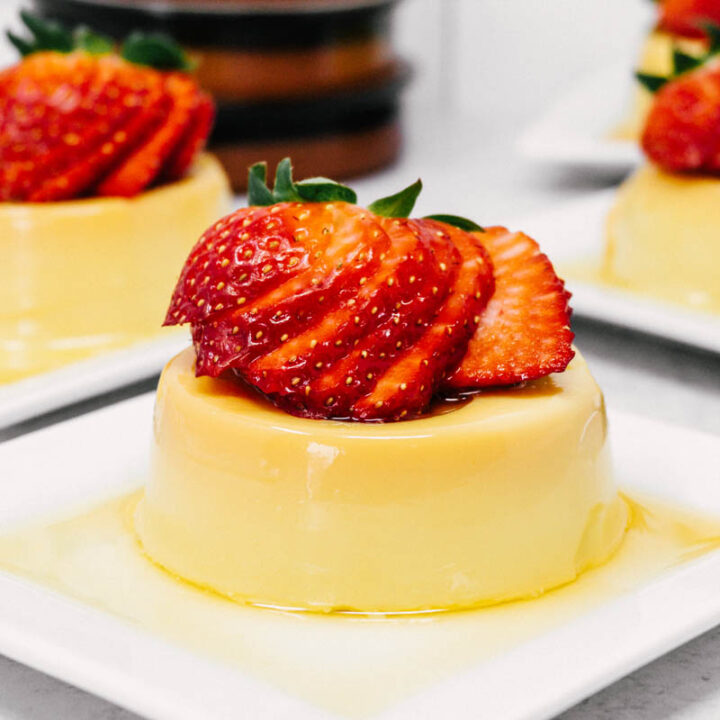 Almost-From-Scratch Creamy Flan
Total Time:
4 hours
45 minutes
This ultra-creamy Almost-From-Scratch Flan is incredibly easy. With homemade care, a little box of flan mix, plus your own special caramel touch, you'll have everyone shouting "¡Olé!"
Ingredients
Caramel
¼ C (1.75 oz) white sugar
Creamy Flan Custard
1 (14 oz) can sweetened condensed milk
1 (5.5 oz) box Goya Flan mix (don't use the caramel provided in box)
2 ¼ C (18 oz) milk
1 tsp vanilla
8 strawberries, for serving (optional)
Instructions
Make the Caramel.
In small dry pan on stove over medium heat add ¼ sugar. Let sugar dissolve and caramelize to a light amber color.
Immediately pour 2 tsp into each 8 (½ C) glass souffle dish, or 1 glass pie plate if making a large flan. It will instantly harden.
Make the Creamy Flan.
Pour milk and sweetened condensed milk into a pot on the stove. Add the Goya flan mix and vanilla. Do not use a whisk. Stir continuously, but gently.
Heat until it just starts to boil and immediately pull off the heat. Stir carefully to avoid air bubbles.
Divide equally into souffle dishes. Cover with plastic wrap and refrigerate at least 4 hours. This is best if left overnight for the caramel to fully dissolve and turn into syrup.
When fully cool and set, invert dish onto a plate. The flan should drop right out with a caramelized syrup. If needed, run a knife gently around the edge before inverting. Serve with a strawberry.
Notes
Don't use a whisk to combine milk and flan mix. I use a heat-safe silicone spatula to gently stir flan while bringing it to a boil. 
Flan mixture will be thin after bringing to a boil but will thicken as soon as it chills.