A quick, buttery sugar cookie designed for those who are short on time, but still want a colorful, tasty treat!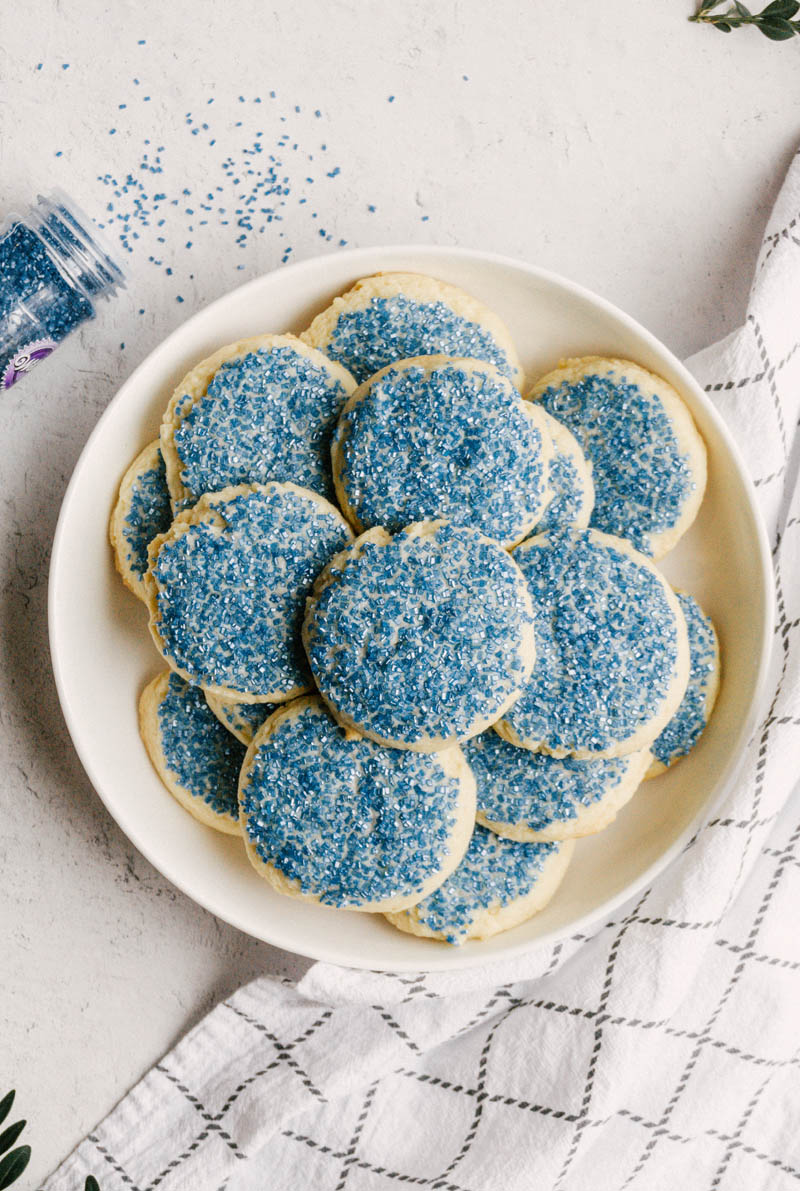 These cookies were created in response to a need for a colorful sugar cookie without frosting. People loved our Frosted Sugar Cookies (and you will too! Click here to try them) but they took extra time and space for the frosting layer. These Butter Sugar Cookies are simple to make and look beautiful, no matter where you take them.
Using Sparkling Sugar
This little gem of a cookie needed more butter and sugar in the dough to fully round out the flavor, without adding frosting. It needed to stand out all on its own. The cookie alone needed to stand out. I nailed down the flavor but found the texture a bit boring. Colored sparkling sugar solves this problem, plus adds a fun burst of color.
While you may be tempted to use normal sprinkles, I've tried them and they bake up… not as beautifully. The color bleeds into the cookie. Sparkling sugar maintains its color during baking, ensuring a beautiful result.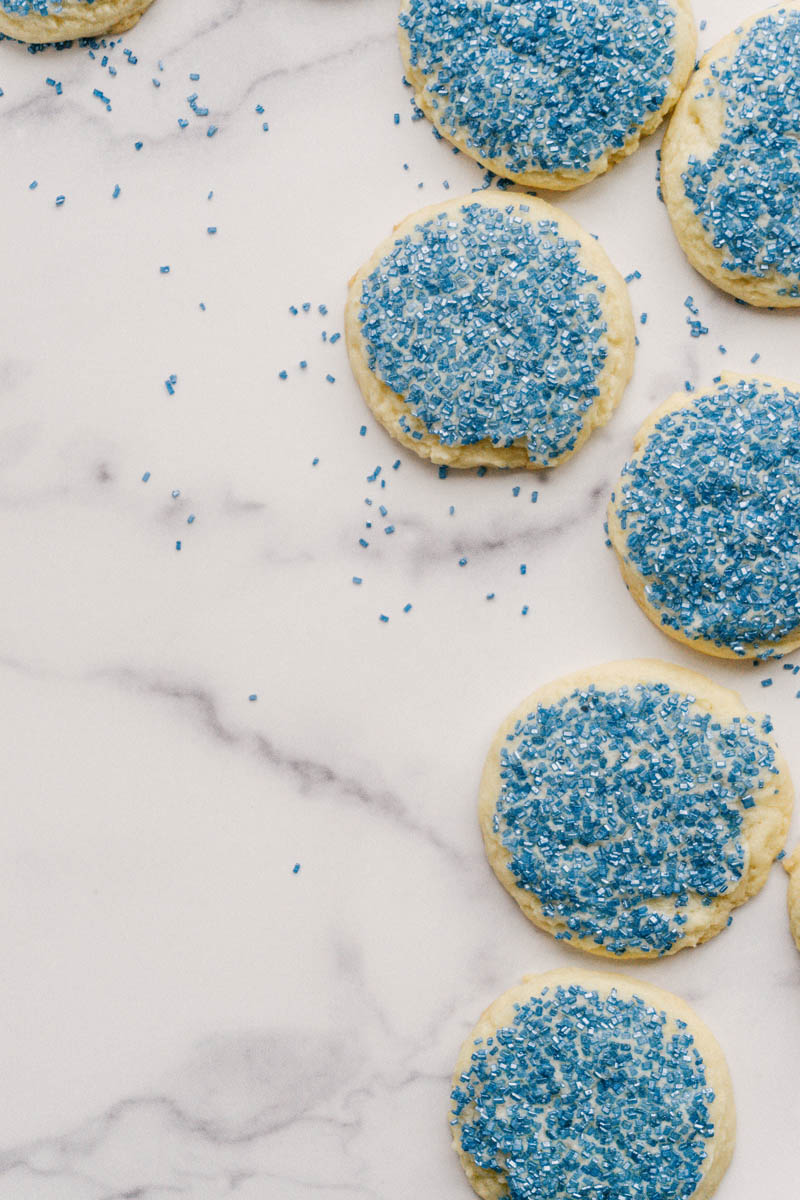 Always Creating
A friend of mine once said, "You never quit creating, do you?" She was right. Creating in the kitchen makes it so much more fun for me, and adds extra meaning to everything I bake.
These Buttery Sugar Cookies look so fun with the blue sugar sprinkles on top. As I was typing this recipe up, a thought occurred to me to try using turbinado sugar for the top. I hoped it would give the same sweet result while upgrading it to an adult treat. I was right! Using turbinado sugar adds a sophisticated adult flair while keeping the delightful sugar crunch.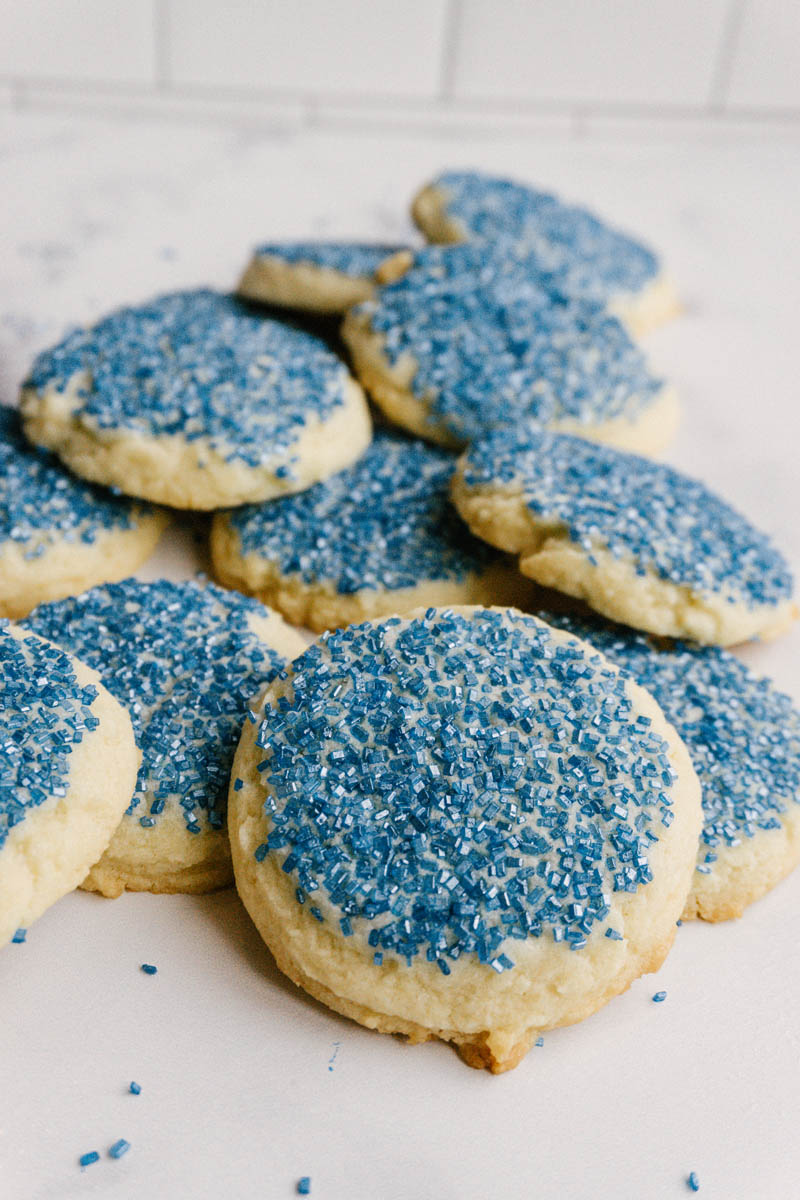 Easy Gifting of These Cookies (If You Don't Eat Them All First)
It would be fun to make these using a #40 (1 ½ T) cookie dough scoop, or even smaller, to make a bunch of little cute cookies. Package them up and add a raffia bow and you've got the easiest gift that anyone will love to receive. Play with the colors of sparkling sugar to match any occasion.
I hope your inner child comes out as you make these. I hope you are thrilled with how easy they are to make and how delicious they taste. Let me know in the comments what you think of this Buttery Sugar Cookie!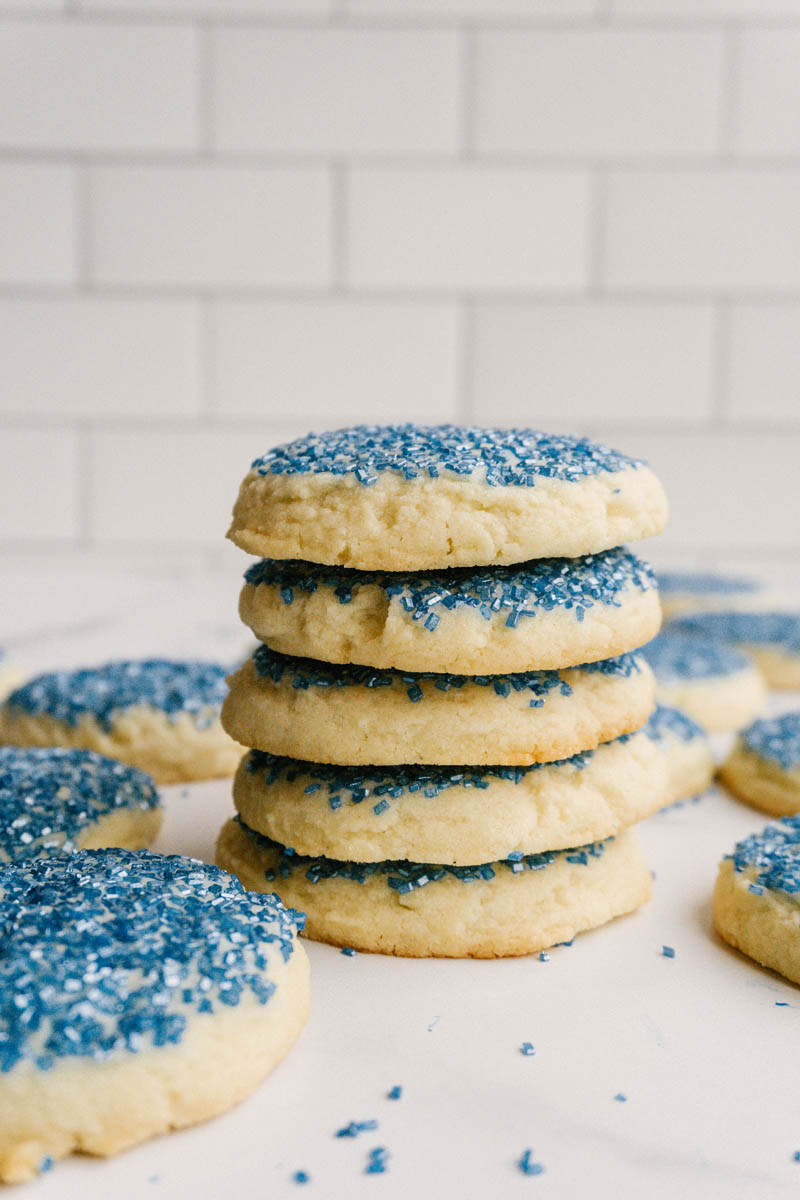 Products I Love to Use When Making the Buttery Sugar Cookie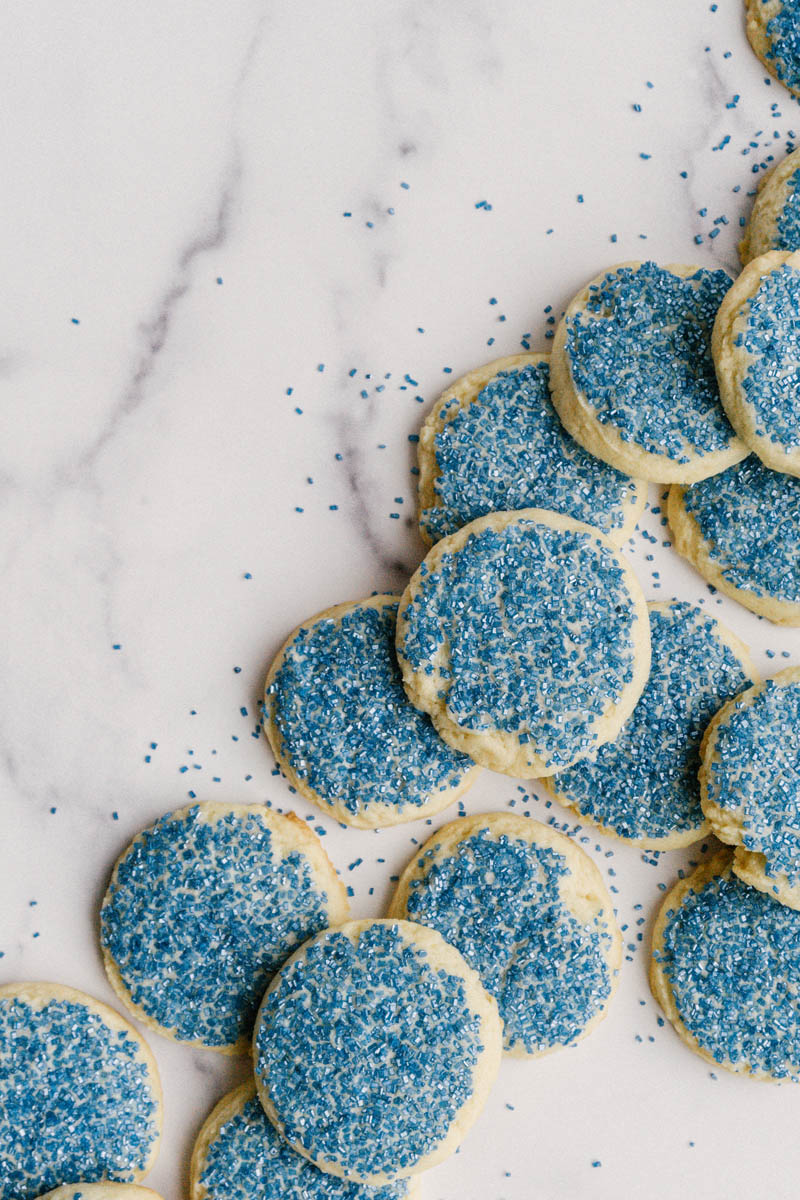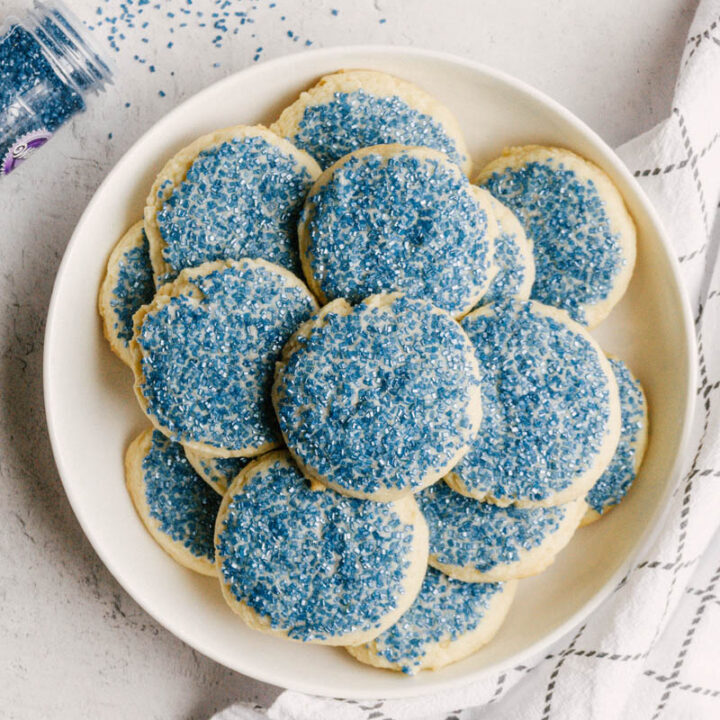 Butter Sugar Cookie
Additional Time:
20 minutes
A quick, buttery sugar cookie designed for those who are short on time but still want a colorful, tasty treat!
Ingredients
1 C (8 oz) salted butter, slightly softened
1 C (7 oz) white sugar
1 large egg
1 ½ tsp vanilla
½ tsp salt
1 tsp baking powder
2 ⅔ C (12 oz) all-purpose flour
¼ C colored sprinkling sugar, for decorating
Instructions
Preheat oven to 350*F and line cookie sheet with parchment paper.
Cream together butter and white sugar for one minute.
Add egg and vanilla and mix.
Add dry ingredients and mix well.
Pour colored sugar sprinkles onto a plate. Using a #30 (2 ½ T) cookie dough scoop, scoop dough. Carefully take each dough ball and turn it upside down into the sprinkles. Press down to ½ thick, then place on parchment paper, sprinkle side up.
Bake for 8 minutes or until edges barely start to brown.
Let cool before storing. These freeze well.
Notes
Only use coarse or sanding sugar. Other types of sprinkles bleed their color into the cookie and are less pretty.
Pick Your Favorite Pin and Save It for Later!