Move over chocolate-covered strawberries. There's a new sheriff… I mean cookie in town!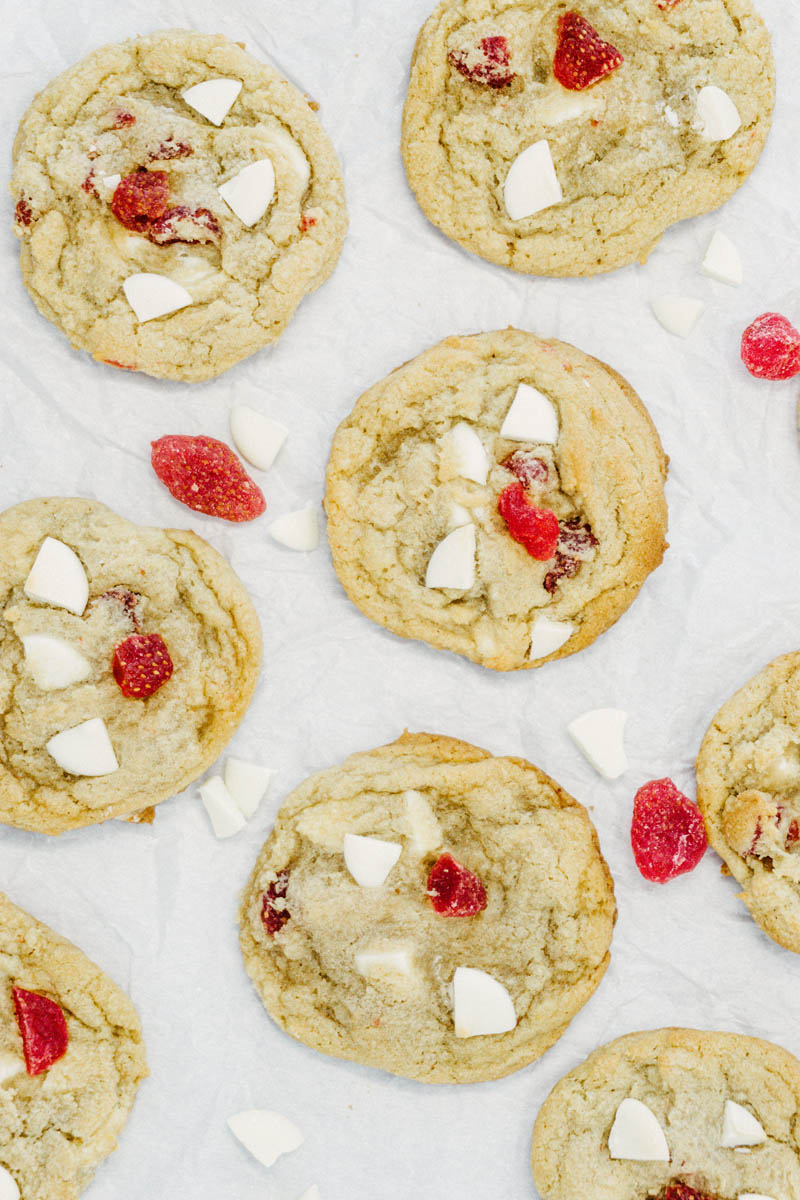 Amish Country in Lancaster, PA is not far from where I live. They have a variety of stores with a great selection of all sorts of foods. As I was perusing the bulk foods section of one such store, I came across some dried strawberries that were a beautiful, bright red instead of the normal dark brown. I bought a container on a whim and loved them! They taste like a cross between a dried strawberry and a gumdrop but are made with a real candied strawberry. They are the perfect for making a Strawberry White Chocolate Cookie!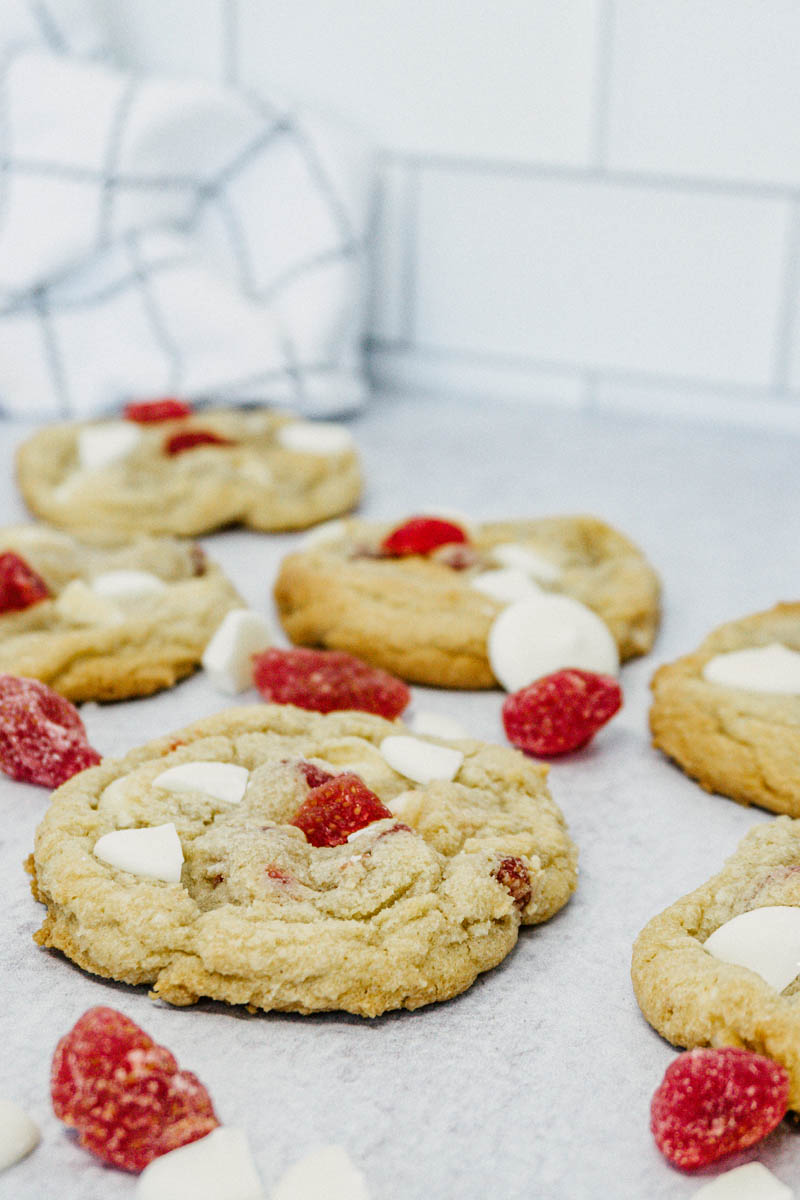 Life's Two Simple Joys
Sweet summer strawberries are one of life's simple joys. Cookies are the other simple joy. Obviously they belong together. Fresh strawberries have too much moisture to add to a cookie and dried strawberries contain too little moisture. These sweet candied dried strawberries are the perfect solution to the moisture problem.
Okay, so maybe there is a third simple joy to life. It's chocolate. But which type of chocolate would pair best with the strawberries and buttery, vanilla dough? Chocolate dipped strawberries immediately came to mind, but dark and milk chocolates both overwhelmed the cookie. With options running out and fingers crossed, I tried using white chocolate. It works beautifully. The bright sweetness of the strawberry plus the mellow smoothness of white chocolate is practically a match made in heaven. If you want a nuttier cookie, check out these White Chocolate Macadamia Nut Cookies.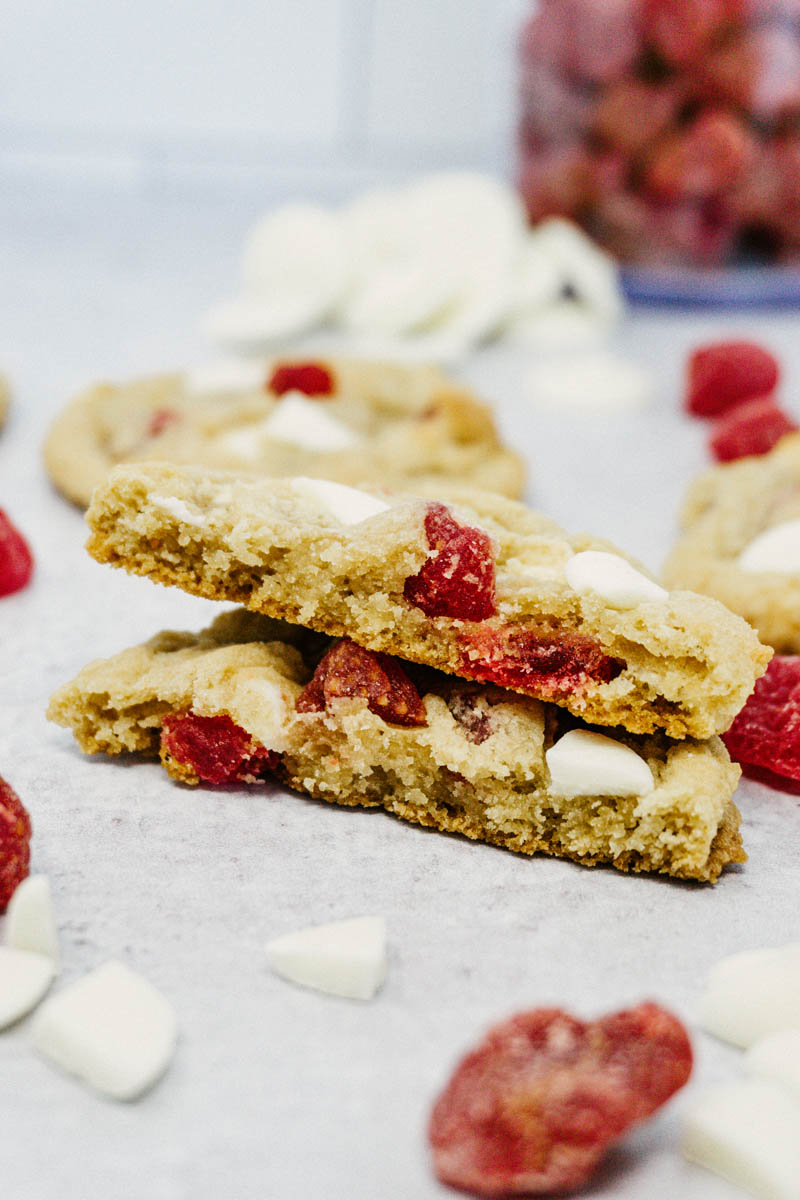 A Word of Wisdom for the Strawberry White Chocolate Cookies
Whatever you do though, don't use freeze-dried fruit in baking. Believe me, I've tried it and it does not turn out. Because freeze-dried strawberries have so little moisture in them, by the time they finish baking they turn black and flavorless. If you wish to use any freeze-dried strawberries (or other fruits), use them to sprinkle on top after baking.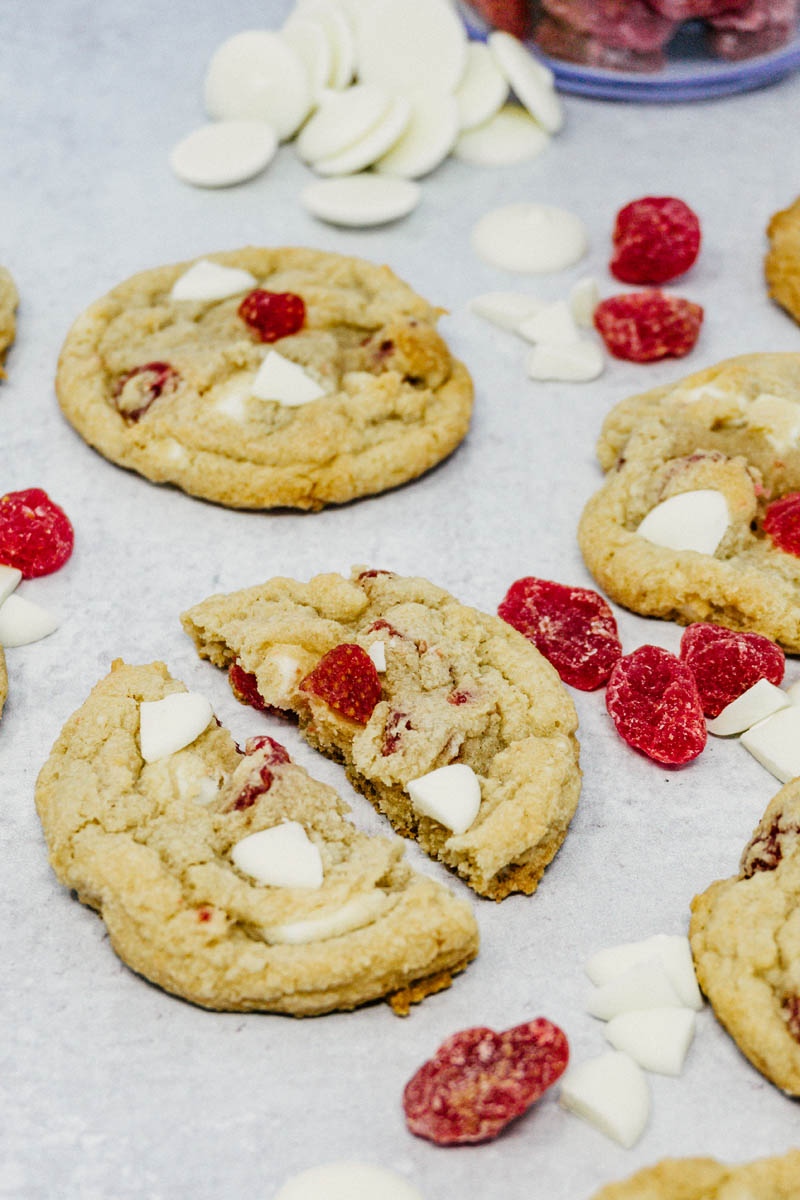 Kenzie's Experience Making & Photographing These Strawberry White Chocolate Cookie
This Strawberry White Chocolate Cookie dough comes together very quickly. I even made these while holding my toddler on my hip! The hardest part is chopping the dried strawberries and white chocolate wafers. You could swap out the wafers for regular white chocolate chips to save time. Be careful not to overbake these cookies. They only need the slightest bit of browning on the edges to be done.
The white chocolate and strawberries come together perfectly in this delicious Strawberry White Chocolate Cookie. It is the cookie marriage that was waiting to happen. It's festive and pretty. This cookie would be a total hit any time of the year, whether for Valentine's Day, Christmas, or for a Fourth of July picnic. Let us know what occasion you're making this for in the comments!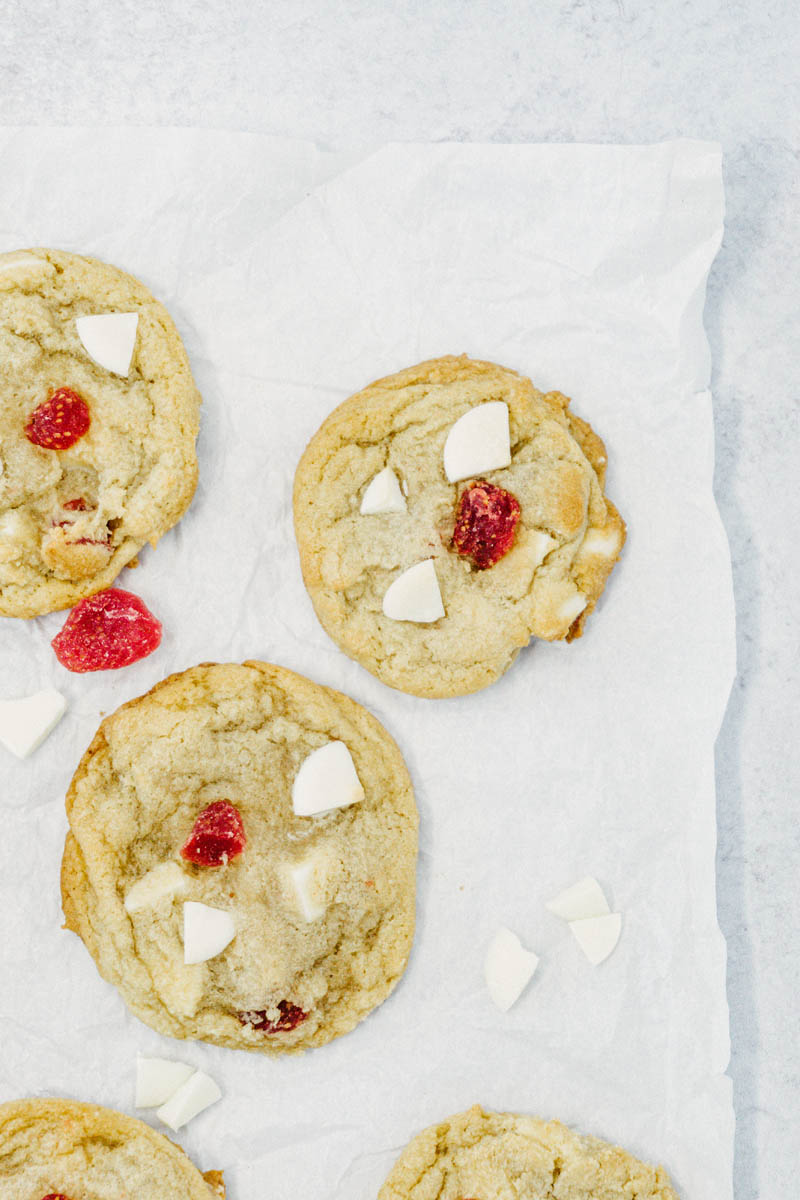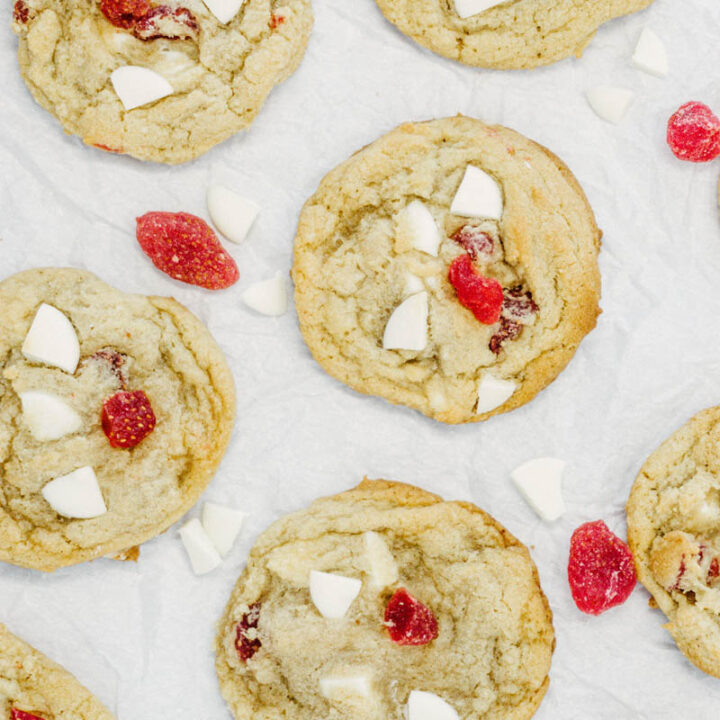 Strawberry White Chocolate Cookie
Additional Time:
20 minutes
Move over chocolate-covered strawberries. There's a new sheriff… I mean cookie in town!
Ingredients
1 C (8 oz) salted butter, softened
1 ¾ C (7 oz) powdered sugar
1 C (8 oz) brown sugar
2 large eggs + 1 egg yolk
1 T vanilla
1 ½ tsp salt
2 tsp baking soda
¾ tsp baking powder
4 C (18 oz) all-purpose flour
1 ¼ C (8 oz) dried strawberries, divided
1 ⅓ C (8 oz) white chocolate chips or wafers, chopped & divided
Instructions
Preheat oven to 350*F. Line cookie sheets with parchment paper.
Cut candied strawberries into thirds and white chocolate into fourths, if using wafers. Set aside ½ C strawberries and ½ C white chocolate to top cookies before baking.
Cream softened butter, powdered sugar, and brown sugar.
Add eggs and vanilla. Mix well.
Add dry ingredients plus strawberries and white chocolate and mix until combined.
Using a #30 (2 ½ T) cookie dough scoop, scoop dough onto parchment-lined cookie sheets. Top with pieces of chopped strawberry and white chocolate. Press dough down slightly.
Bake at 350*F for 9 minutes or until edges are lightly browned.
Notes
Candied, dried strawberries work best for this cookie. They are sweeter than regular dried strawberries but the flavor works best with the white chocolate. They will also have a brighter red color that looks so pretty on top of these cookies. 
Looking for classic White Chocolate Macadamia Nut cookies? Click here! (link)
Pick Your Favorite Pin and Save It for Later!