A rich caramel flavor accented with the perfect amount of salt all whipped up into a smooth and light mousse. It's an edible Pot of Gold!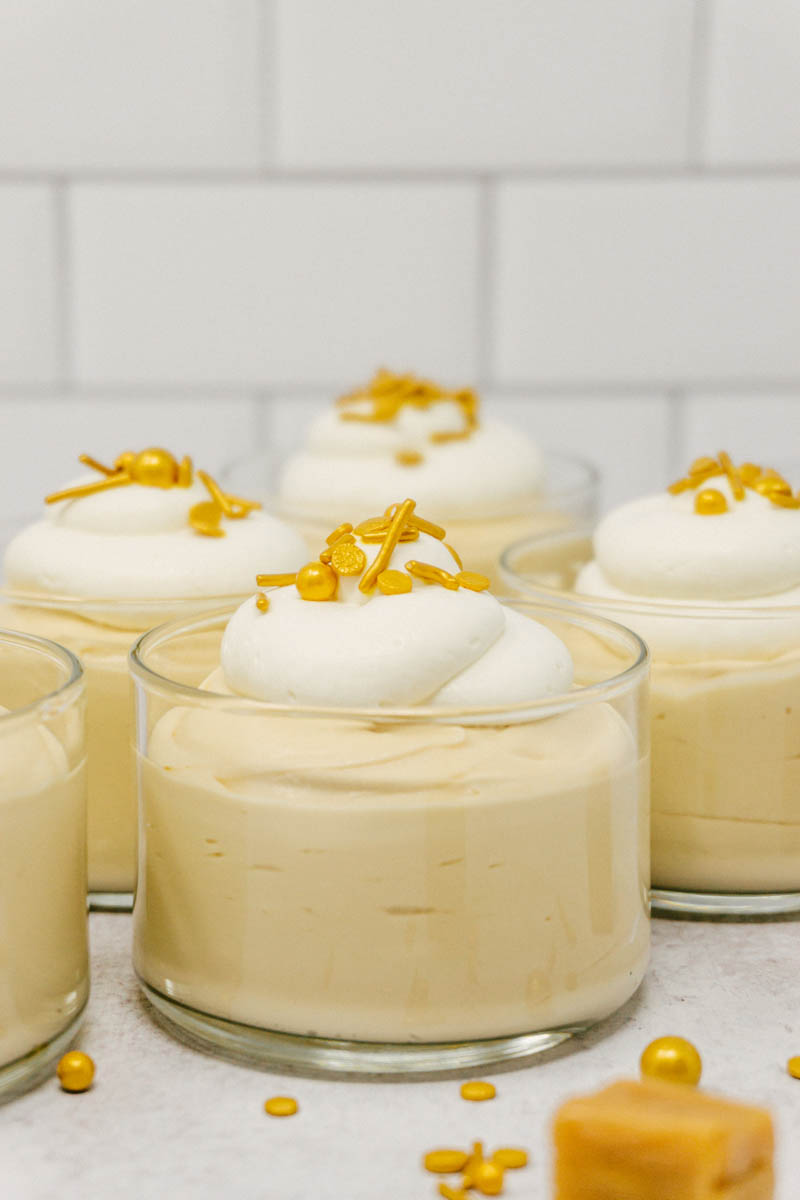 I like caramel. I like caramel a lot! Caramel rocked my world long before salted caramel became popular in the mainstream. If you asked me, "What two types of candy would you pick to eat for the rest of your life?" Without a doubt, I would choose chocolate and caramel.
The Origin of The Salted Caramel Mousse
Why not make a salted caramel mousse? When we ran the cookie shop, we sold specialty ice creams from a local ice cream maker. Among these delicious ice creams was a salted caramel ice cream. I noticed it tended to be softer than the rest of the ice creams. When I asked the gentleman who made them why that was, he explained that salted caramel ice cream is an industry-wide problem. Salt affects the freezing point and because of the higher salt content, the ice cream always ended up softer than the rest.
Because this mousse does not need to be frozen, you won't have to worry about that. I just thought it was an interesting observation. Since I didn't have to worry about achieving the perfect frozen texture, my only consideration in making this mousse was achieving the perfect salted caramel flavor.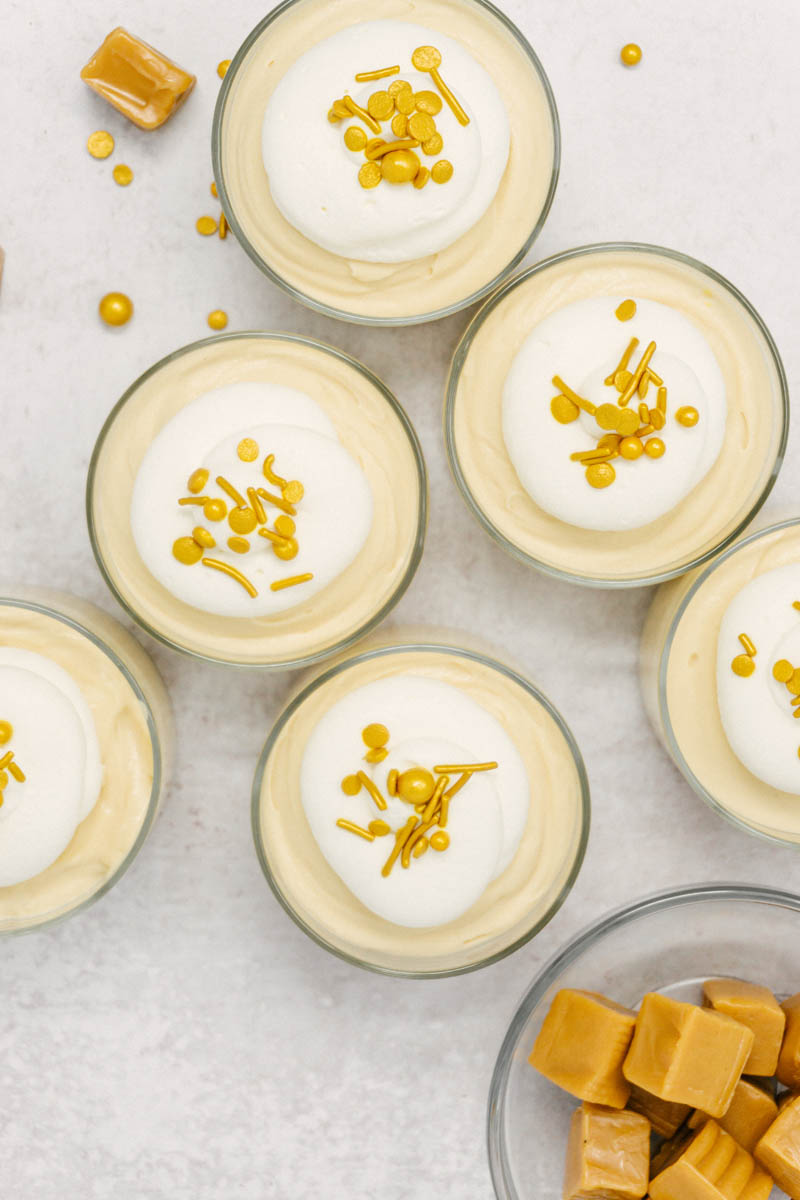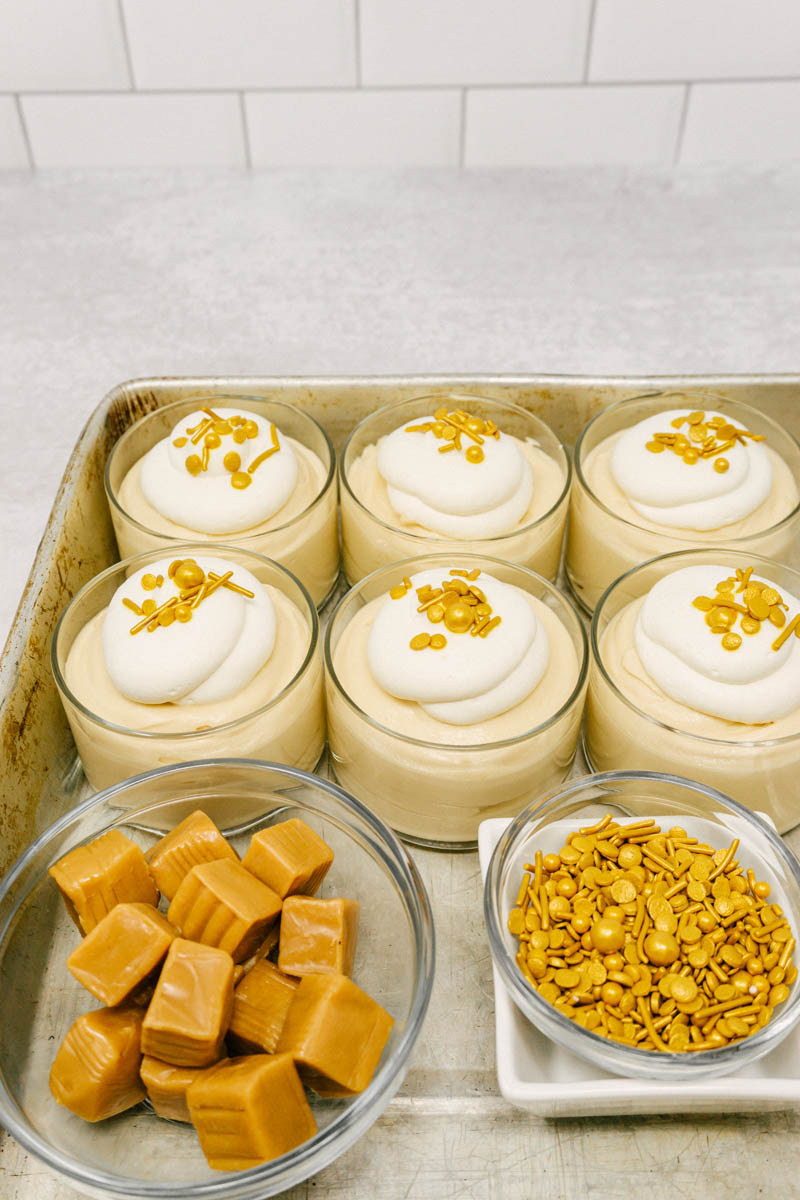 How to Make it
I use Kraft America's Classic Caramels. They are easy to find at almost any grocery store or online. Melt them with half-and-half until they are smooth. I add just a small bit of salt that dials up the caramel flavor with the perfect salty kick.
Whipping the melted caramel with a bit of cream cheese adds body to the mousse and gives it stability to last in the fridge for a few days (if you don't eat it first!). Fresh cream lightens the mousse and gives melt in the mouth bubbles with hardly any effort.
I hope you enjoy this little pot of gold. It would be the perfect addition to a St. Patrick's Day dinner or any time you need a simple, yet elegant dessert. Serve it in 2 oz dessert dishes to make it go further, use as the filling to a Classic Cream Puff or Chocolate Cream Puff, or use it to layer in a caramel trifle. The possibilities are endless. Let me know in the comments how you're using this simple Salted Caramel Mousse.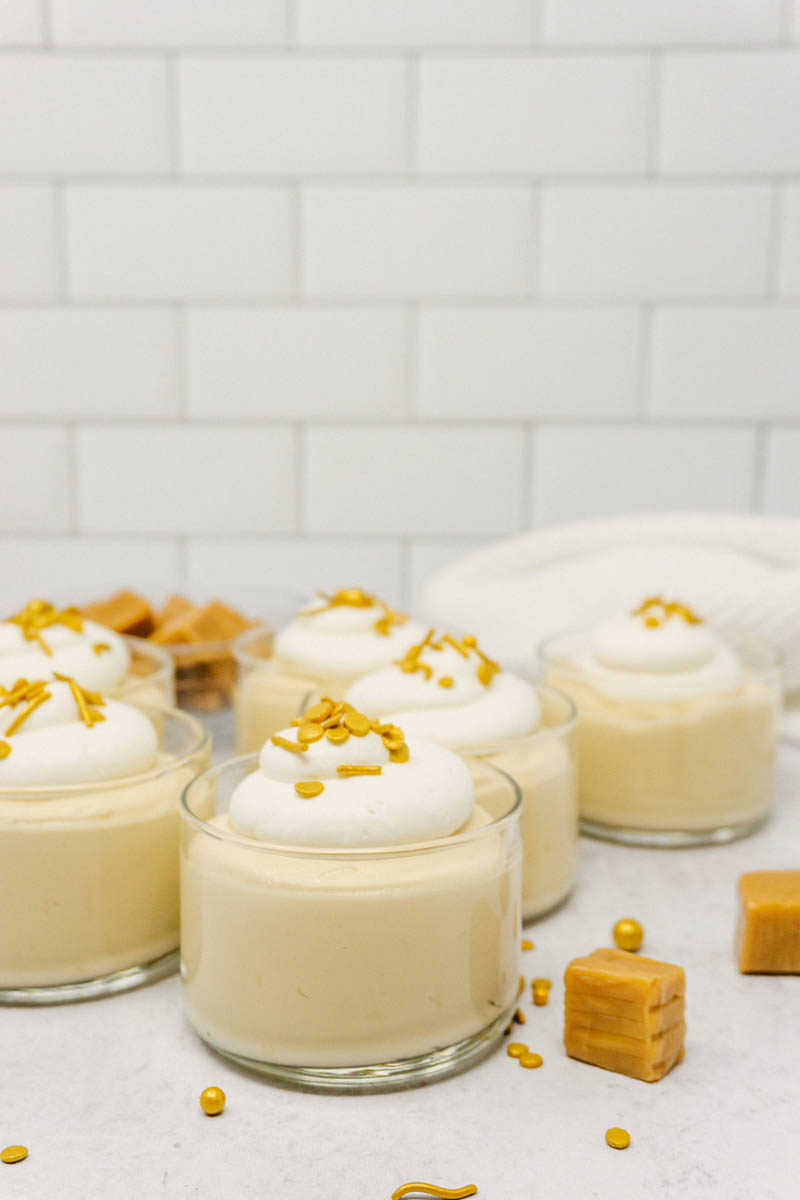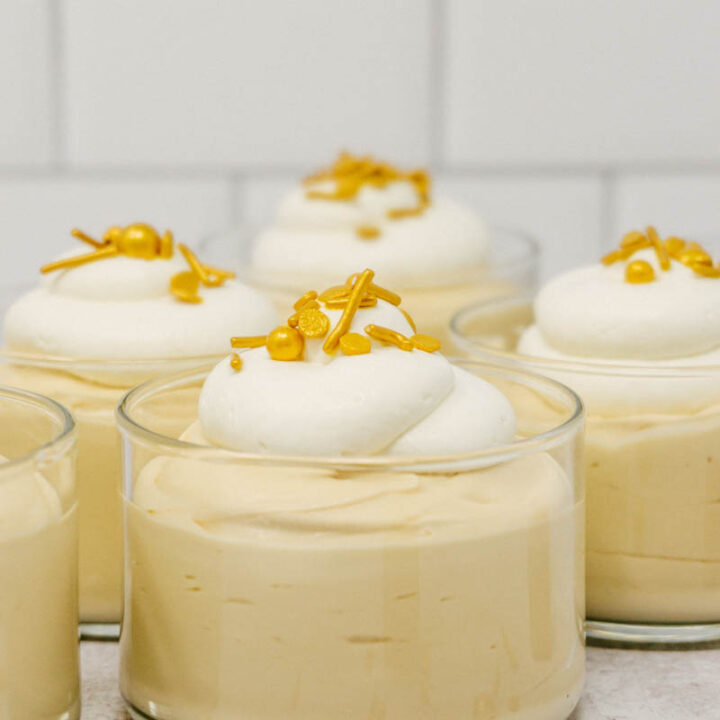 Salted Caramel Mousse
Total Time:
1 hour
25 minutes
A rich caramel flavor accented with the perfect amount of salt all whipped up into a smooth and light mousse. It's an edible Pot of Gold!
Ingredients
Salted Caramel Mousse
6 oz unwrapped caramels
¼ C half-and-half
⅛ tsp salt
1 C (8 oz) cream cheese
¼ C (2 oz) brown sugar
½ tsp vanilla
1 C (9 oz) heavy cream
Whipped Cream
⅓ C (3 oz) heavy cream
2 tsp sugar
¼ tsp vanilla
1 T gold sprinkles or edible gold glitter
Instructions
Make the Salted Caramel Mousse.
Unwrap caramels. In a small bowl, gently heat caramels with half-and-half and salt until completely melted and smooth. Let cool to room temperature.
In a separate bowl, whip cream cheese, vanilla, and brown sugar until smooth.
Add completely cooled caramel mixture and heavy cream. Whip until soft peaks form.
Make the Whipped Cream Topping.
In a bowl, add heavy cream, sugar, and vanilla. Whip until stiff peaks form.
Assemble Pots of Gold.
Use a spoon or a pastry bag with a large circular tip to pipe salted caramel mousse into small serving dishes.
Top mousse with a small dollop of whipped cream. Sprinkle with gold sprinkles or edible gold glitter just before serving.
Serve chilled. Store in the refrigerator for up to 4-5 days.
Notes
You can use premade whipped topping instead of homemade whipped cream to save time. 
Wait to add sprinkles until a few hours before serving. They will bleed color into the whipped cream if left for longer than 3-4 hours.