Thin, crispy chocolate shortbread dipped in chocolate. It's a total showstopper with minimal effort.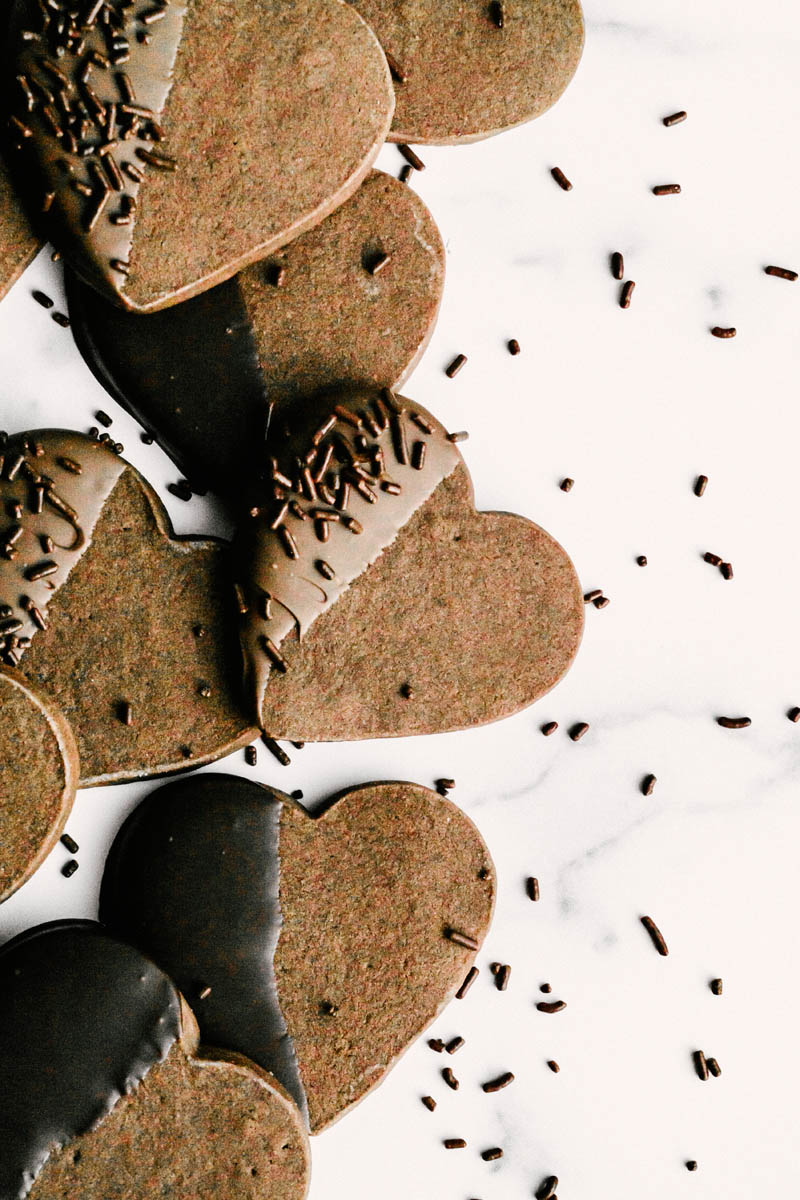 These Easy Crisp Chocolate-Dipped Shortbread cookies are light, perfectly crisp, easy to make, and look beautiful too.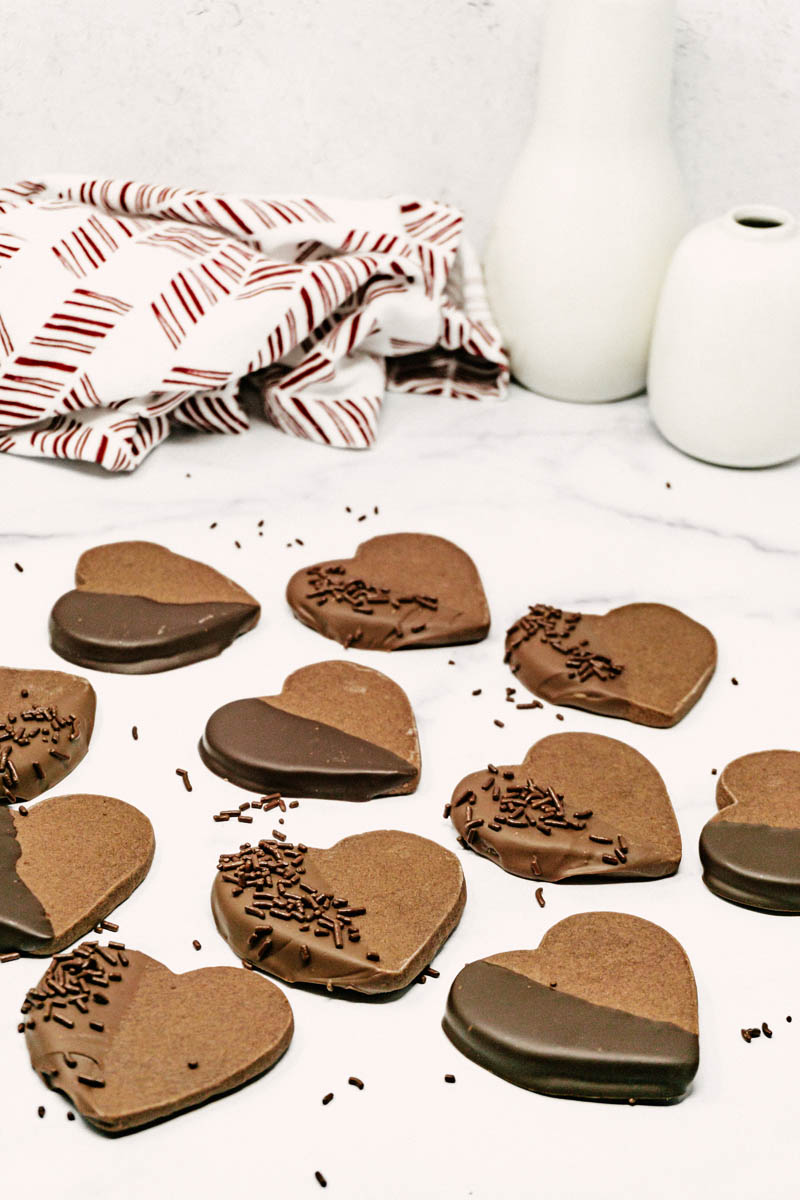 Some Shortbread Shortcuts
Melted chocolate is the trick to making perfectly crisp shortbread without the chalky mouthfeel that cornstarch gives. It helps to lighten the crunchiness of shortbread, turning it into a melt-in-the-mouth miracle. You can use white chocolate to make a vanilla shortbread cookie, too. Check it out in our Irish Butter Shortbread Cookies.
I love to use Dutch-process cocoa whenever I can. It adds a deep chocolate color and gives a smooth flavor. The smoother, less acidic flavor of the cocoa highlights the crisp texture of this shortbread.
I generally avoid refrigerated cookie dough. It takes extra time and changes the flavor of the cookie. However, this chocolate shortbread recipe is an exception. A short time in the refrigerator firms the dough up just enough that it holds its shape when cut. I take that time to wash dishes, clean up the kitchen, and preheat the oven. The dough will be ready before you know it!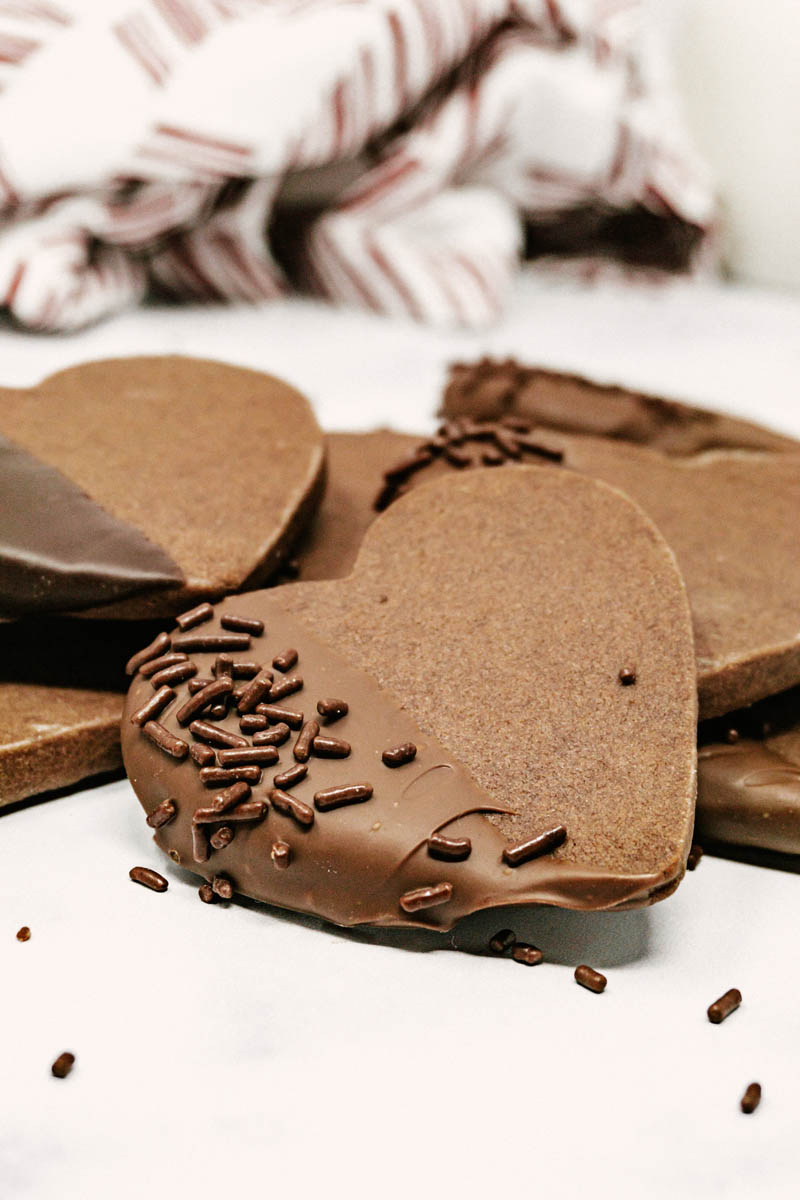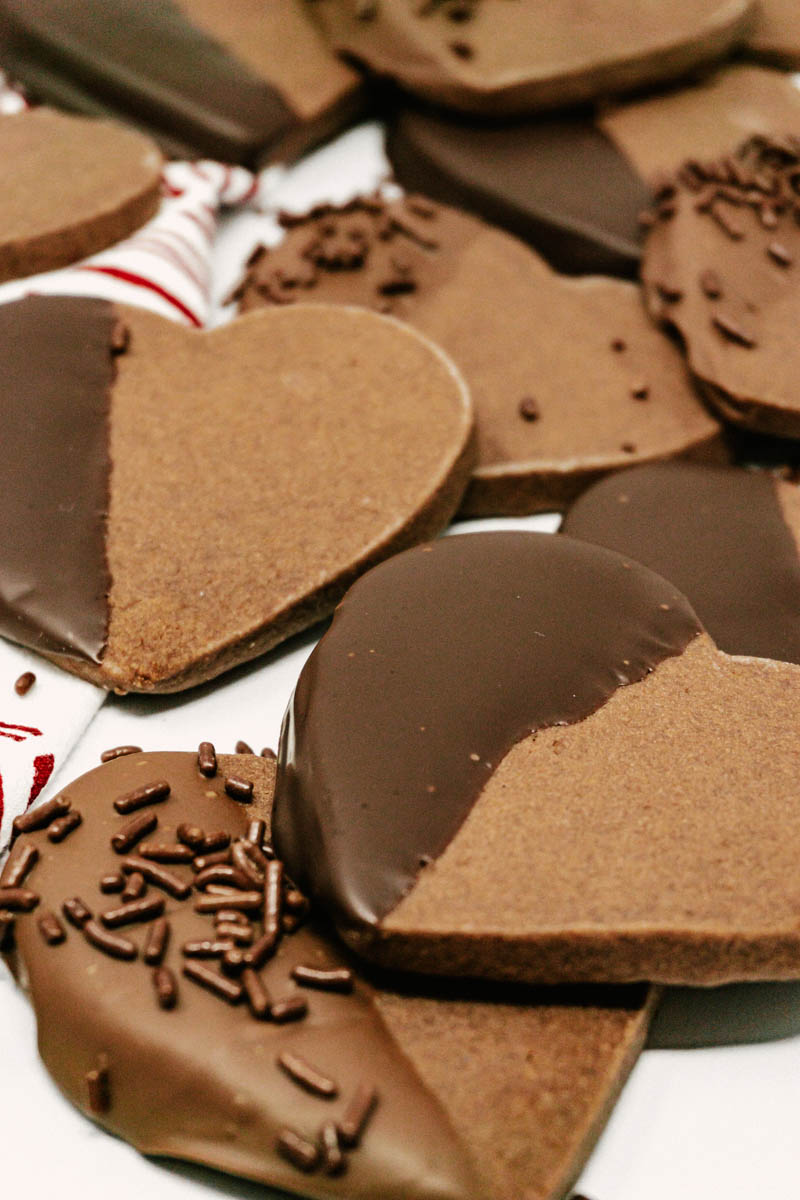 Dipping in Chocolate Chips
Chocolate chips are an easy shortcut to making these cookies. They taste delicious and don't require tempering. Ghirardelli Milk and Dark Chocolate Chips are my favorite. They melt easily and make a smooth coating for these Crisp Chocolate Shortbread cookies.
The undipped cookies will last at room temperature for several weeks. The chocolate coating, because it is not tempered, needs to be kept in the refrigerator once dipped. If it is left at room temperature, the chocolate will bloom and leave gray spots and streaks.
You can dip these all at once and store them in the refrigerator for up to two weeks, or leave them at room temperature and dip them in chocolate as you need them. I think the small amount of space in the refrigerator is worth the effort saved on these cookies. The best part about using chocolate chips is that it saves a ton of time.
If you're feeling ambitious and want to try your hand at tempering chocolate, try our Black & White Chocolate Shortbread Cookies.
I love baking and love how easy these Crisp Chocolate-Dipped Shortbread Cookies are. Let me know what you think of the awesome crisp texture and flavor of this cookie in the comments!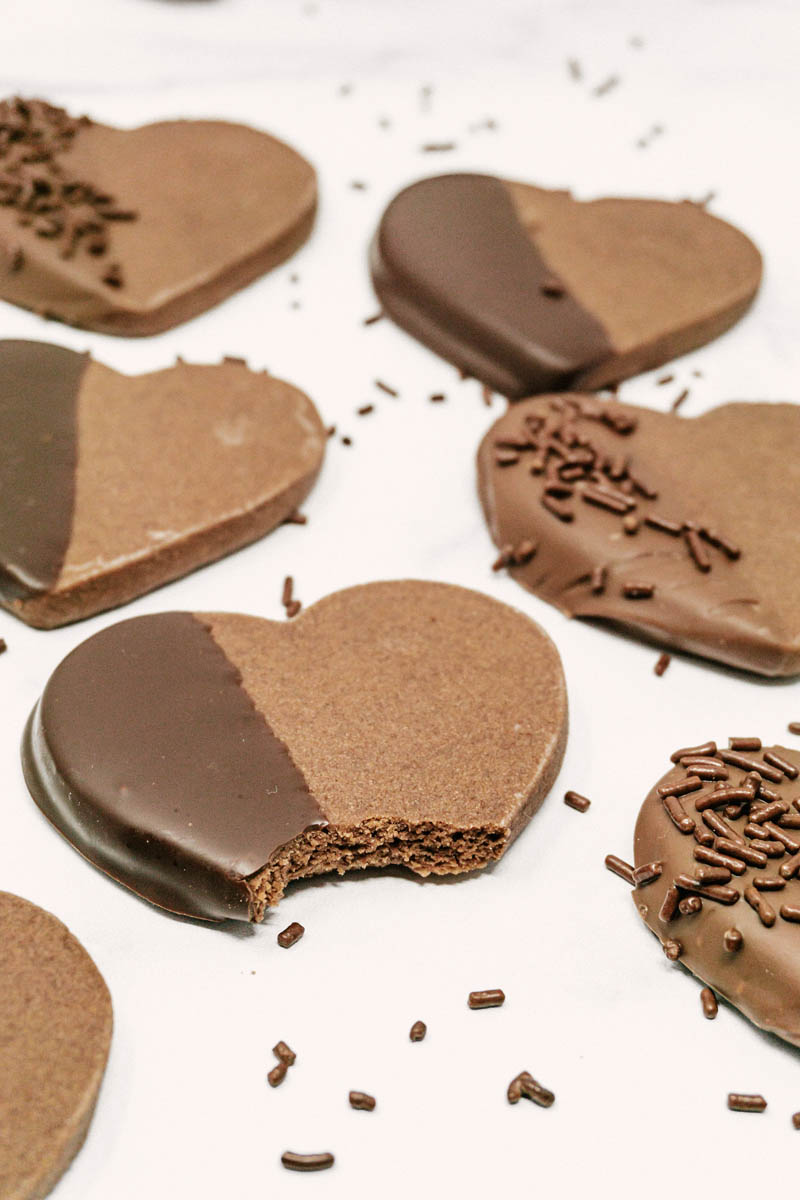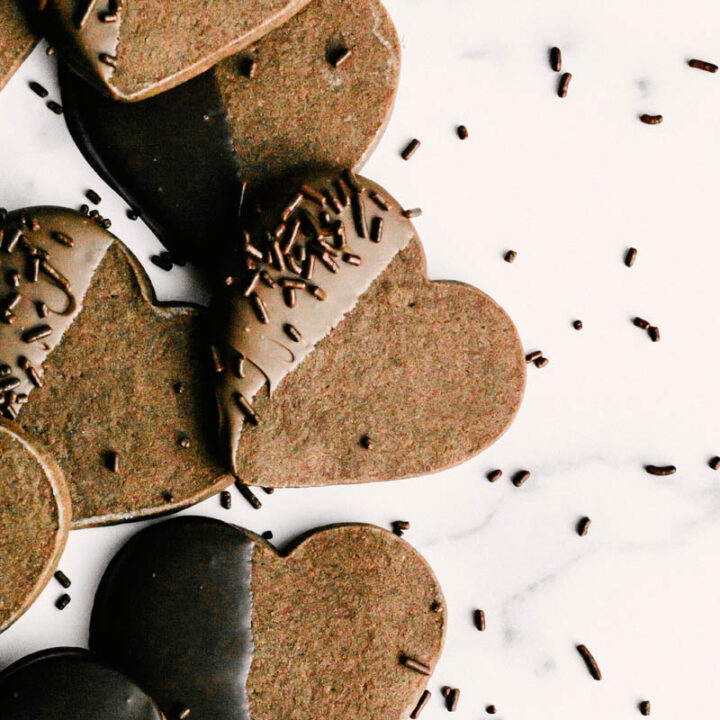 Easy Crisp Chocolate-Dipped Shortbread Cookie
Yield:
36 (2-3 inch) cookies
Total Time:
1 hour
50 minutes
Thin, crispy chocolate shortbread dipped in chocolate. It's a total showstopper with minimal effort.
Ingredients
Chocolate Shortbread Cookie
1 ½ C (12 oz) salted butter, room temperature
½ C (3 oz) semi-sweet chocolate chips, melted
1 tsp vanilla
½ C (2.2 oz) powdered sugar
2 T (.5 oz) Dutch-process cocoa
⅛ tsp salt
3 C (13.5 oz) all-purpose flour
Chocolate Coating
2 C (12 oz) milk, dark, or white chocolate chips
2 T chocolate sprinkles (optional)
Instructions
Make the Chocolate Shortbread Cookies.
Using a stand mixer, beat room temperature butter until very light and fluffy. Pour melted semi-sweet chocolate chips into butter and mix quickly to combine. Scrape the bowl and add vanilla. Mix.
Add cocoa, powdered sugar, and salt. Beat for two minutes until very light (do not skip). Add flour and mix to combine, scraping bowl as necessary.
Remove dough from bowl and divide in half. Place each half between sheets of wax paper and roll dough out to ¼ inch thick. Refrigerate rolled out dough until chilled and solid (at least 30 minutes). This helps the dough to keep its form when cut into shapes.
Preheat oven to 325*F. Line cookie sheets with parchment paper.
Remove top wax paper from dough and cut into desired shapes using a flour-dusted cookie cutter. Carefully transfer to parchment-lined cookie sheet. Bake for 15 minutes or until cookie is set. Cool completely.
Dip in Chocolate and Decorate.
Melt chocolate chips. Dip each cookie halfway in chocolate. Top with sprinkles if desired and place on wax paper to cool.
Store in an airtight container in the refrigerator for up to two weeks. Chocolate coating will bloom if stored at room temperature.
Pick Your Favorite Pin and Save It for Later!