The superb combination of a moist chocolate cookie filled with two types of minty chips makes for a perfect end to any meal!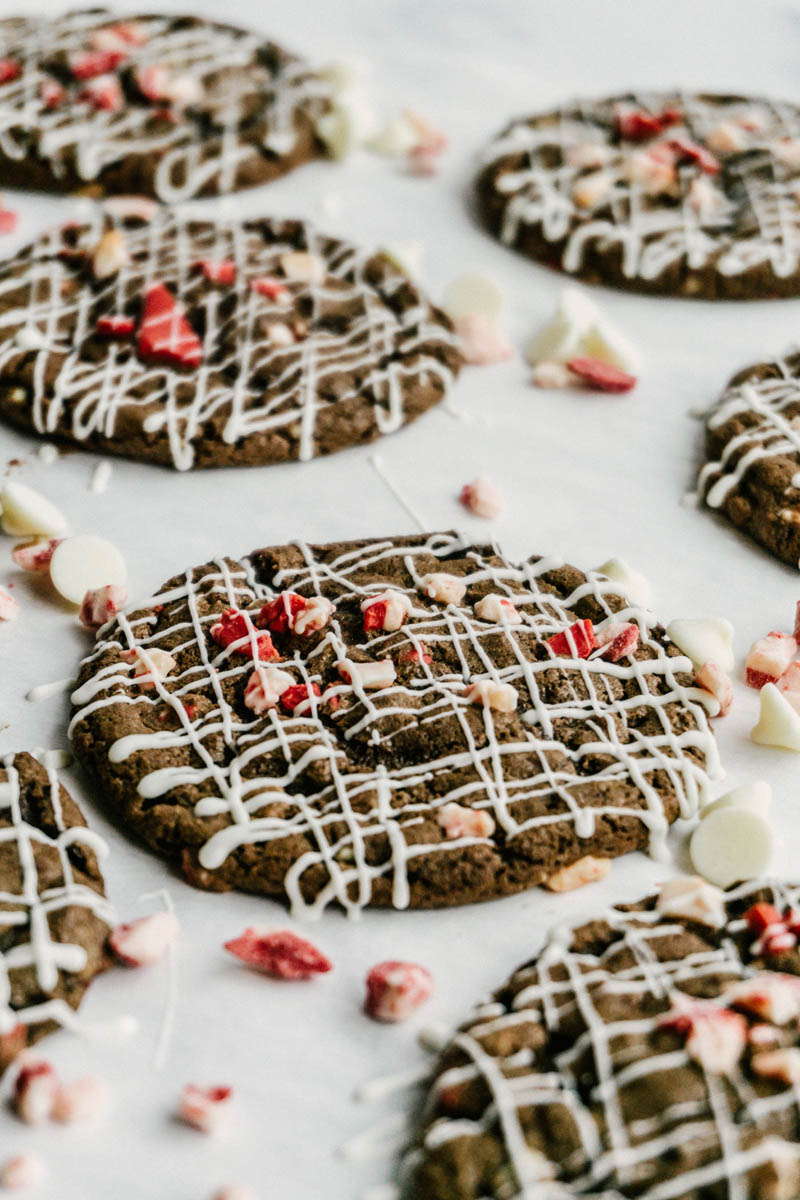 I love to eat Andes mints, fancy mints, candy canes, peppermints, buttermints, and York Peppermint Patties. There are so many good mint candies and treats out there. I had tried to make cookies with mint in them before but they were, well… awful. Why is it so hard to get a good mint flavor?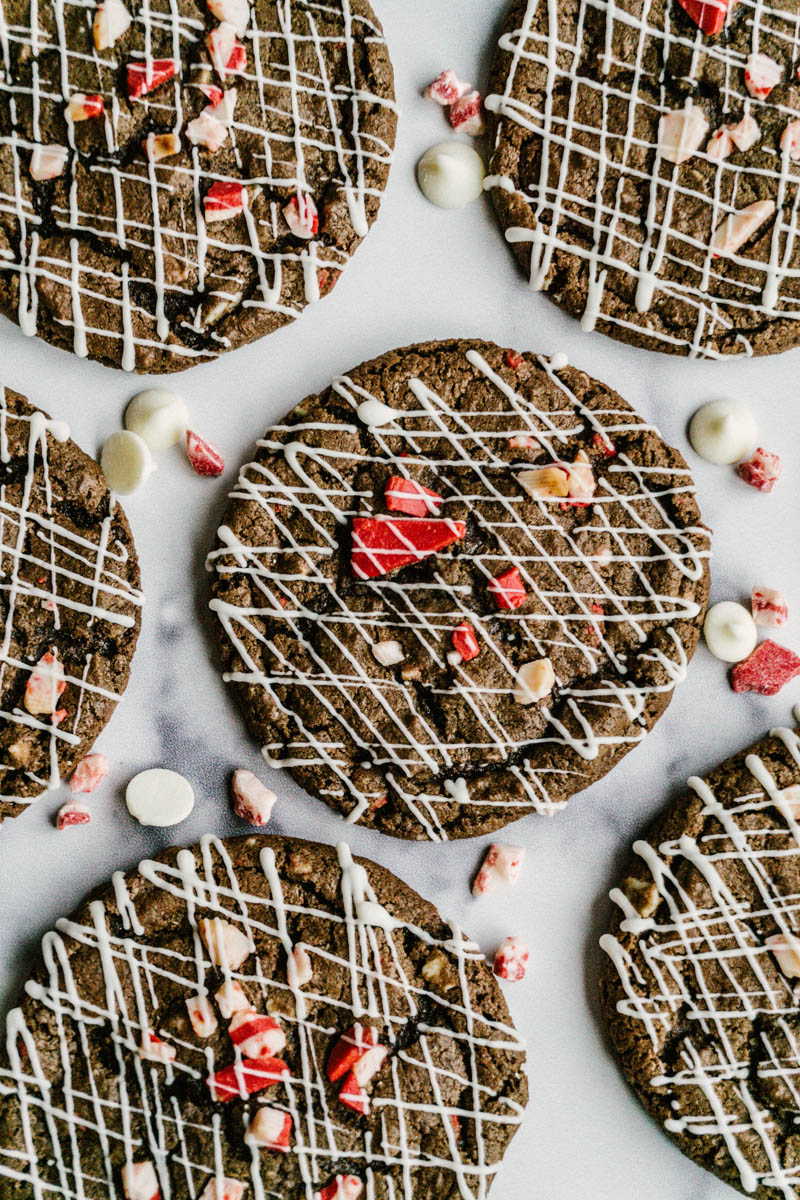 Wonder & Amaze-mint – The Birth of This Chocolate Mint Delight Cookie
This recipe took quite a bit of trial and error. After some contemplating, I decided this would be best as a chocolate-based cookie. My Double Chocolate Chip Cookie recipe is reminiscent of a brownie and has a strong chocolate flavor profile to match the mint.
To arrive at the perfect mint flavor took a while. Using mint extracts resulted in a toothpaste-y tasting cookie. Not quite what I hoped for. Andes Mints have a smooth creme de menthe flavor that works perfectly, but taking the time to chop them up is a little tedious. I discovered they make Andes Mint Baking Bits and it was the perfect solution!
Crushed candy canes or peppermints wouldn't work in this recipe. When baked, they melt and become too hard to eat. Andes Mints carry seasonal Peppermint Baking Chips, which provide the perfect sweet peppermint flavor to complete this Chocolate Mint Delight Cookie. If you can't find them, white chocolate peppermint bark works too. Just chop it before adding to the dough.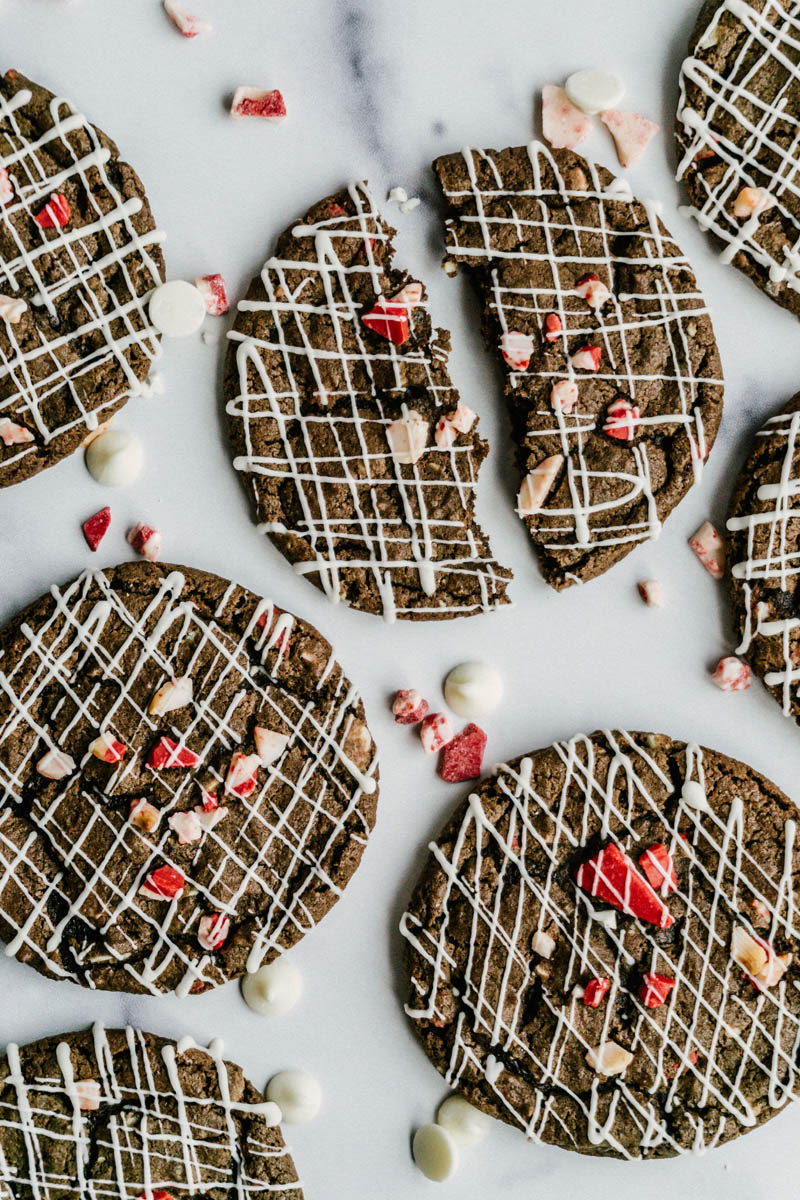 These Cookies Are "Mint" to be Eaten.
Although I am a big fan of ugly cookies that taste good, taking a few moments to make a cookie pretty guarantees that everyone will want to try it. Reserving some of the peppermint baking chips to sprinkle on top of the cookie adds a festive touch. Drizzling white chocolate over the cookie after it cools gives it a simple beauty that will be sure to stand out.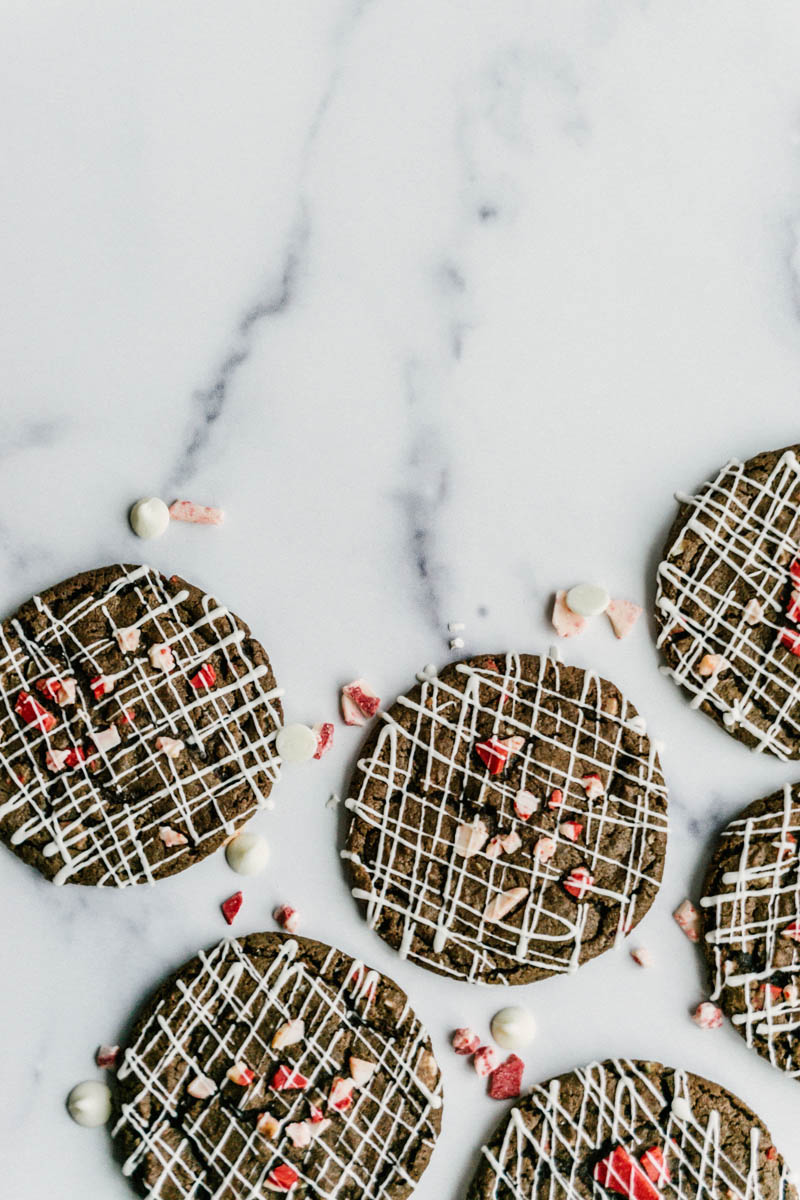 Let us know what you think of this delicious Chocolate Mint Delight Cookie. Will it be joining your holiday treat platter?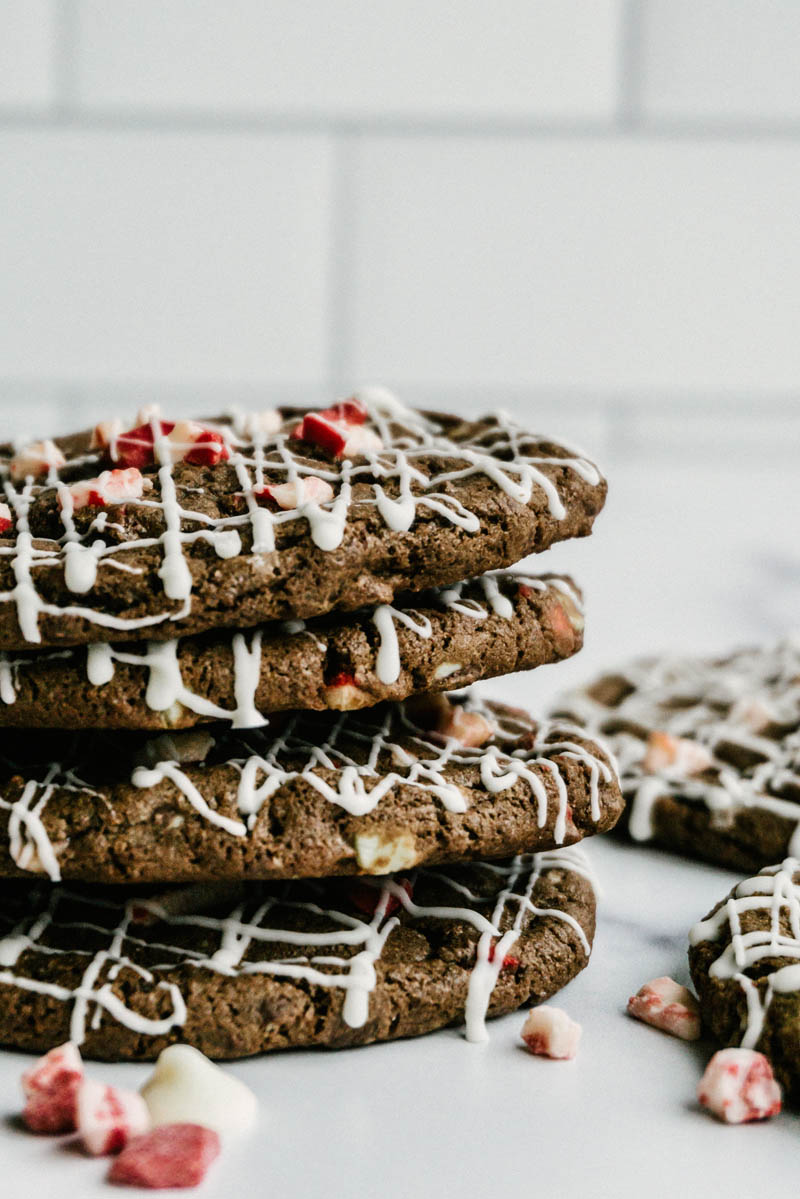 Products I Love to Use When Making the Chocolate Mint Delight Cookie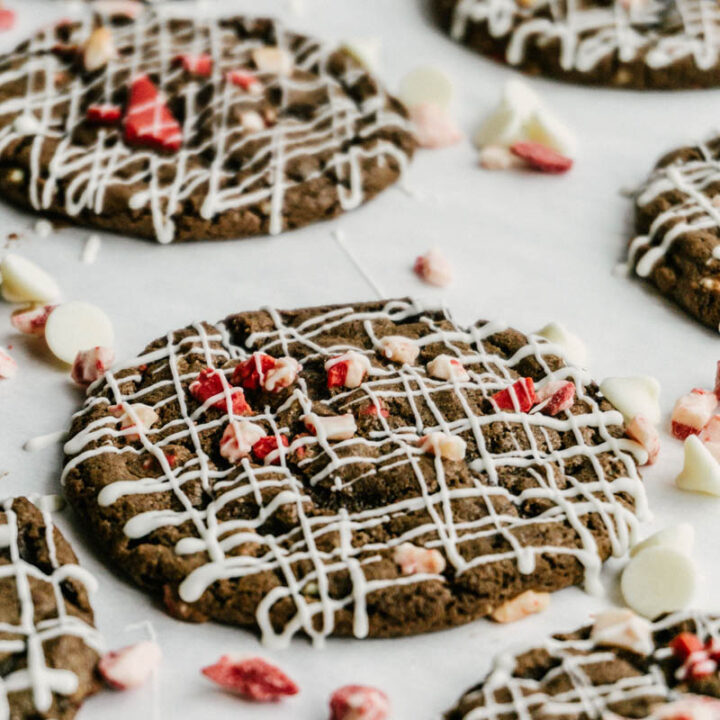 Chocolate Mint Delight Cookie
Additional Time:
30 minutes
The superb combination of a moist chocolate cookie filled with two types of minty chips makes for a perfect end to any meal!
Ingredients
½ C (4 oz) salted butter
½ C (3.4 oz) shortening
1 C (8 oz) light brown sugar
1 C (7 oz) white sugar
½ C (1.8 oz) cocoa
3 large eggs
2 tsp vanilla
2 tsp corn syrup
1 tsp salt
2 tsp baking soda
2 ½ C (11.3 oz) all-purpose flour
1 ⅔ C (10 oz) mint baking chips
1 C (6 oz) peppermint baking chips OR white chocolate peppermint bark, divided
1 C (6 oz) white chocolate wafers, melted - for drizzling
Instructions
Preheat oven to 350*F.
Cream together shortening, butter, sugars, and cocoa.
Add eggs, vanilla, and corn syrup. Mix well.
Add the dry ingredients plus mint baking chips and ⅞ C (5 oz) peppermint baking chips. Mix until combined. Set aside the other 1 oz peppermint baking chips to top cookie dough balls.
Using a #30 (2 ½ T) cookie dough scoop, place portioned dough a few inches apart on a parchment-lined cookie sheet. Top each dough ball with a few peppermint baking chips.
Bake for 7-8 minutes or until the edges look set and the top no longer looks wet. The cookie will set up as it cools.
After the cookie cools, melt the white chocolate and drizzle over the top.
Cool completely before storing. These cookies store well in a plastic zip-top bag/container in the refrigerator for a week or freezer for up to 3 months.
Notes
If the cookie looks a bit red toned or is dry, it is overbaked. If it looks unbaked in the center as it cools, it is underdone.
If you are unable to find peppermint baking chips, substitute 1 C chopped peppermint bark.
Pick Your Favorite Pin and Save It for Later!