Adding some coconut vibes to this brownie-like cookie will have you saying hula-lujah!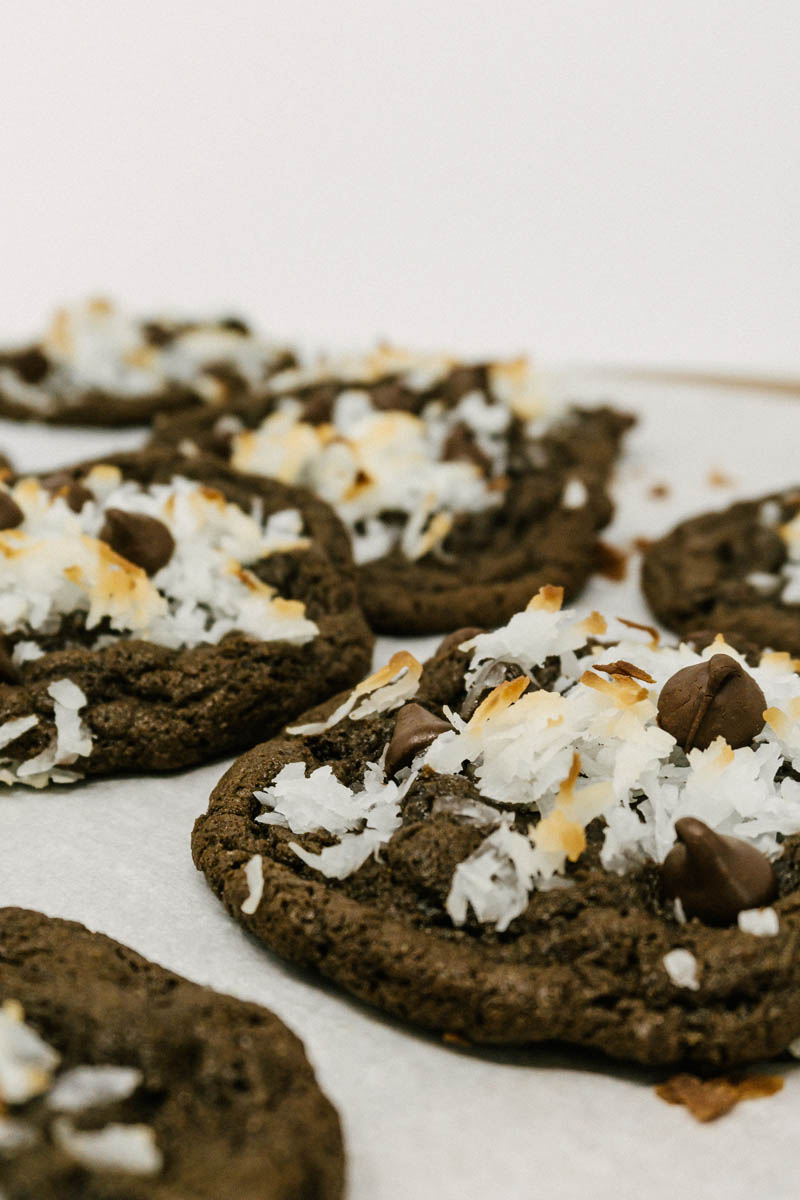 I like coconut on a lot of treats. I LOVE it on top of these Chocolate Coconut Cookies. The brownie-like cookie and chewy coconut topping are reminiscent of coconut pecan frosting on a chocolate cake, but with less richness.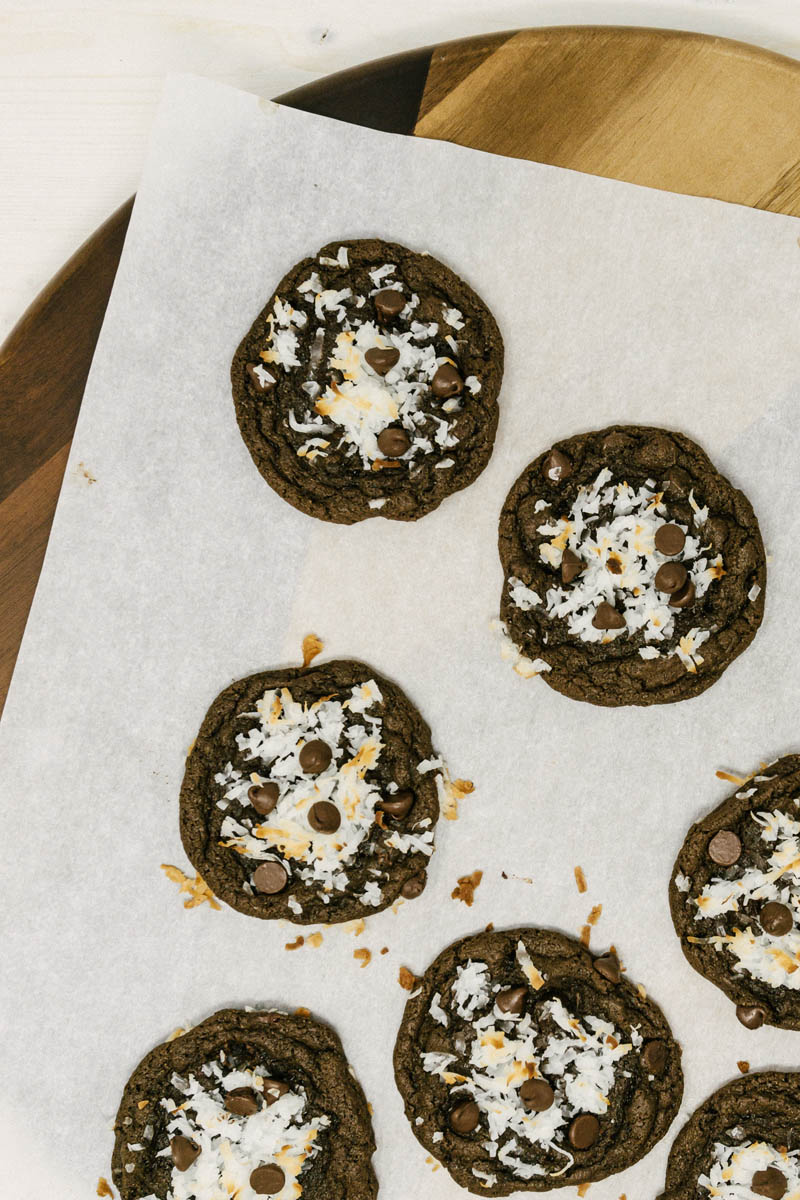 A Tropical Treat
Coconut flakes come from the white flesh of a tough seed from a tough tree. It is a tender, tasty gift! Sweetened coconut flakes are more flavorful than unsweetened and perfect for topping this Chocolate Coconut Cookie.
Adding coconut to the top of the cookie is intentional. When the coconut flakes are stirred into the dough, the flavor gets lost and muddled a bit. Using a big pinch of coconut on top allows it to brown nicely in the oven. The cookie stays moist and chocolatey and the whole creation makes you want another bite.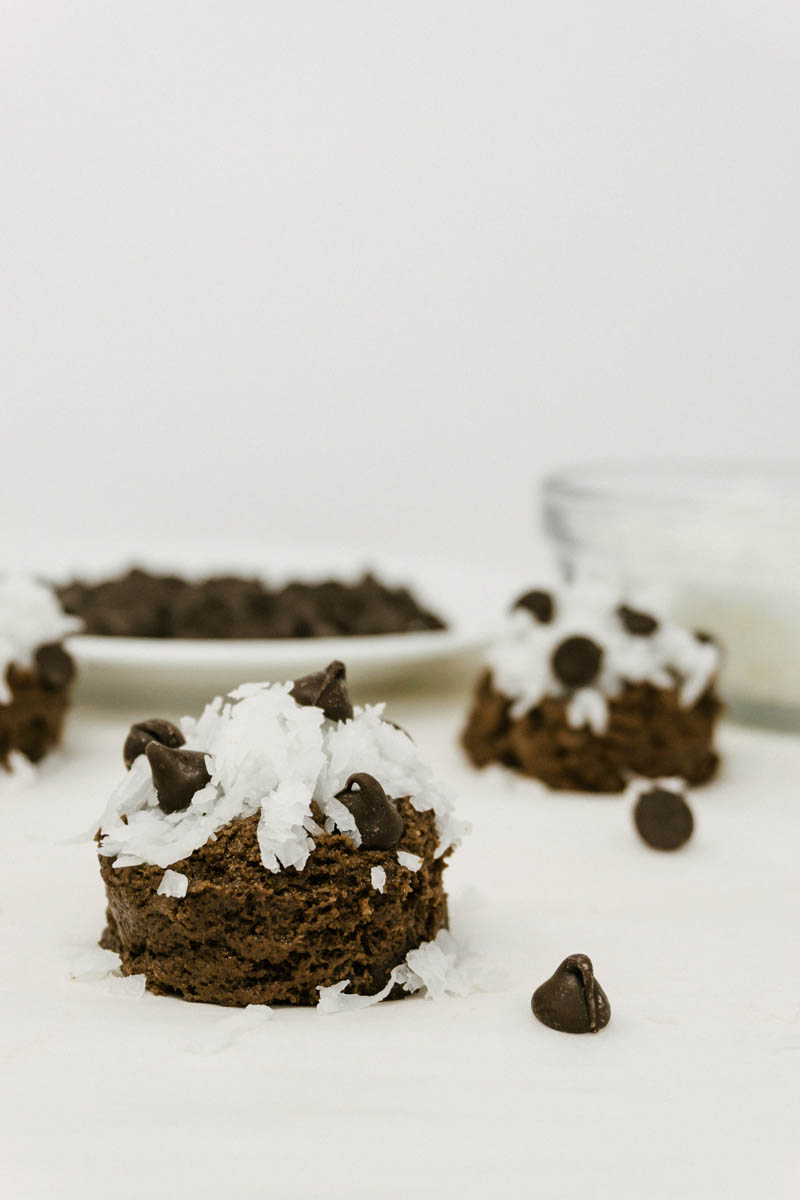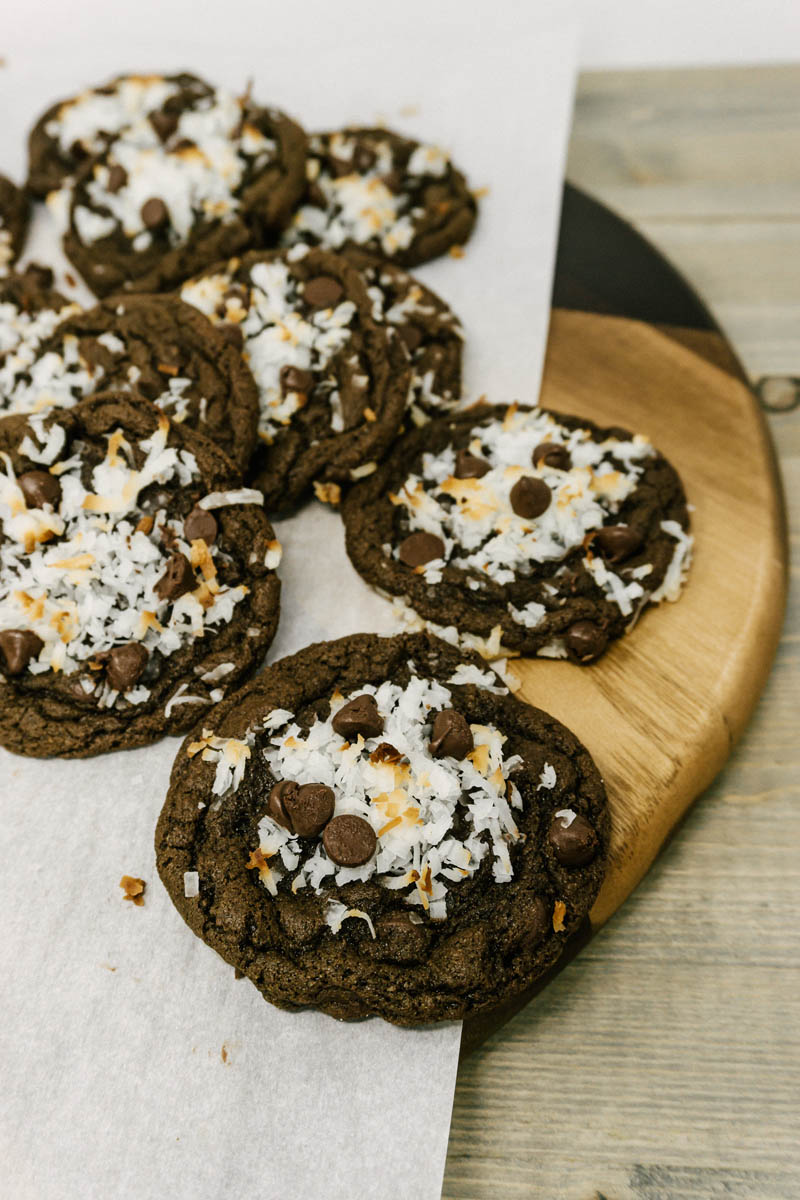 The Perfect Chocolate Balance in the Chocolate Coconut Cookies
There are definitely chocolate coconut treats out there that don't go well together. This isn't one of those. These Chocolate Coconut Cookies start with Double Chocolate Chip Cookie dough, which is a perfect chocolate cookie on its own. It has the right amount of chocolate flavor and is chewy like a brownie. Adding coconut to the top brings a delicious tropical flair.
I like to place a few of the chocolate chips on top of the coconut before baking. Chocolate chips are a better match in flavor to the cookie than a chocolate glaze and they look scrumptious too. Plus, anything that saves effort is a win in my book!
Coconut lovers will appreciate this brownie-like cookie as the delivery device for their coconut dreams.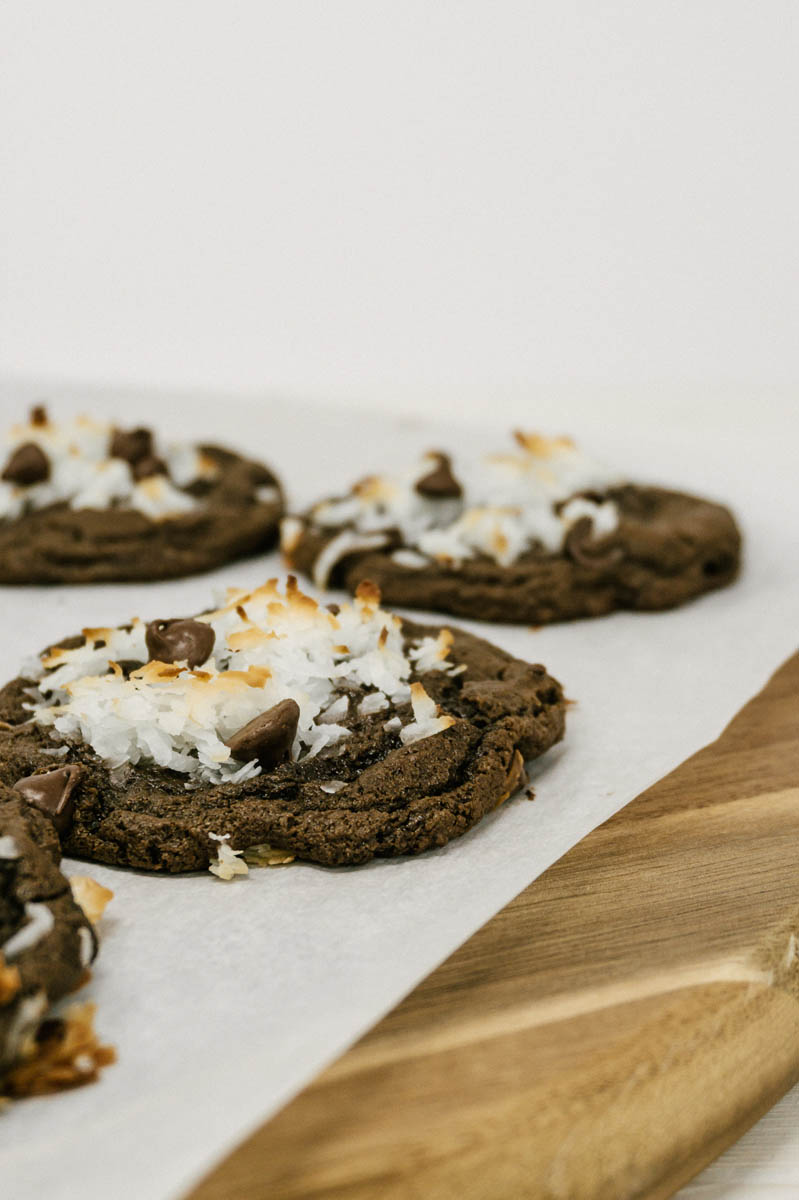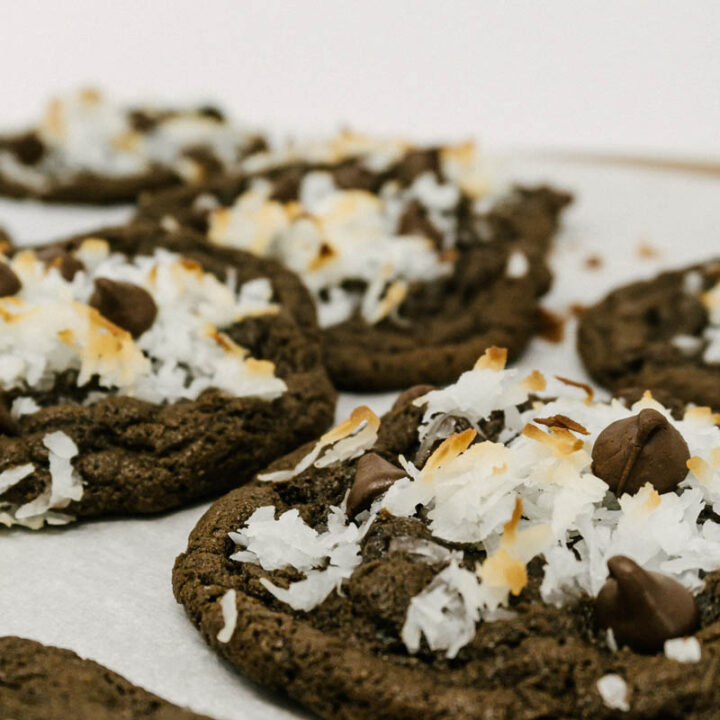 Chocolate Coconut Cookies
Additional Time:
30 minutes
Adding some coconut vibes to this brownie-like cookie will have you saying hula-lujah!
Ingredients
½ C (4 oz) salted butter
½ C (3.4 oz) shortening
1 C (8 oz) light brown sugar
1 C (7 oz) white sugar
½ C (1.8 oz) cocoa
3 large eggs
2 tsp vanilla
2 tsp light corn syrup
1 tsp salt
2 tsp baking soda
2 ½ C (11.3 oz) all-purpose flour
2 C (12 oz) semi-sweet chocolate chips, divided
5 C (14 oz) sweetened coconut flakes for topping
Instructions
Preheat oven to 375*F. Line baking sheets with parchment paper.
Cream together butter, shortening, white sugar, brown sugar, and cocoa. Add eggs, vanilla, and corn syrup. Mix well. Add the dry ingredients plus 1 ½ C (9 oz) chocolate chips. Set aside ½ C (3 oz) chocolate chips for topping. Mix to combine.
Using a #30 (2 ½ T) cookie dough scoop, place dough a few inches apart on a parchment-lined cookie sheet. Top each dough ball with a big pinch of coconut flakes, then place 4-5 chocolate chips on top of the coconut.
Bake for 7-8 minutes or until the edges look set and coconut is lightly browned.
Cool completely before storing. Store in an airtight container in the fridge for one week, and up to 3 months in the freezer. To thaw, let thaw in their packaging.
Notes
You may use more or less coconut to top the cookies, according to your preference.
Using a fresh bag of coconut flakes ensures that the coconut is soft and moist. I use any leftover coconut to top an ice cream sundae or to make coconut macaroons.
Want a Double Chocolate Chip Cookie without the coconut? Click here!
Pick Your Favorite Pin and Save It for Later!