An easy, moist chocolate cake center, a light whipped cream topping, and creamy milk chocolate coating. Talk may not fill the stomach (Irish proverb) but this little gem of a cake will fill all the right corners.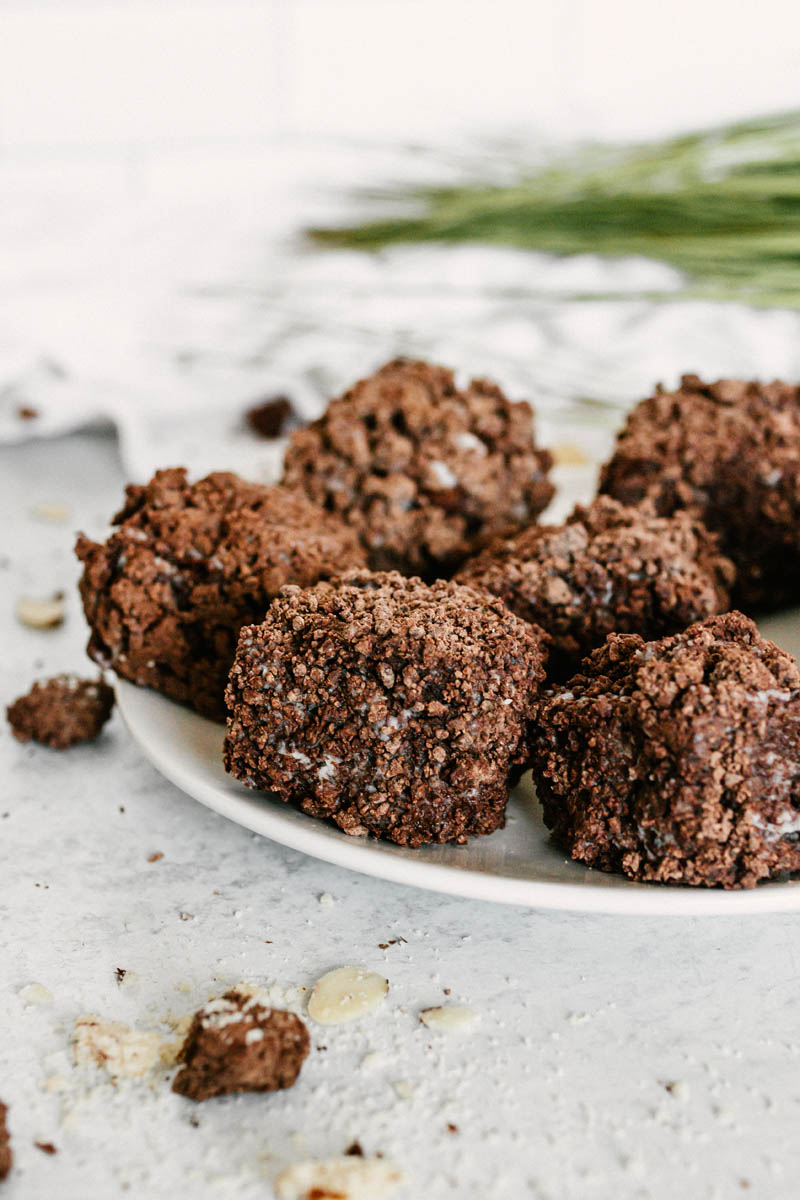 The Blarney Stone
Years ago, I was at a "Planning For A Dinner Party" class and the guest presenter showed us how to make these darling, easy chocolate petit fours. Sometime after that, I was reading a magazine and saw a recipe for a St. Patrick's Day-themed petit four similar to the ones from my class. They were called a "Blarney Stone" but were just pound cake covered in frosting and rolled in crushed peanuts.
It didn't look much like a stone to me. They were golden, rather than grey, as I imagine the Irish castles are from photos I've seen. Perhaps they meant it to look like a nugget of gold. Either way, I thought the idea was cute and would be an easy, quick treat for a St. Patrick's Day party or even any time of year.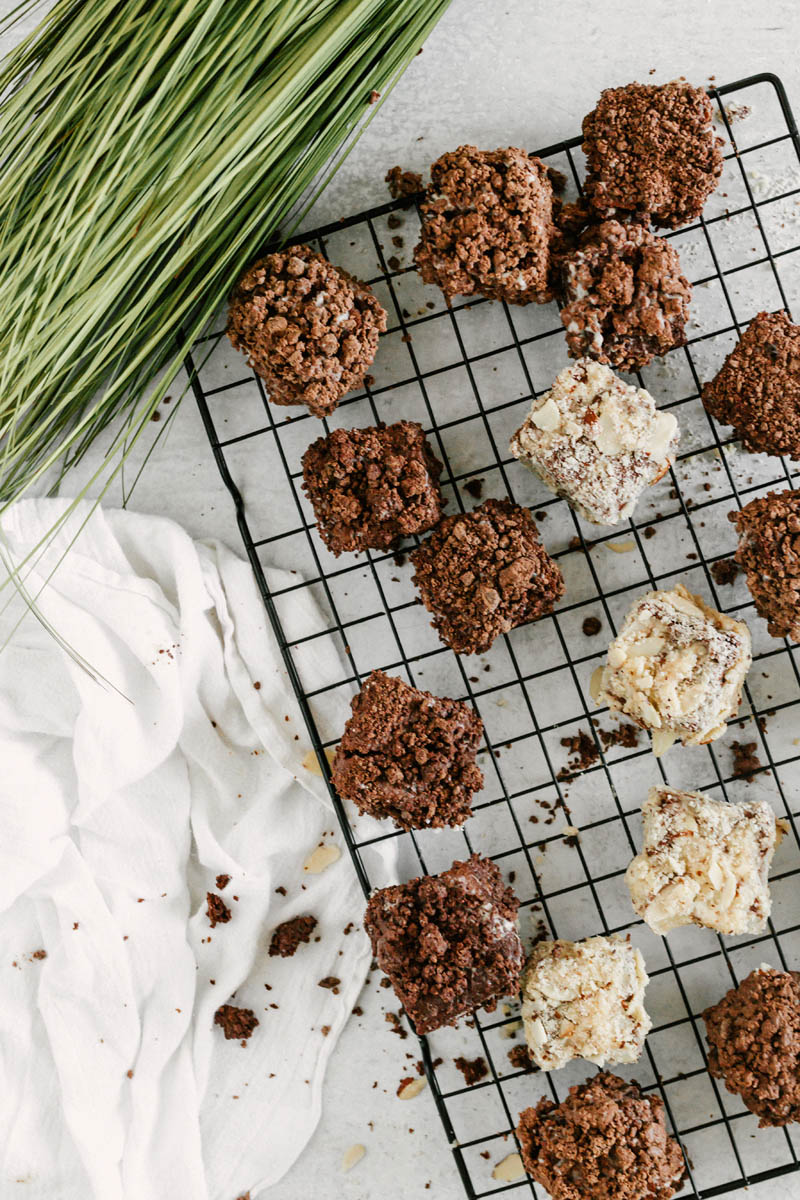 Chocolate Blarney Stone For Some Irish Luck
I opted for a chocolate center and I knew at least some of my "Blarney Stones" needed to be rolled in chocolate. Not just any chocolate, milk chocolate. I was doing some research about food trends in Ireland and ran across an article stating that milk chocolate is the preferred chocolate in Ireland. It was perfect for the chocolate blarney stone!
Hershey Chocolate Company developed a "Symphony Bar" years ago. Its flavors are more European and remind me of Cadbury chocolate flavors. I love chocolate with toffee undertones and the Symphony Chocolate Bar checks that box. So it was the choice for this petit four.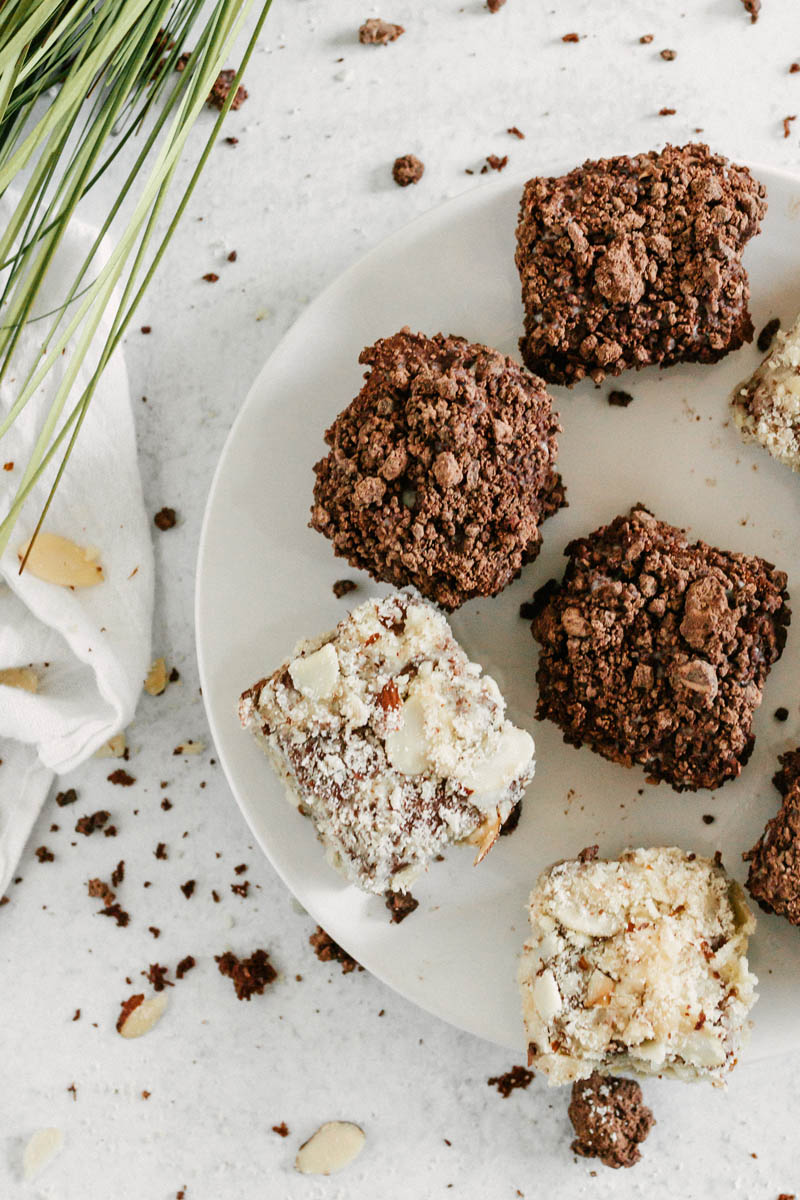 Never Underestimate the Power of the Boxed Cake Mix
You can make the chocolate cake from scratch, but if you do, I would only suggest a devil's food cake, like this Rich Chocolate Cake. The deep chocolate flavor is perfect to balance the richness of the milk chocolate on the chocolate blarney stone. But because this recipe is meant to be a time-saver, I use a boxed Devil's Food Cake mix. Adding the instant pudding gives it some additional structure so it holds up to being handled for decorating.
The original idea for these was a petit four surrounded in frosting. It seemed a bit too rich for me to have a small bite of cake completely encased in a layer of frosting. So I lightened it up with a stabilized Cream Cheese Whipped Cream that has just a touch of cream cheese flavor. I love using creamy Symphony Bar milk chocolate to coat these in, but you could also use almonds or coconut for contrast and variety.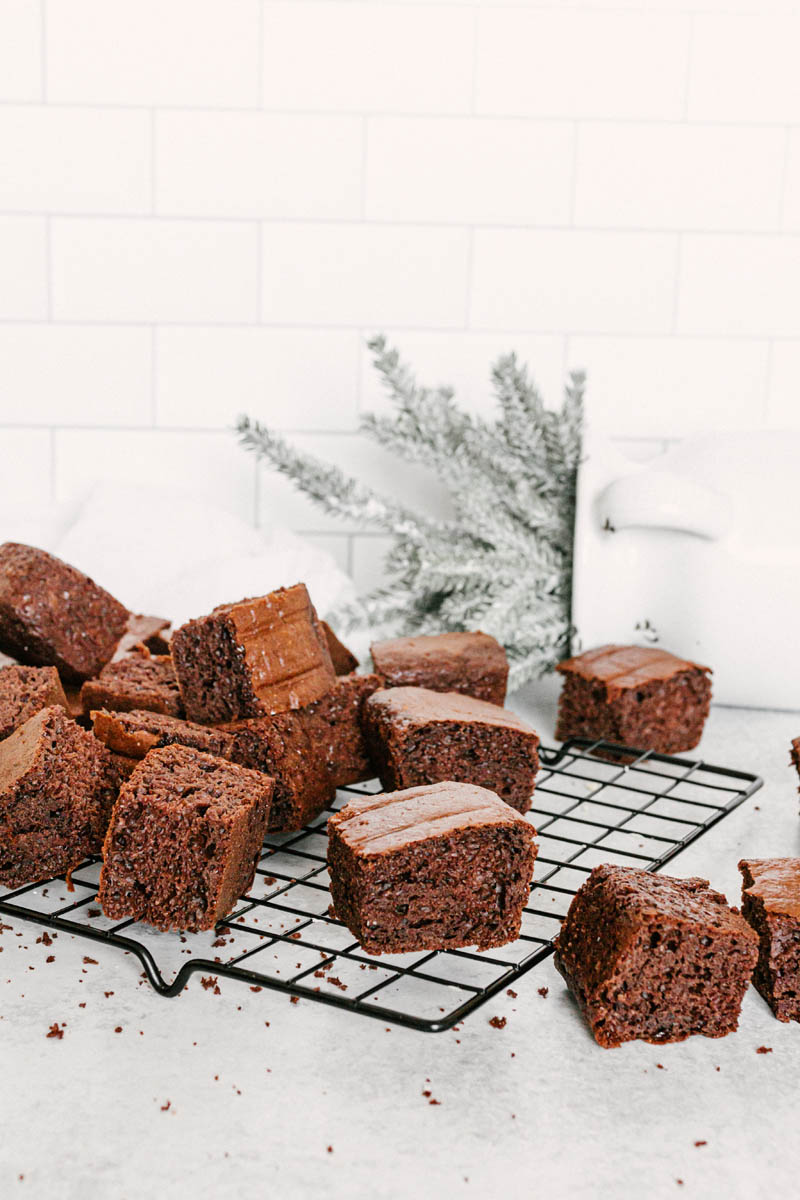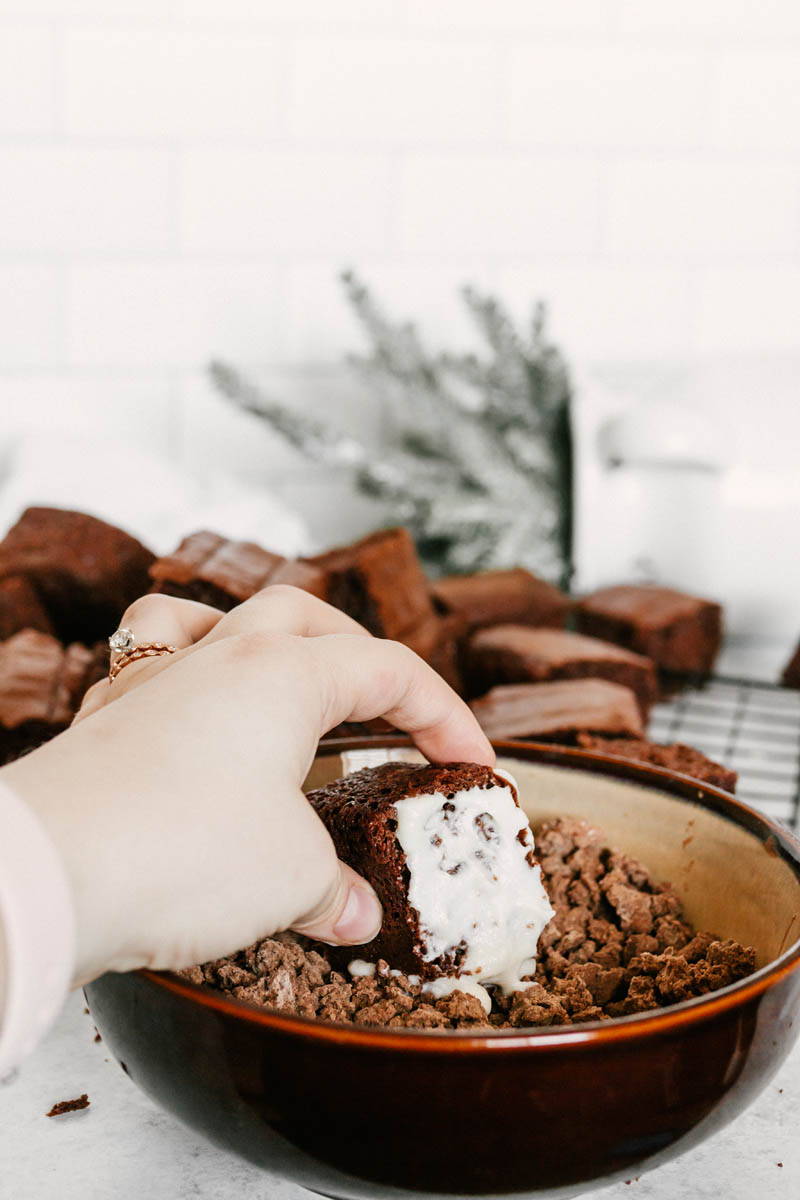 Build A Better Chocolate Blarney Stone
There are a couple of Irish Proverbs related to food and famine. "You don't know what is in the pot until the lid is lifted" and "Talk doesn't fill the stomach". I hope you try "lifting the lid" and experience this chocolate blarney stone recipe for yourself, and as talk (and writing) doesn't fill the stomach – get to it. Be sure to share your opinions and experience in the comments and reviews section.
"May the holes in your nets never be larger than the fish in it," and may this little chocolate blarney stone cake delight your belly.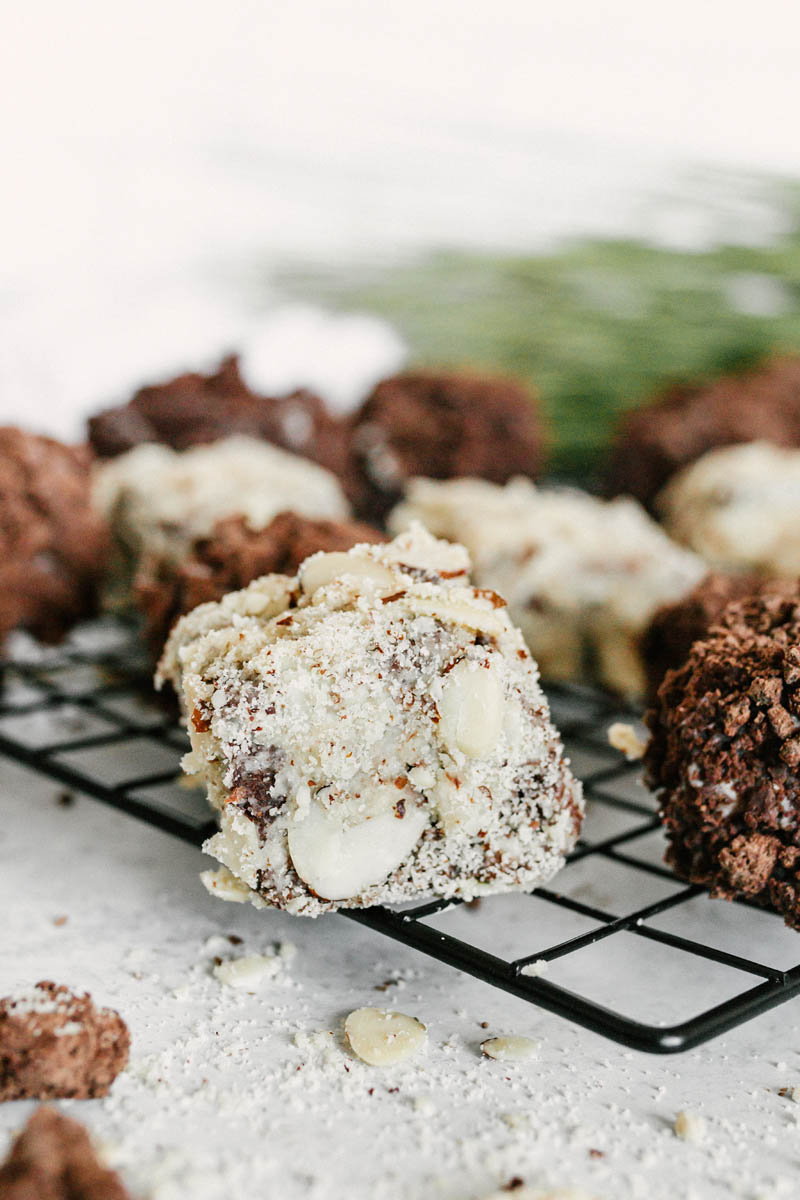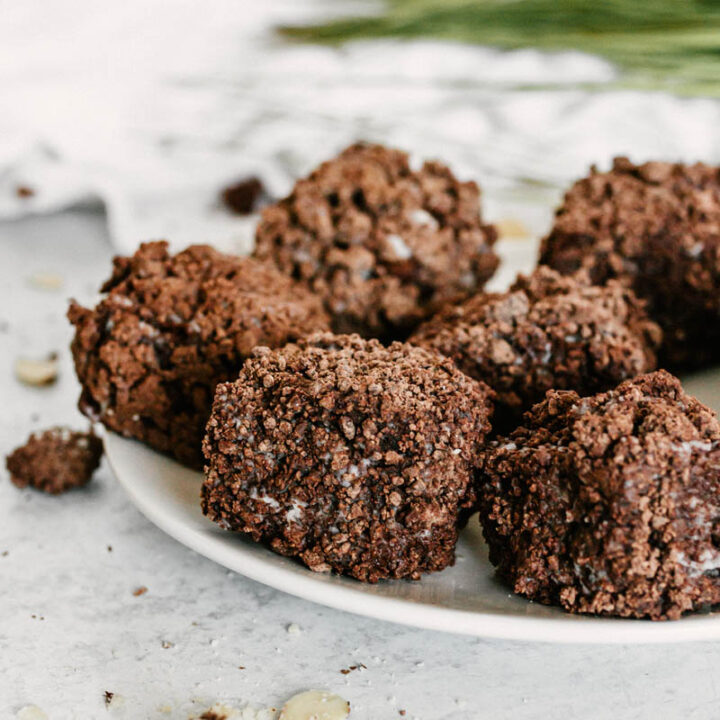 Chocolate Blarney Stones
Total Time:
4 hours
10 minutes
An easy, moist chocolate cake center, a light whipped cream topping, and creamy milk chocolate coating. Talk may not fill the stomach (Irish proverb) but this little gem of a cake will fill all the right corners.
Ingredients
Cake Squares
1 box Devil's Food Cake Mix
1 (3.4 oz) box instant chocolate pudding
3 eggs
1 C (8 oz) buttermilk
¼ C (2 oz) vegetable oil
Cream Cheese Whipped Cream
1 (8 oz) package cream cheese, room temperature
½ C (3.5 oz) white sugar
1 tsp vanilla
1 ¾ C (14 oz) heavy cream
Topping
1 ½ Milk Chocolate Symphony Bars, grated (10 oz total)
1 ½ C (6 oz) sliced almonds (optional)
Toasted coconut (optional)
Instructions
Make the Cake.
Preheat oven to 325*F. Spray a 9x13 cake pan with nonstick cooking spray. Set aside.
In a large mixing bowl, sift together cake mix and instant pudding mix. Add eggs, buttermilk, and vegetable oil. Using a hand mixer, mix for two minutes to combine.
Spread batter evenly into prepared pan.
Bake for 25 minutes, or until center bounces back when lightly pressed.
Let cool completely, then cut into 1.5-inch squares.
Make the Cream Cheese Whipped Cream.
Place cream cheese in a medium-sized mixing bowl. Use a hand mixer to beat cream cheese until completely smooth. Add sugar and vanilla and beat until smooth.
Scrape the bowl (don't skip!) then add heavy cream. Mix for a bit, then stop and scrape the bowl again. Repeat once or twice, then continue to beat until stiff peaks form.
Assemble the Blarney Stones
Place chopped/grated chocolate into a flat container or on a plate.
Place cream cheese whipped cream into a piping bag or gallon-size plastic bag. Snip the end so it is ready to pipe.
Pipe Cream Cheese Whipped Cream onto sides of cake square. Cream should be piped just thick enough so that the grated chocolate will stick, but not so thick that the cream falls off. Press into chopped or grated chocolate. Pipe cream onto the top and bottom and roll in chocolate. All six sides should be covered.
Optional: press cream-covered cake squares into sliced almonds or toasted coconut instead of grated chocolate. Mix and match as you please.
Place into a cupcake liner or serving dish to serve.
Notes
Can also use a 10x10 pan in place of 9x13 pan. 
You may not need all the cake squares. Freeze remaining and use in a chocolate trifle or for petit fours another day.
Keep Cream Cheese Whipped Cream chilled and beat until stiff peaks form. If it is too soft, it may drip off of cake squares. 
These can be made 3-4 days in advance. Place in white cupcake liners for easy serving.
Pick Your Favorite Pin and Save It for Later!