These Raisin Filled Cookies have so much more than meets the eye! With a delicious raisin and pecan filling, enveloped in a tender buttery cookie, these will win over even the most doubtful of palates.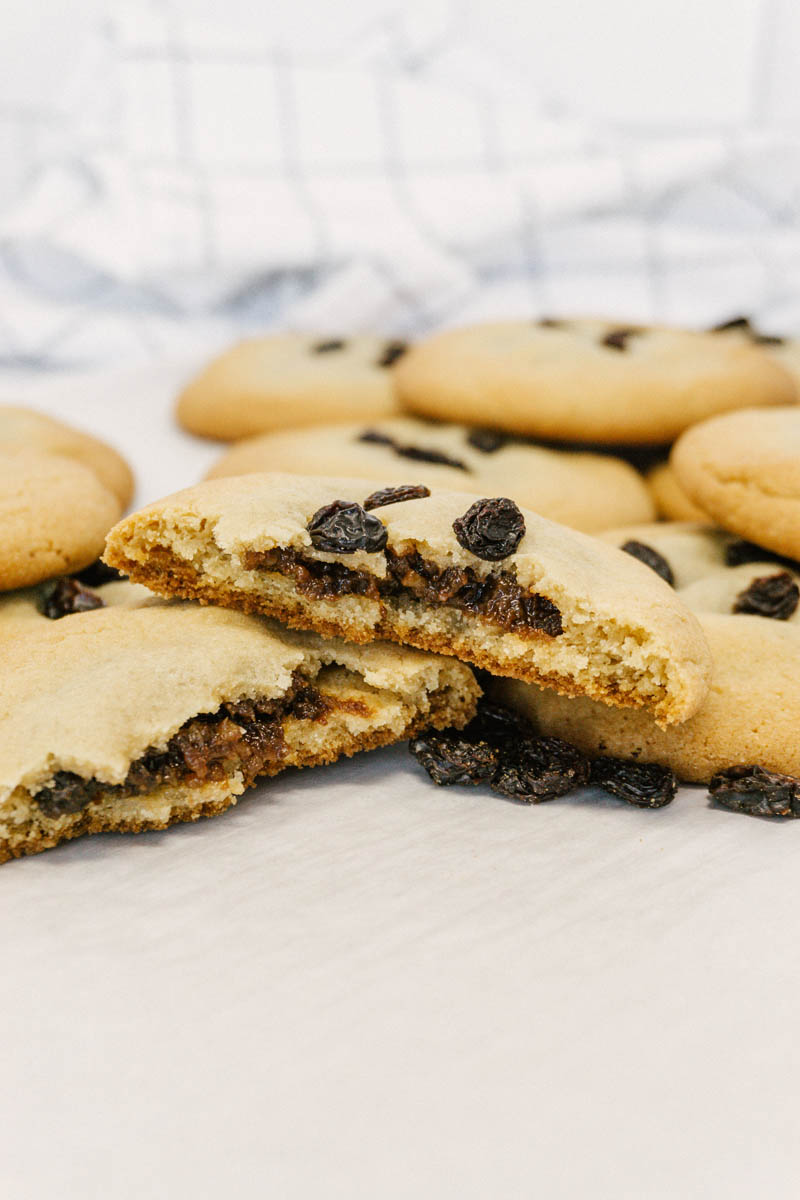 I was never a raisin fan as a child. Then, someone placed one of Grandmother's Raisin Cookies into my 9-year-old hands. I tentatively took a bite. Wowwie! It made me believe that maybe raisins aren't so bad.
Childhood Cookie Memories
My grandmother's original recipe, as I remember it in my childhood memories, involved making the dough and slicing it into neat rectangles, then placing them into the fridge to chill. Then, the chilled dough rectangles were placed on the cookie sheet, topped with a spoonful of sweet, brown raisin and nut conserve, and covered with another rectangle of dough. They would spread and leak filling in the oven and weren't very pretty, but they tasted good.
Flash forward to present day and I knew I wanted to remake these. The filling was absolutely the best part of these cookies as a child, so I chose to leave that part as my grandmother's original recipe. The cookie part I knew, with my years of cookie expertise, I could improve so it would compliment the sweet raisin filling better.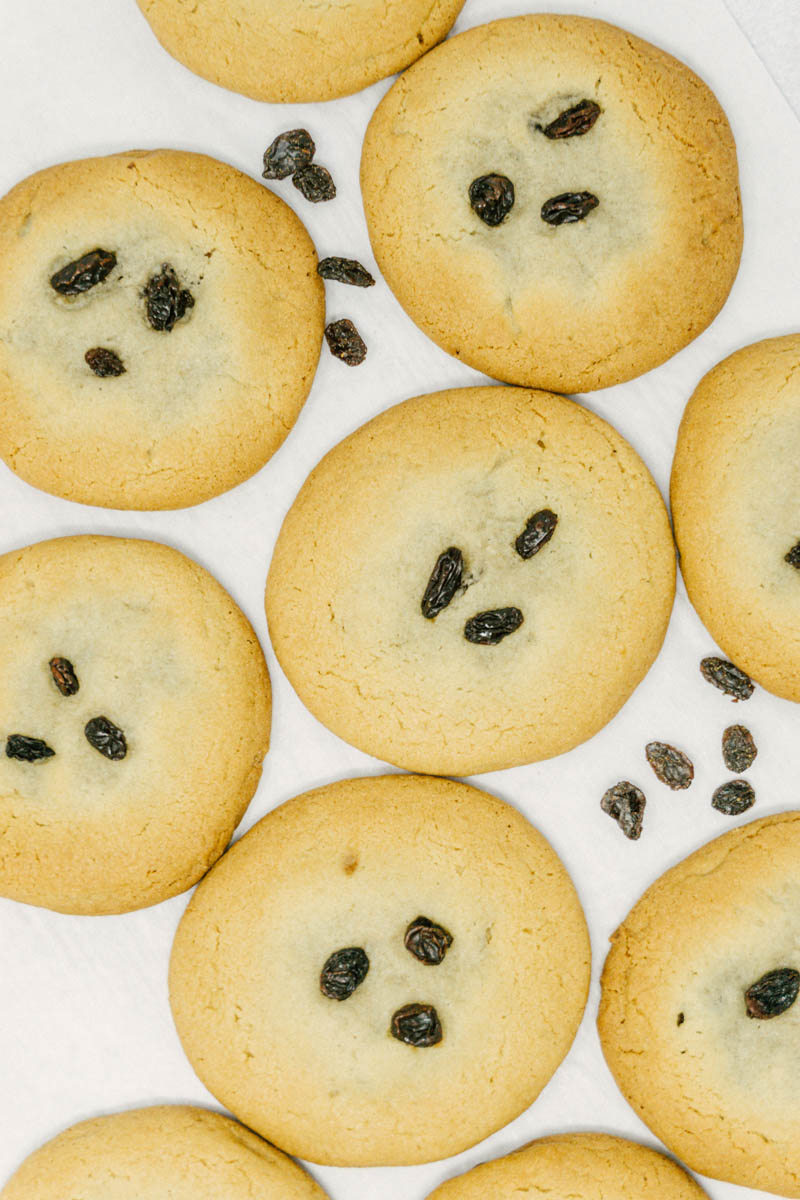 Finding the Perfect Cookie Dough
If you've been around at all, you know that refrigerated dough is simply not an option for me. It just takes too long. "Time consuming" is not something you'll find in most of my cookie recipes. Taking the time to make the raisin filling ahead of time is already enough planning ahead for me.
Standing in the kitchen with my eyes closed, I mulled over which cookie dough would best envelop the raisin filling. Imagining what it should taste like, how the texture should feel, and what my ultimate goal was, a vision of a buttery, chewy, flavorful cookie came to me. The answer was a few simple adjustments to my #1 Chocolate Chip Cookie recipe. The dough is already almost perfect to complement the raisin filling. Adding a bit of extra flour and removing the baking powder were the only adjustments needed.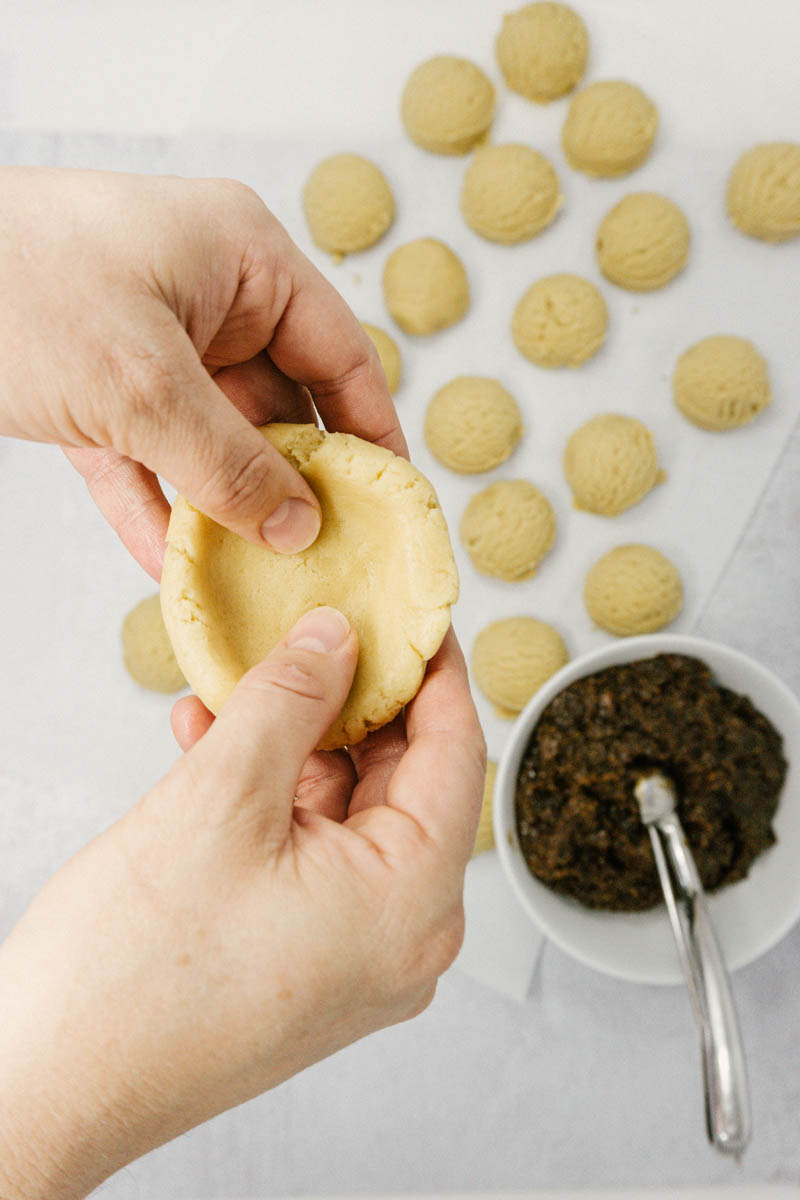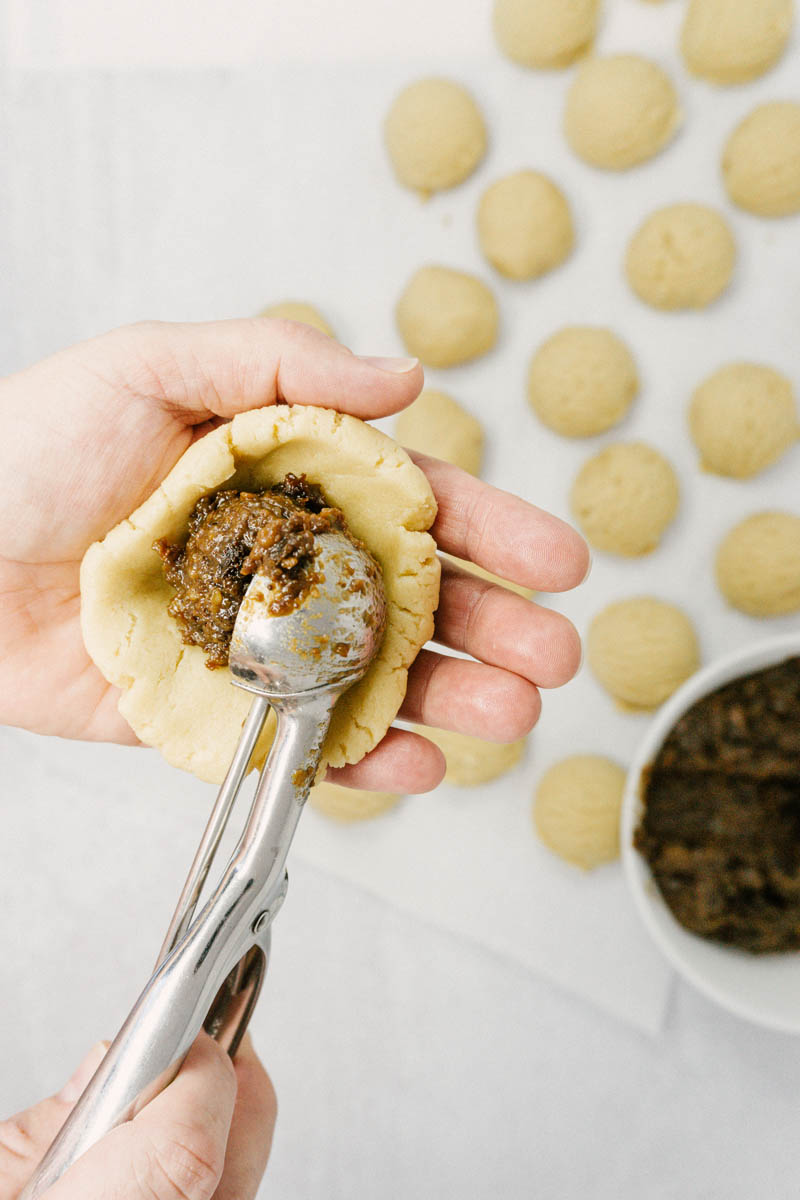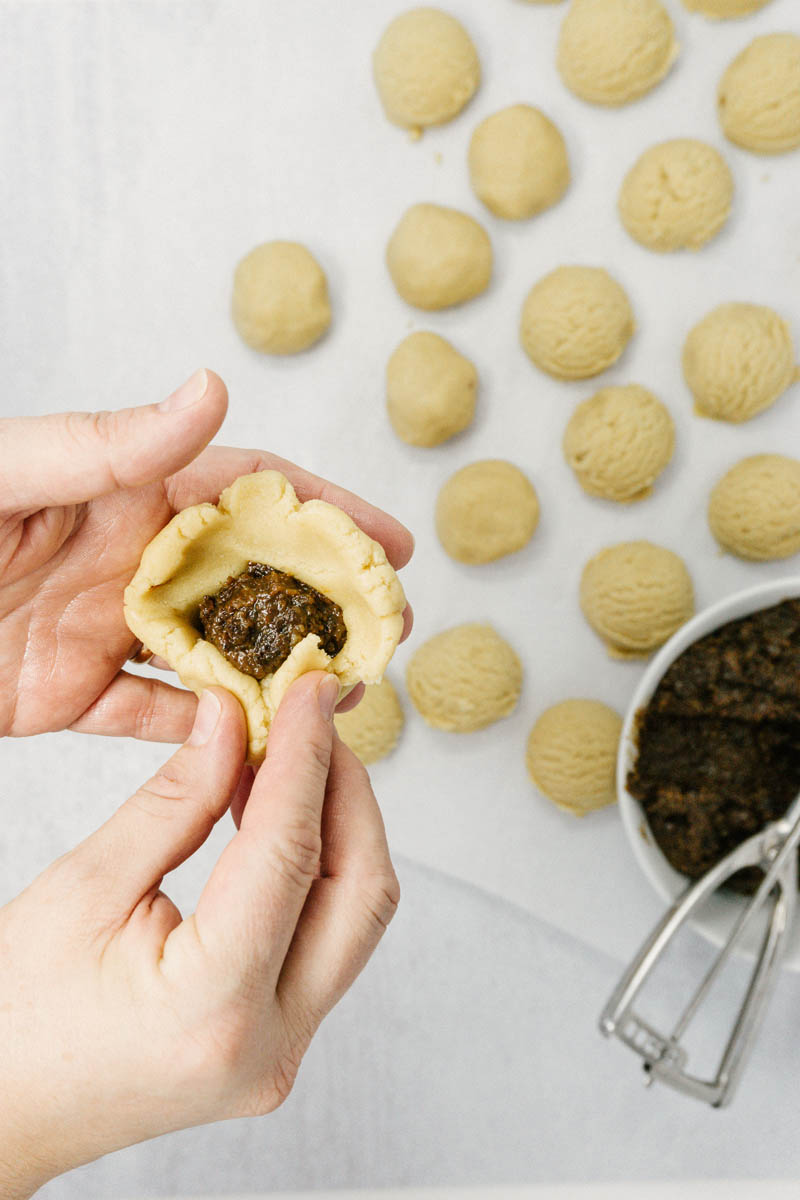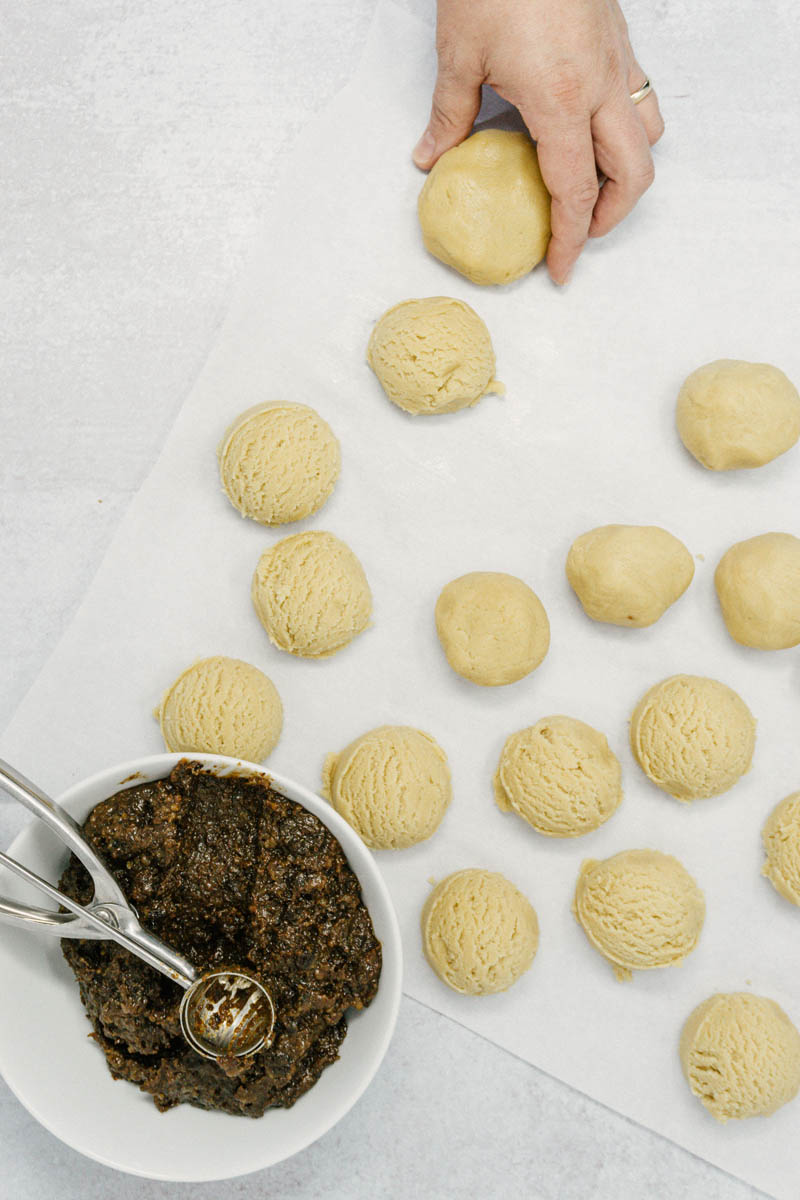 An Unexpected Triumph
The first try was a total hit. No further adjustments needed. It may be hard to convince raisin haters but I dropped these cookies off to a friend and got a text shortly after saying, "Best cookie ever!" So I'm hoping you'll trust me and give these Raisin Filled Cookies a chance.
Even if you're not a raisin person, these will change your whole attitude towards them. The pecans meld with the raisins to create something totally unexpected and delicious. Let us know what you think in the comments!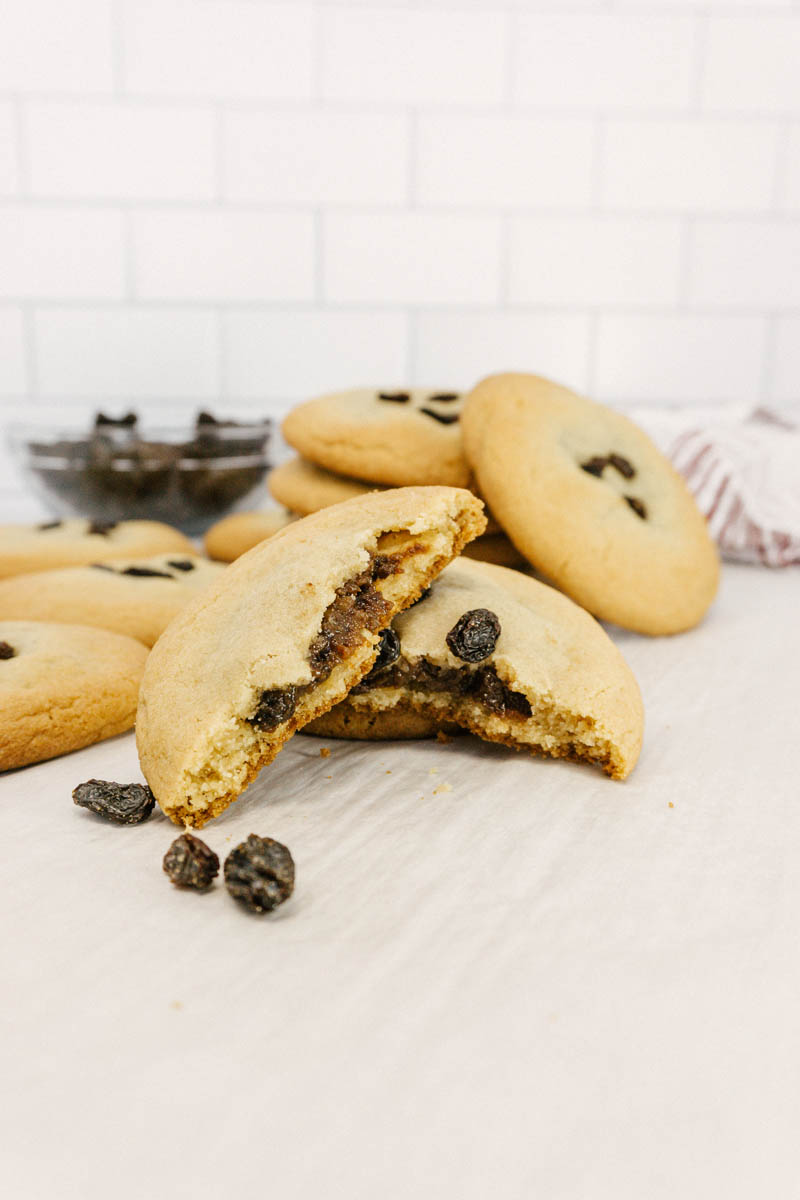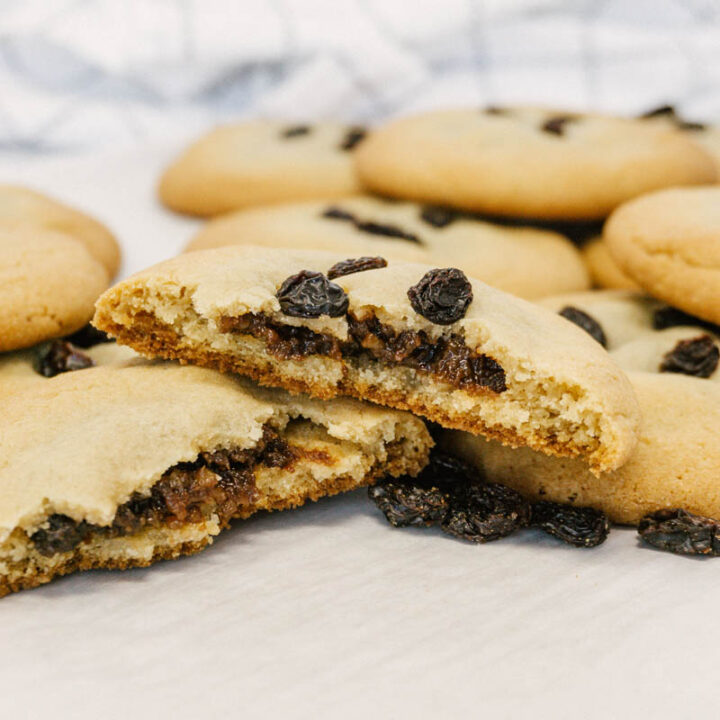 Raisin Filled Cookie
Total Time:
2 hours
51 minutes
These Raisin Filled Cookies have so much more than meets the eye! With a delicious raisin and pecan filling, enveloped in a tender buttery cookie, these will win over even the most doubtful of palates.
Ingredients
Raisin Nut Conserve Filling
2 C (10 oz) raisins
1 C (4 oz) pecans or walnuts
½ C (3.5 oz) white sugar
1 C (8 oz) water
1 T flour
2 tsp vanilla
Cookie Dough
1 C (8 oz) salted butter
½ C (3.4 oz) shortening
1 C (7 oz) white sugar
1 C (8 oz) light brown sugar
2 large eggs + 1 egg yolk
1 T vanilla
2 tsp baking soda
1 ½ tsp salt
5 ¾ C + 1 ½ T (22 oz) all-purpose flour
For Topping
24 whole golden or regular raisins
Instructions
Make the Raisin Nut Conserve Filling.
Finely chop walnuts or pecans and raisins.
In a saucepan over medium-high heat, add chopped nuts and raisins. Add water, flour, and vanilla and stir well.
Cook raisin mixture, stirring continuously, for 5 minutes. The mixture will thicken and darken.
Place into a small bowl and place in the refrigerator to cool completely. Can be made up to three days in advance. Must be completely cool before filling the cookies.
Make the Cookie Dough.
Preheat oven to 375*F. Line cookie sheets with parchment paper.
Cream butter, shortening, and sugar.
Add eggs and vanilla. Mix well.
Add the dry ingredients. Mix until fully combined.
Using a #20 (3 T) cookie dough scoop, make 24 dough balls.
Take one ball and put it in the palm of your hand. Press it into a bowl shape of your cupped hand.
Fill the dough with a #100 (2 teaspoons) cookie dough scoop of the raisin mixture.
Wrap dough around raisin mixture and pinch seam closed.
Place the raisin-filled dough ball seam side down a few inches apart on a parchment-lined cookie sheet. Press down to 1 inch thick. Top with a single raisin.
Bake at 375* F for 11 minutes or until the edges are lightly browned and top is set.
Notes
When making the filling, if you have a food processor, you can add raisins, pecans or walnuts, plus the water called for into food processor and pulse until finely chopped.
Cool cookies completely before storing. If the entire batch isn't eaten right away, store in an airtight container. These cookies store well on the counter for a few days, in the refrigerator for a week, or freezer for up to three months. To thaw, let thaw in their packaging.
Pick Your Favorite Pin and Save It for Later!