Heart thumbprint cookies have the perfect texture, are incredibly delicious, use only 7 simple ingredients, and perfect for Valentine's Day!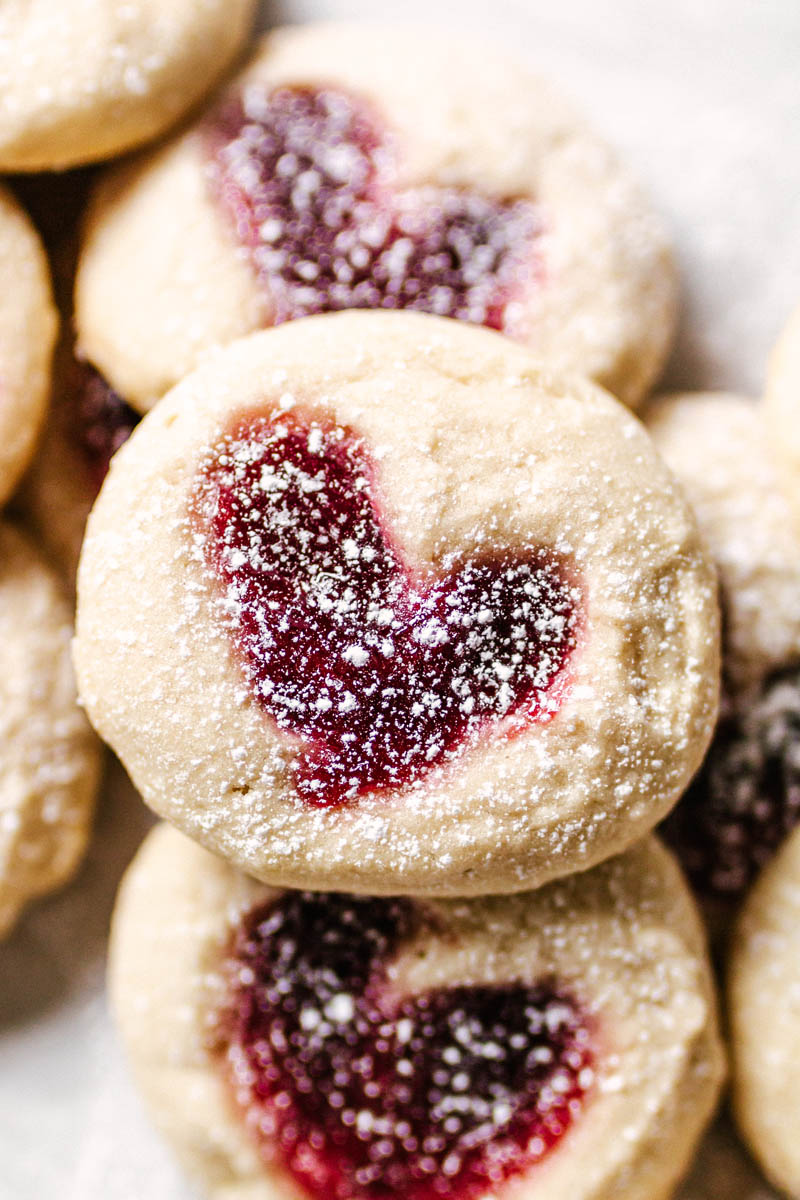 Why I LOVE These Cookies!
These heart thumbprint cookies are so soft, delicious, perfect texture, easy to bake… I can go on and on! I know that you will LOVE these cookies just as much! I just made these for Valentine's Day, and my family loves them. Especially my little boy… he can't get enough!
There aren't many ingredients in the cookie either, and I already had all of the ingredients in my pantry and fridge. Incredibly simple and easy, but the flavor is wonderful! There are only 7 ingredients, and are quick to throw together. This thumbprint cookie recipe is one of my favorites!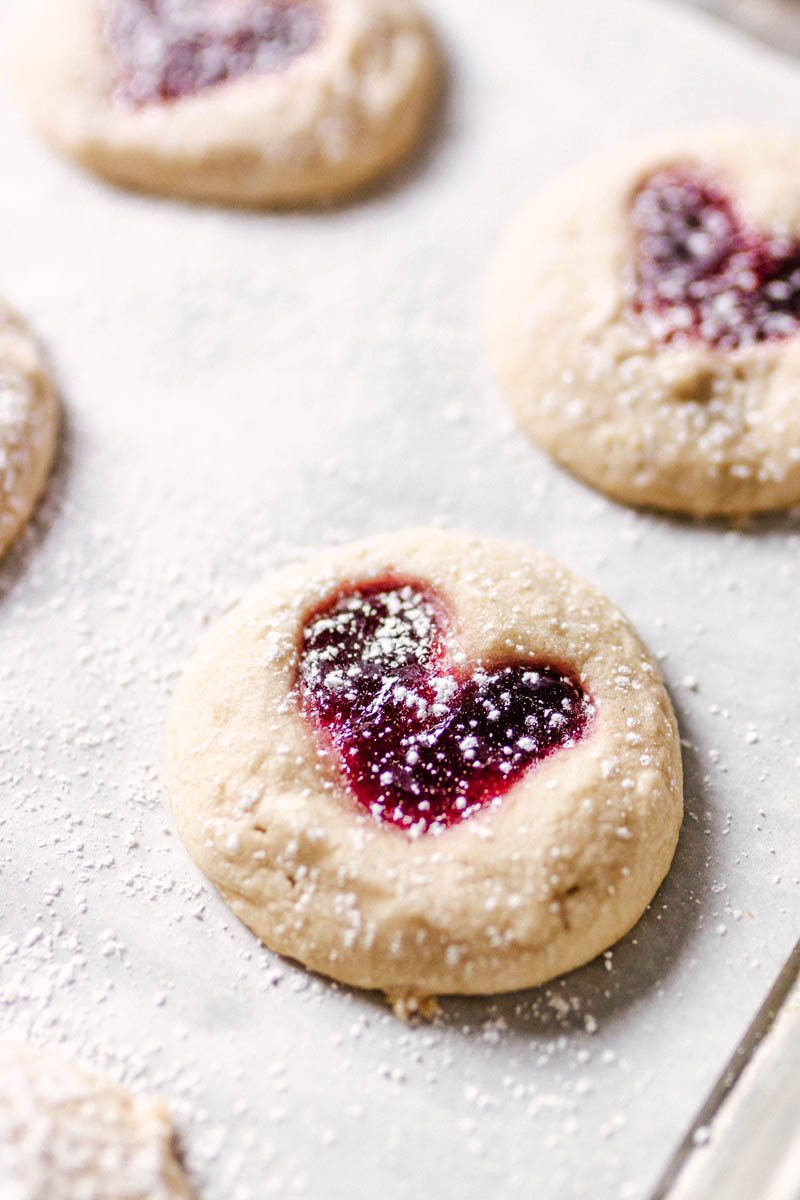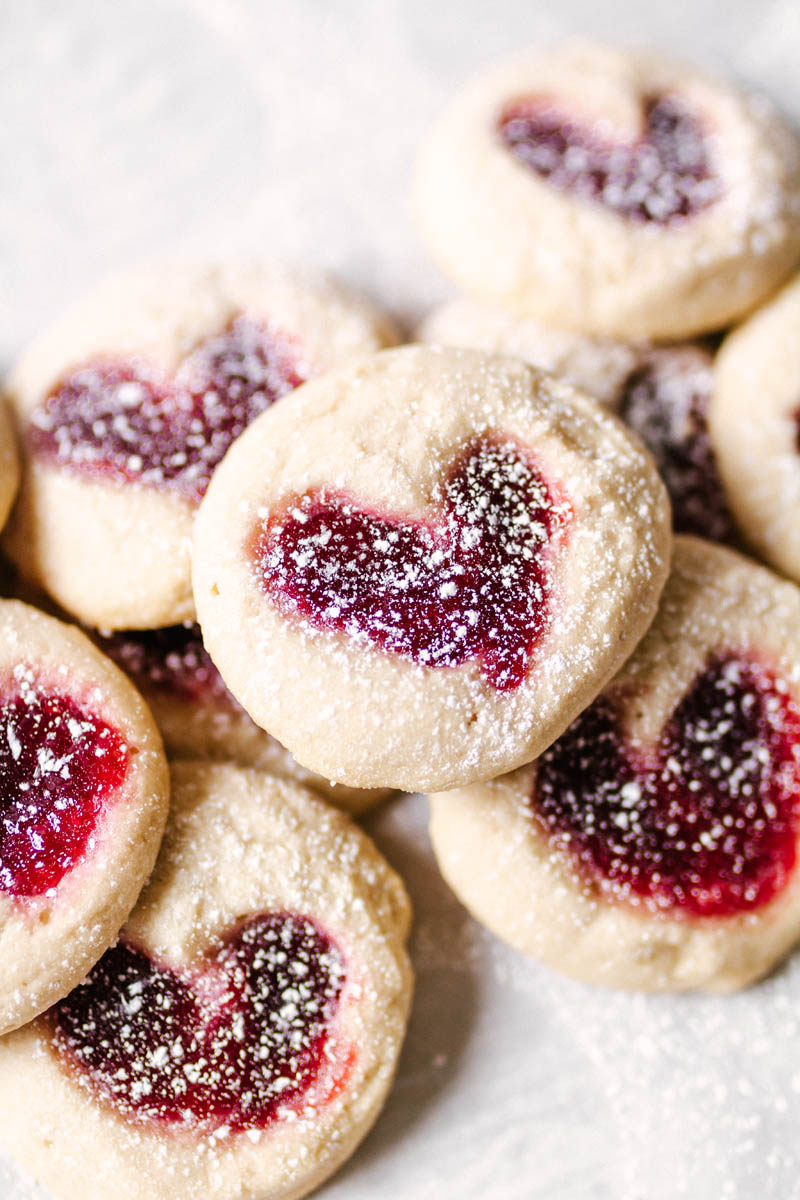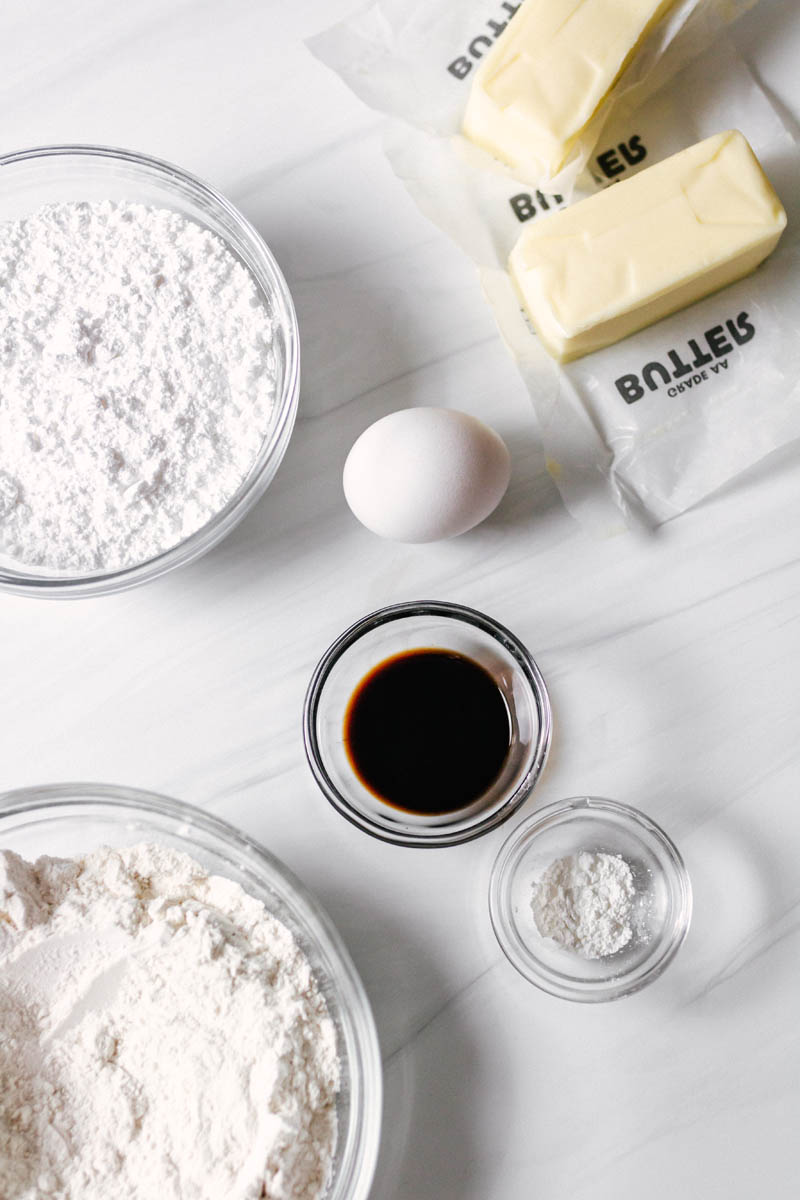 Heart Thumbprint Cookie Ingredients
Jelly – Honestly, you could use jelly or jam. I tried both, and both worked well! So really, use whatever you would like or have on hand. But I can say that I LOVE raspberry jam with these cookies!
Powdered Sugar – Helps create a soft cookie, but also perfect for dusting over the tops of the cookies once pulled out of the oven.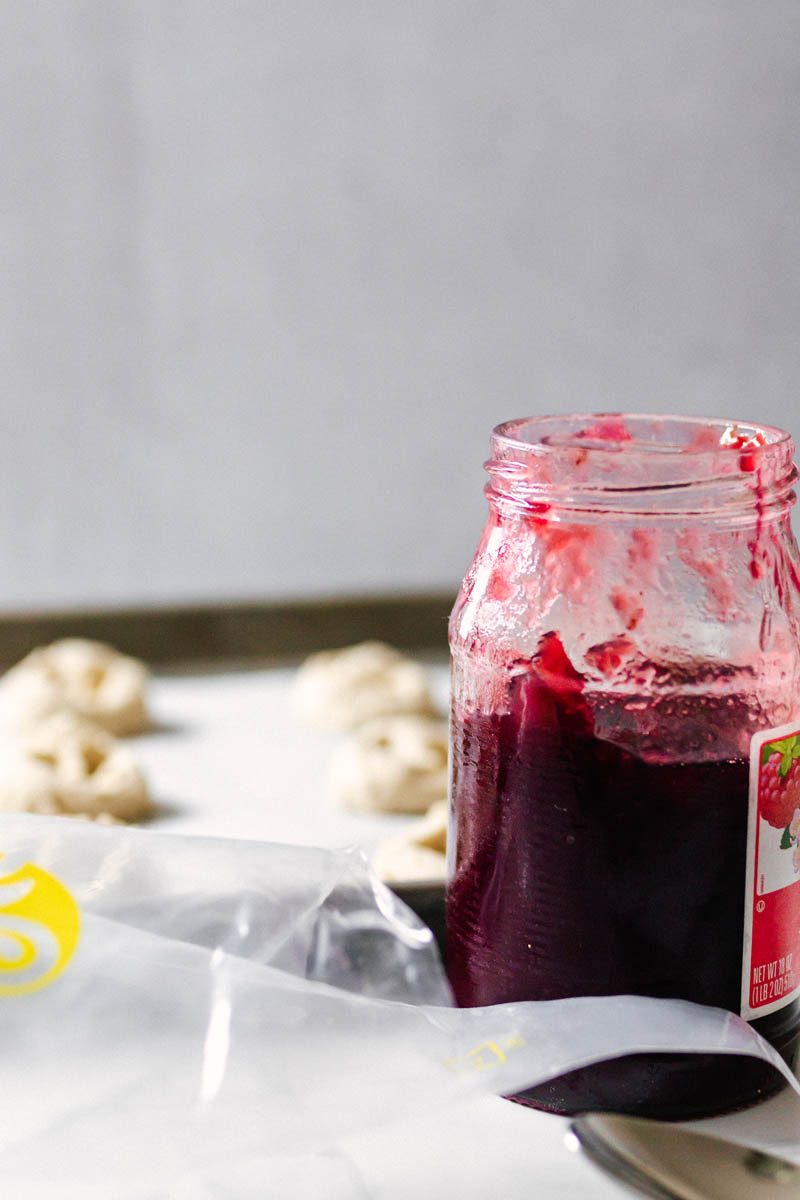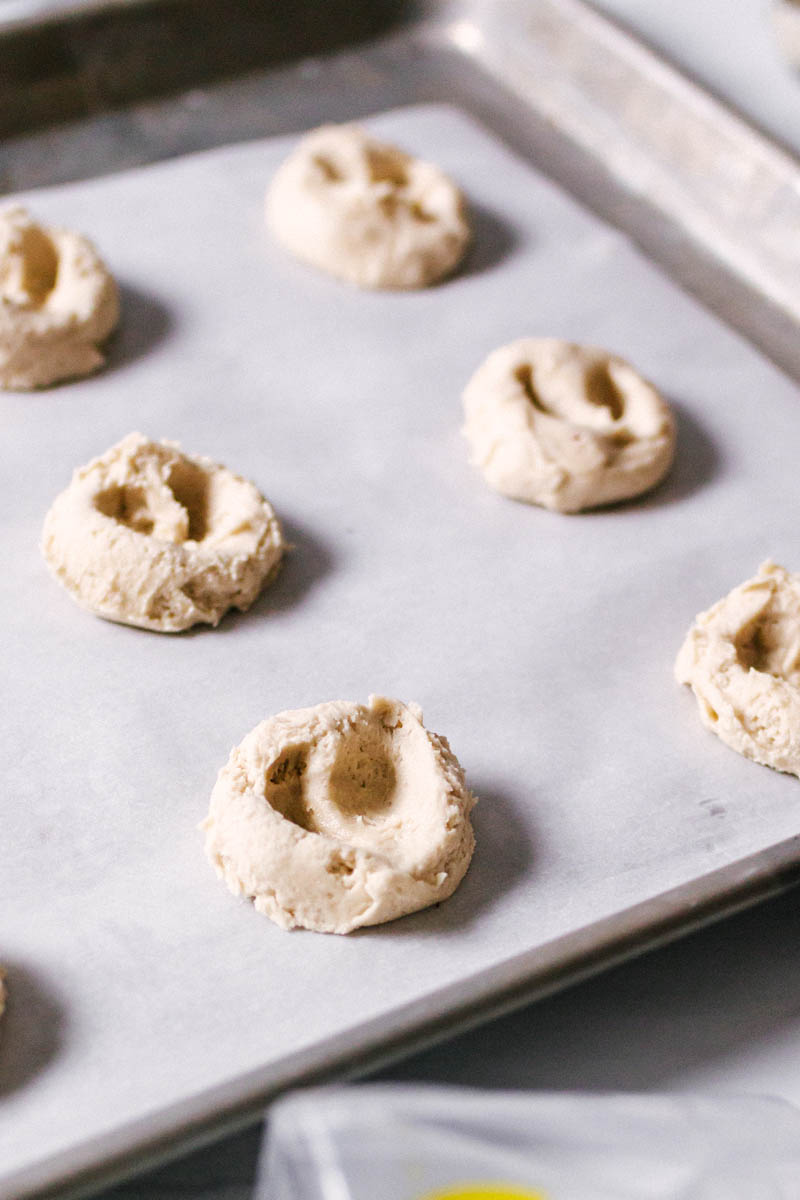 Tips for Making Heart Thumbprint Cookies
How to Make Heart Thumbprint Cookies
After you mix the dough together, use a tablespoon or a #40 cookie dough scoop to scoop out the cookie dough onto a baking sheet covered in parchment paper. I like to keep them about 2 inches apart. Using your fingers, press into the dough to create a heart shape. See below for other options to shape them.
Then fill a piping bag with jam, microwave if needed, and pipe the jelly in the pressed heart shape in the cookies. Bake the cookies, they will take about 18 minutes. Remember to check while baking to make sure they aren't done early or need to go longer.
Pull them out, let them cool a little bit, then move them onto a cooling wire rack. Then enjoy these delicious cookies!
See the heart thumbprint cookies recipe below for more details.
Do I Fill Thumbprint Cookies Before or After Baking
I recommend to fill the cookies before baking. This mends the jam and the cookie together, but it also gives the jam a chewy bite. You could fill them after, but the jam won't bake into the cookie, so it has chance to get messier, spread more, and be a bit more runny. I prefer to fill the cookies before baking because I like the chewy texture of the jam after baking, better.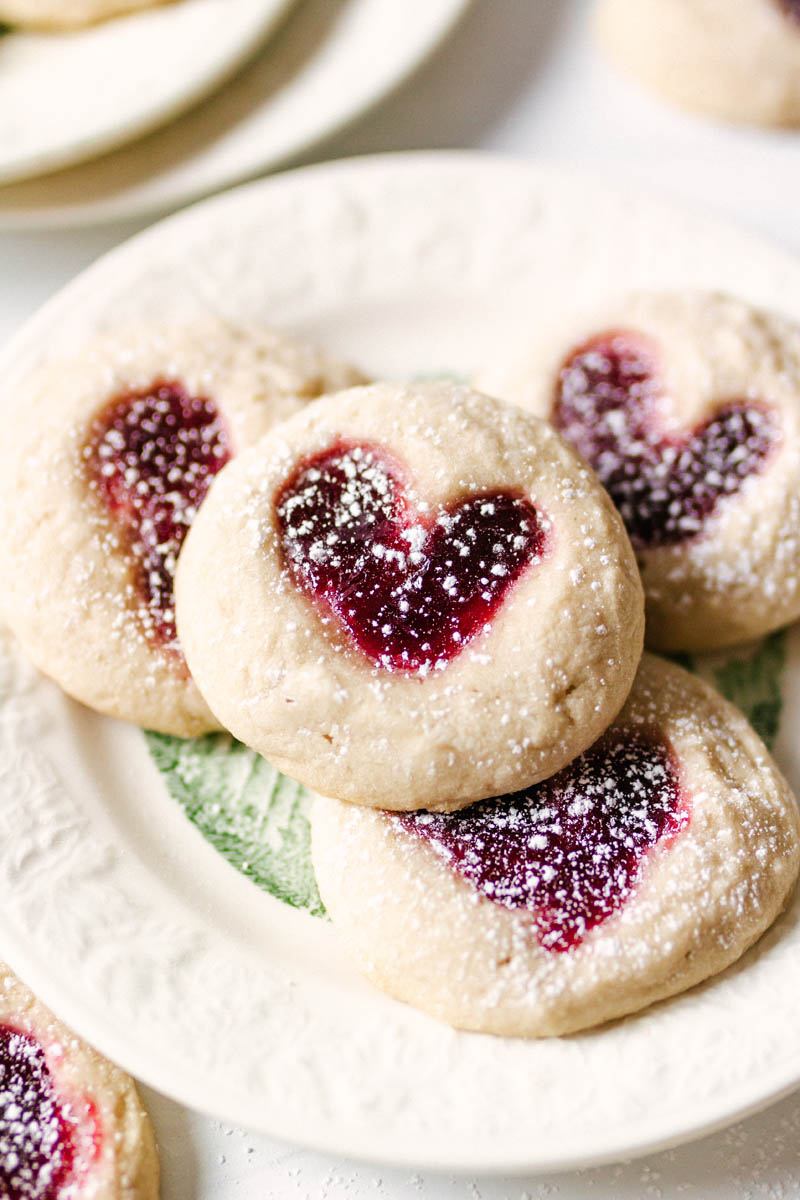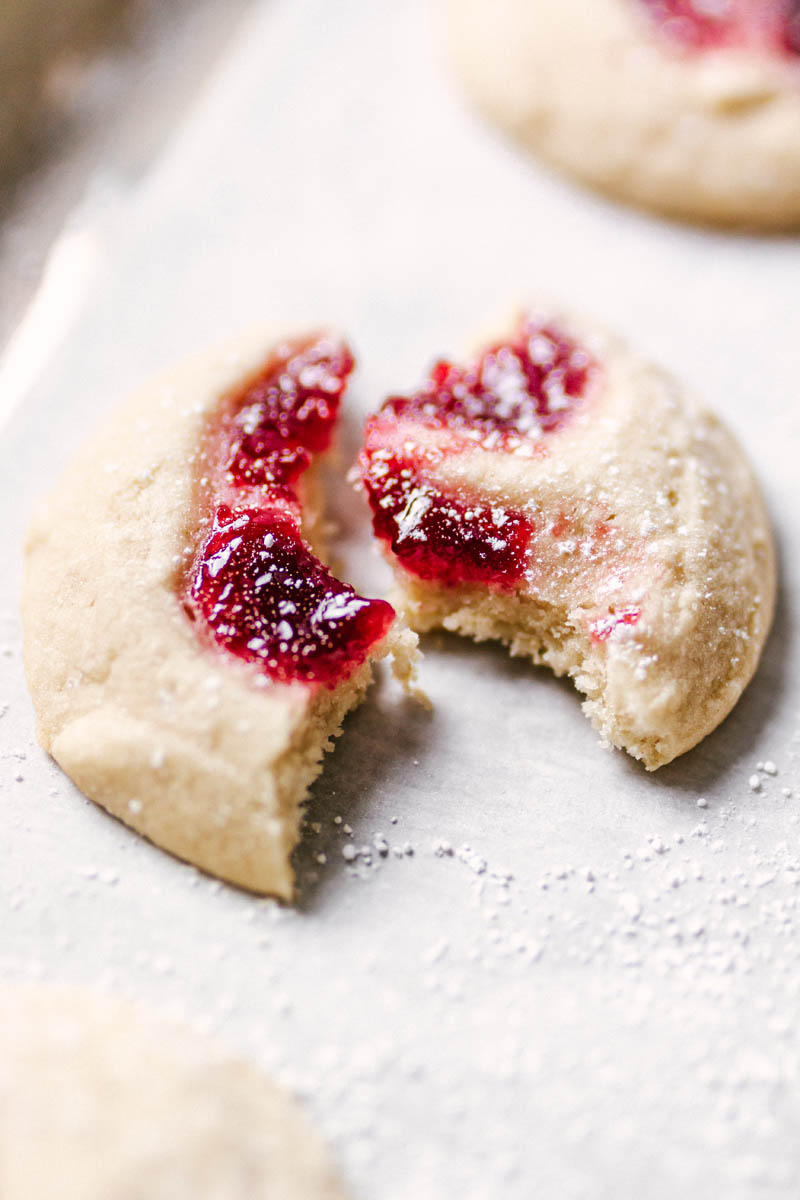 How Do You Shape Heart Thumbprint Cookies?
Use your fingers! I used my pinky to make these jam heart in the cookies, as I didn't want really large heart shapes. But, if not the fingers, you can use edge of a spoon, a rounded handle of a wooden or metal spoon, straw, etc. Just anything in the kitchen that has a rounded edge.
Storage for Jam Thumbprints Cookies
You can toss these cookies onto a plate and cover with saran wrap, place them in an airtight container, or in a Ziplock bag. Anything really that is airtight will work. I put them in the fridge, as it will extend how long they will last.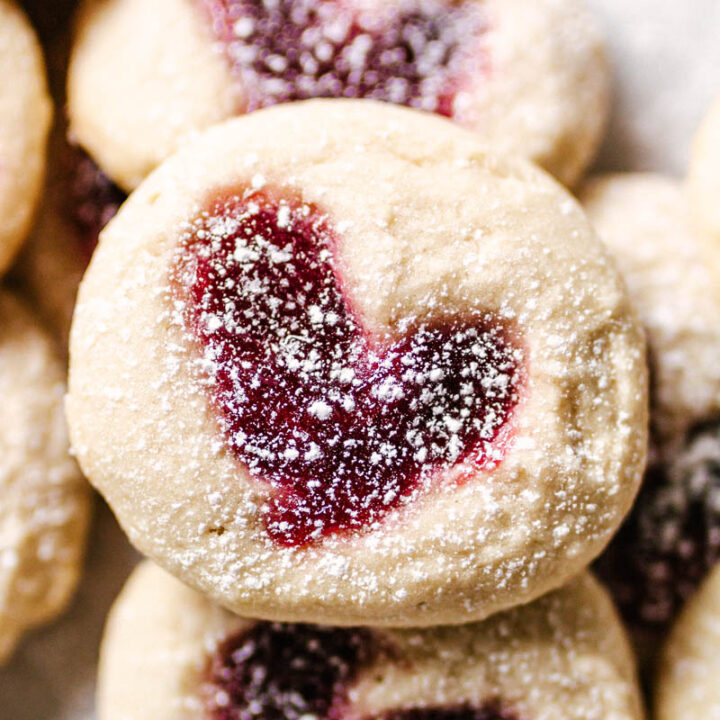 Heart Thumbprint Cookies
Ingredients
1 C butter, softened
1 C + 2 T (5 oz) powdered sugar
1 large egg
1/4 teaspoon baking powder
2 teaspoons vanilla
2 C (9 oz) all-purpose flour
1/2 C raspberry jam, or any other jam of your choice
Instructions
Preheat the oven to 325˚F. Line a baking sheet with parchment paper.
In a mixing bowl, cream the butter and powdered sugar together.
Add in the egg, and mix until combined.
Add in the vanilla, and mix until combined.
Then, add in the flour and baking powder. Mix until combined.
Using a tablespoon or a #40 cookie dough scoop, scoop the dough onto the baking sheet. Leave about 2 inches in between each cookie.
Using your thumb, pinky, any fingers really, or the handle of a spoon, push in the dough two times to make a heart shape. If it squishes out to much, just adjust the shape a little bit. Try not to push so hard, that you go through the cookie dough entirely.
In a piping bag, or even a ziplock bag, place the jelly in it. If the jelly is too hard, microwave the bag for a few seconds at a time. You want it to be able to be piped, but not so runny it's leaking out of the bag.
Pipe the jam into the heart spots on the cookies.
Place the cookies in the oven and bake for 18 minutes. Pull out, and let cool on a wire rack.